Aussie icon Stephanie Alexander shares with us her Springtime Risotto straight from her latest cookbook, Fresh. This delightful risotto recipe not only celebrates the return of warmer days, but embraces the array of fresh ingredients that come with the change of season.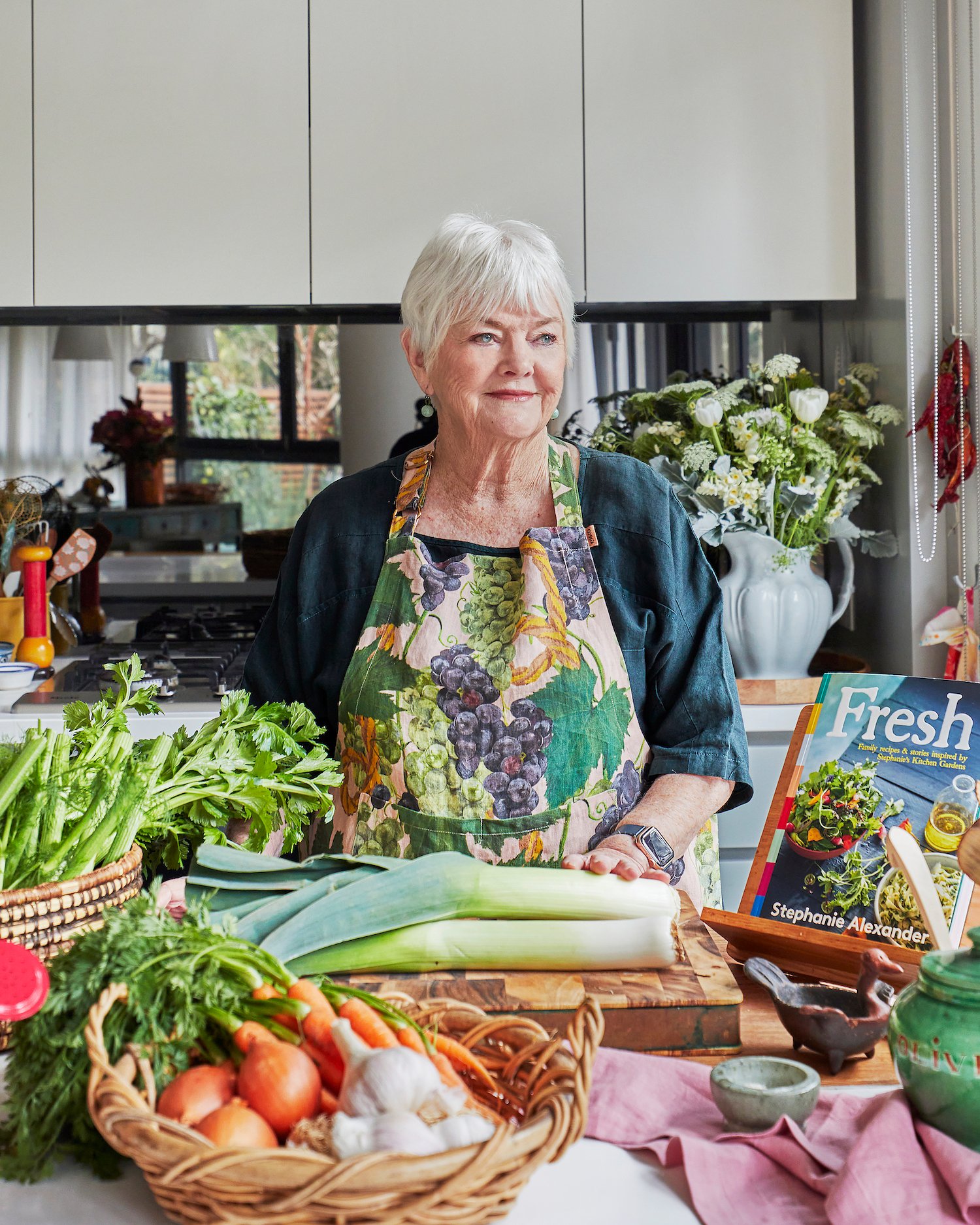 Springtime Risotto
Serves 4 generously as a main
Ingredients
- 500 g broad beans, podded
- Iced water 1 large leek or 2–3 small leeks, white part sliced into 1 cm rings
- 80 g butter
- 1 small onion, finely chopped
- 1 garlic clove, finely chopped
- 1 bay leaf
- 220 g (1 cup) arborio rice (or other risotto varieties, such as carnaroli or vialone)
- 1 carrot, peeled and cut into 2 cm dice
- 1 celery stick, cut into 1 cm slices
- 1 fennel bulb, cut into 1 cm slices, then into 2 cm dice
- 60 g parmesan, grated
- 1⁄2 cup coarsely chopped herbs (including plenty of flat-leaf parsley and some feathery fennel tops, well washed)
- Salt
- Freshly ground black pepper
Vegetable stock
- Onion peelings
- Garlic peelings
- Carrot peel
- Celery trimmings
- Leek – green parts
- Fennel – outside layer
- Stalks of herbs
- 2 garlic cloves
- 1 bay leaf
- 1.5 litres cold water or 1.5 litres chicken stock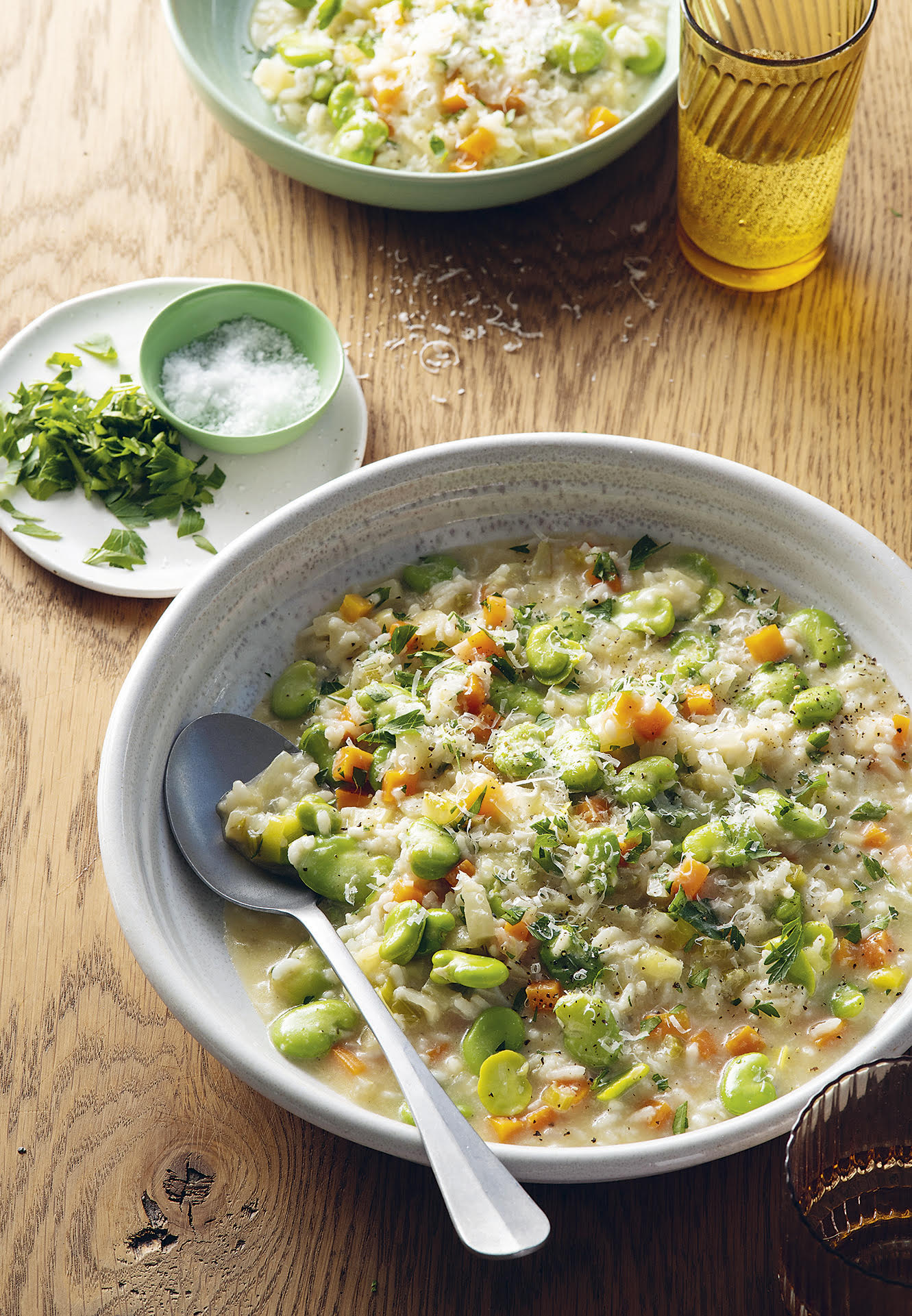 Method
To make the vegetable stock, simmer all the vegetable trimmings and herb stalks together with the garlic cloves and bay leaf in 1.5 litres cold water for 1 hour, then strain.
Put your serving dish or plates in a 120°C (100°C fan-forced) oven, to warm them. Have all your prepared vegetables and herbs in small bowls on a tray ready to go. Have a bowl of iced water beside the stove.
Bring a saucepan of water to the boil. Plunge the podded broad beans into the boiling water for 1 minute, then transfer them to the bowl of iced water using a perforated lifter or slotted spoon. Slip each broad bean from its outer skin – a tedious job and best if you have help. Swish the leek in the iced water with your hand, then lift them and transfer to a salad spinner and give them a short whizz. Put the double-peeled broad beans and leek in bowls alongside all the other prepared vegetables.
Pour the stock into a small saucepan and bring it to simmering point over medium heat. Reduce the heat to low and have a ladle nearby.
Heat half the butter in a saute pan over medium heat. When the butter is foaming, add the onion, garlic and leek. Stir for 5 minutes until the onion starts to soften. Now tip in the rice and stir to ensure that every grain is coated in the buttery juices. Add the carrot, celery and fennel and the first ladleful of hot stock. Stir and watch as the stock is absorbed by the rice. When the stock has been absorbed, add another ladleful. Continue for about 15 minutes, then taste a grain of rice. It should be creamy with just a suggestion of nuttiness at the centre.
At this stage add the broad beans and stir them in, together with another ladleful of stock. Stir and add the rest of the butter, half the parmesan and the herbs. Turn off the heat and cover the pot for a few minutes. Taste and adjust the salt and pepper. You have a last ladle of stock if you need it but the risotto will probably be perfect without it.
Serve the risotto on a heated central serving dish or on individual heated plates and offer the rest of the parmesan.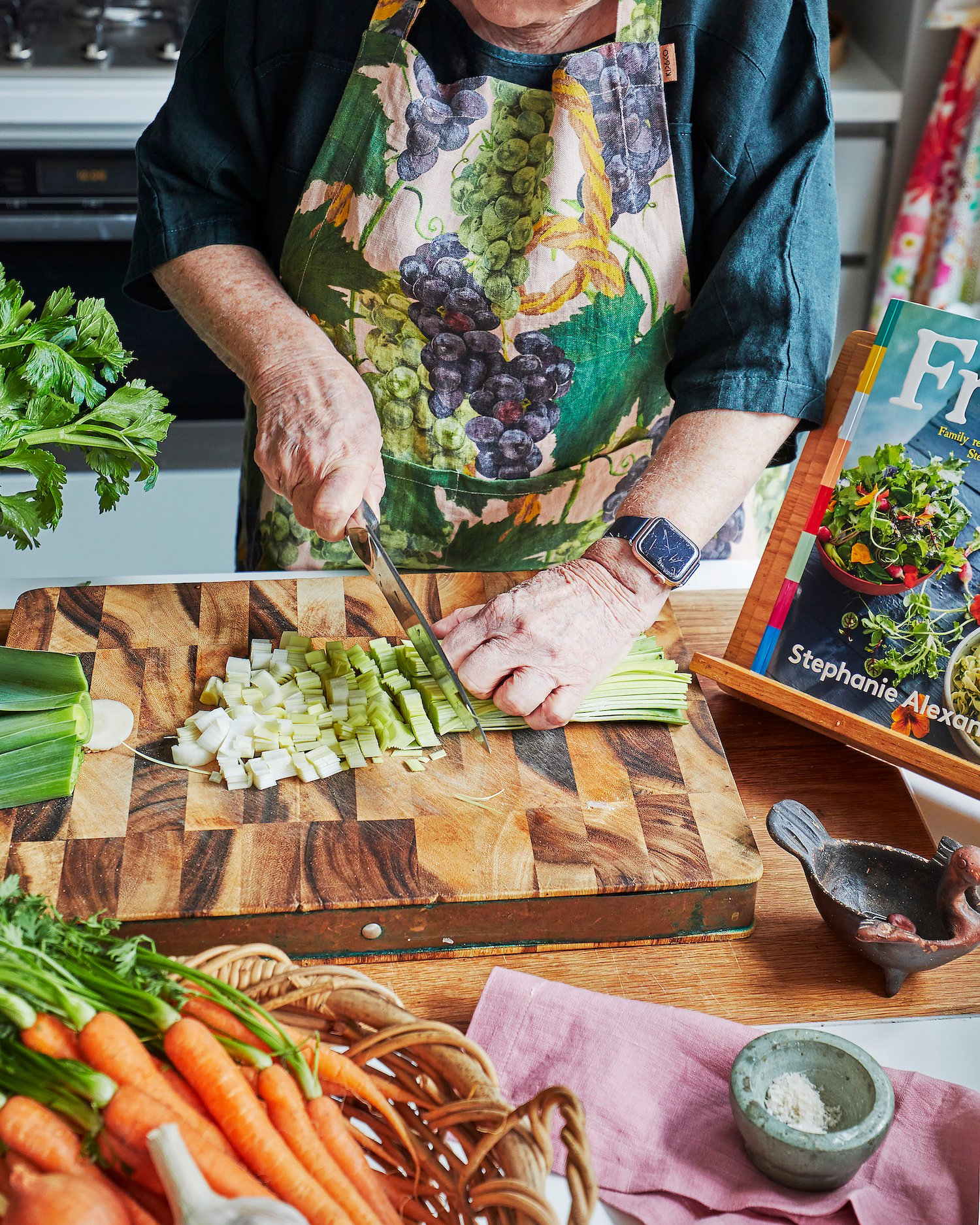 You can purchase a signed copy of Stephanie's new book Fresh from The Stephanie Alexander Kitchen Garden Foundation. Buying from the Foundation helps to support more students to take part in the Kitchen Garden Program. Buy HERE.