In today's blog, we're hanging out with award-winning author, broadcaster and kitchen wiz Alice Zaslavsky, AKA Alice In Frames. Known for her irrepressible enthusiasm and passion for veg, the ex-Masterchef contestant has been on a mission to make food fun, no matter the age or ability. Alice is the friend in food we've always wanted to cook with, and we are excited to share with you one of her heavenly recipes from her new cookbook.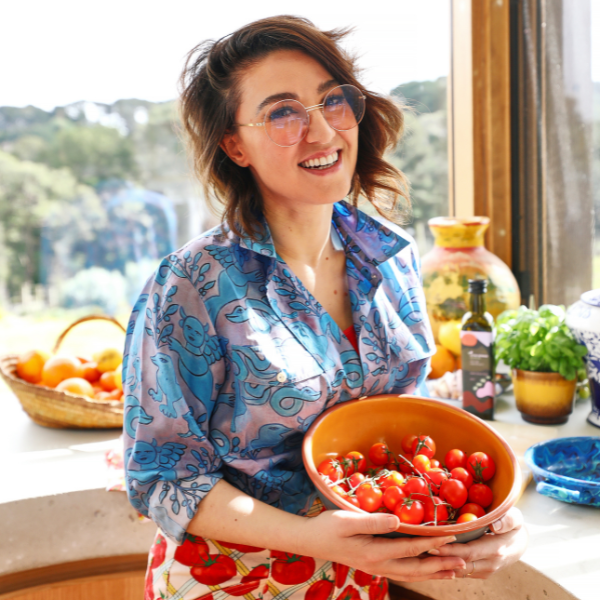 "A Joy filled take on the Pan Confit Tomate"
1. Hi Alice! Thank you so much for spending the day with us cooking up a feast. For those who don't know, can you tell us a bit about yourself and what your creative journey has been like to date?
I'm a cook, a broadcaster and a writer. I love connecting with people, and people with ideas, and I especially love helping to add value to people's lives - whether that's by unlocking their confidence and creativity in the kitchen, or helping to set families free from food limitations, especially veg nay-saying.
2. Congratulations on releasing your second cookbook, The Joy of Better Cooking. Can you tell us the story behind your latest creation?
Thank you! My last book, In Praise of Veg really feels like it's resonated for people, and is inspiring cooks all around the world to get their veg on. And through the years of connecting with so many readers and cooks both in my community and through my media commitments on radio and the telly, I noticed a script that runs on loop for so many; the notion of not being "good enough" in the kitchen.
I wanted to write a book to help people to adopt more of a growth mindset with their cooking - to recognise that every time they cook, they get better, and that there's a freedom in aspiring to better rather than good - let alone perfect. It's still full of veg-forward recipes, with the added bonus of lilac-tinged pages that provide cooks with plenty of 'The Why' of cooking - spotlights on gadgets, skills, ingredients. And there are lots of pictures for visual learners, including grids for steps if that's more your flavour. It's also a fun read, because I don't want you to realise you've learnt a bunch of stuff until you step back into the kitchen and realise "hey… I'm already better!"
3. If being a ABC radio host, journalist and amazing chef wasn't enough, you're also a superstar mother. What are your top three quick & easy meals for those busy parents playing at home?
Ha! Well, quite a few of them have made it into this book! Number one is the Pantry Puttanesca - it's an easy one because while the pasta cooks, you grab the rest of the ingredients from your pantry and in 20 minutes, you've got a really nutritious, flavoursome, family-friendly meal. We use gluten-free spaghetti for it (sorghum-based) so it's very dietary-friendly too. Stir fries never go astray - and the key here is to heat the wok for far longer than you think, then cook the ingredients in batches so that they don't stew. And finally, Soup!! We've always got a big pot of veggie soup in the fridge - whether it's the Grate Borsch from Praise, or the Schi from Joy, it's just such an easy way to get your veg in, and gives you a little extra thinking time to come up with something more substantial if need be.
4. As we're coming into the holiday season where we get to spend more time with family and the kids, what advice do you have for those parents who are battling fussy eaters?
Well, for one thing, try and stop calling them fussy. If there's one thing I learnt as a teacher, it's that once you label a kid, they're stuck with that as part of their identity, and will more than likely live up to expectations. 'Fussiness' is very natural as kids discover more and more new flavours, so serve new foods alongside foods they already feel safe eating, and over time, they'll find their own way to flavour-town.
5. What's next for you?
Actually, I've got a new podcast mini-series launching with Radio National in the coming weeks, which is all about giving Aussies the tips and tricks for better eating at every stage of life - including ideas for parents about exactly what you've just asked, and inspiration for people who are ready to see food - and cooking, differently at any age. Keep an ear out for it!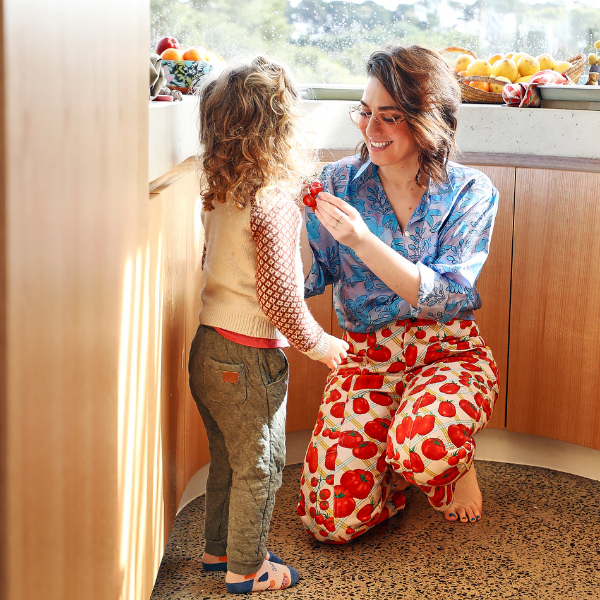 Ingredients
- 250 g (9 oz) unsooked chorizo sausages
- ⅓ cup (125 ml) olive oil I red onion, sliced
- 400 ml (14 fl az) dry apple cider
- Pinch of sugar
- 500 g (1 lb 2 oz) cherry tomatoes
- 430 g (15 oz) Turkish pide (or other long bread), sliced in half lengthways
- 1-2 garlic cloves, halved 100 g (3½ oz) manchego, or other firm sheep's cheese
- Handful of finely chopped parsley
- Lemon wedges, to serve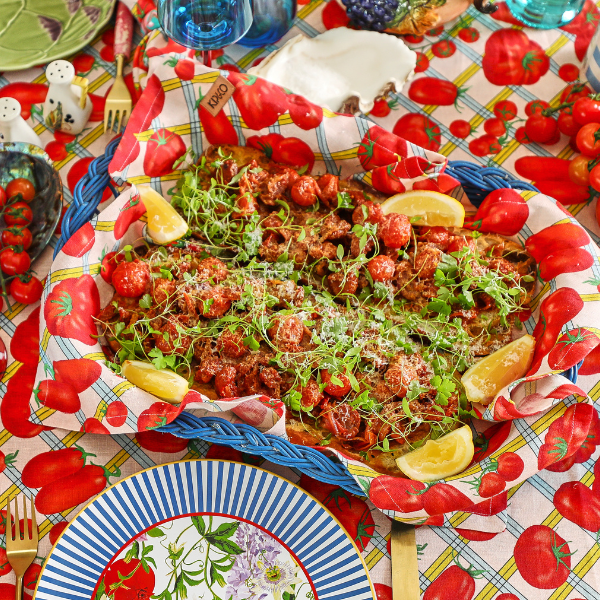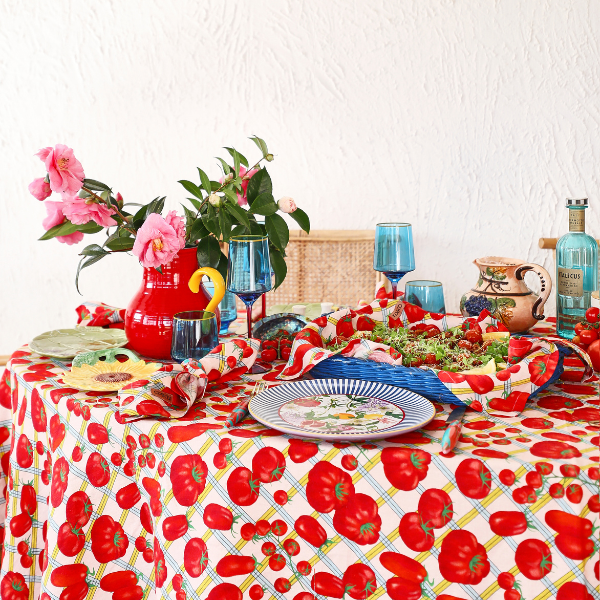 Method
1. Preheat the oven to 180°C (350F).
2. Pop the chorizo out of its skin in chunks into a large heavy-based frying pan with a tablespoon of the oil, then let it start cooking out its own flaming red fat over low heat for a minute or so.
3. Add the onion and gently sweat for 5-8 minutes, until softened
4. Splash in the cider, sprinkle in the sugar and toss in the tomatoes. Bring to the boil, then turn the heat back down to a simmer. Let the mixture bubble away for 25-30 minutes, until it looks syrupy and the oil floats to the top. Season to taste with salt flakes and cracked black pepper.
5. Meanwhile, place the bread slices on a baking tray, then slip another tray on top to flatten the bread and stop the slices curling up into half-moons. Bake for 25-30 minutes, until the bread is golden brown and crispy as all heck.
6. To serve, rub some fresh garlic over the open faces of the bread, then arrange on a platter and pour the tomato mixture over them. Shave the manchego over.
7. Sprinkle with the parsley and some more salt and pepper. Drizzle with the remaining olive oil and serve with lemon wedges.