This week on the Magazine we are bringing you a slice of Italy as pasta enthusiast @lanima_cucina shares with us her step by step recipe to creating the fluffiest, fresh and vegan Busiate pasta! With a mix of her Albanian heritage and connection to Italy, Az has created L'anima Cucina (The Soul Kitchen), where she runs Artisan Pasta Workshops across Melbourne. Next time your looking for the perfect date, girls or family night dinner idea, this mouth-watering Alla Norma Recipe will be gone before you can say Buon Appetito!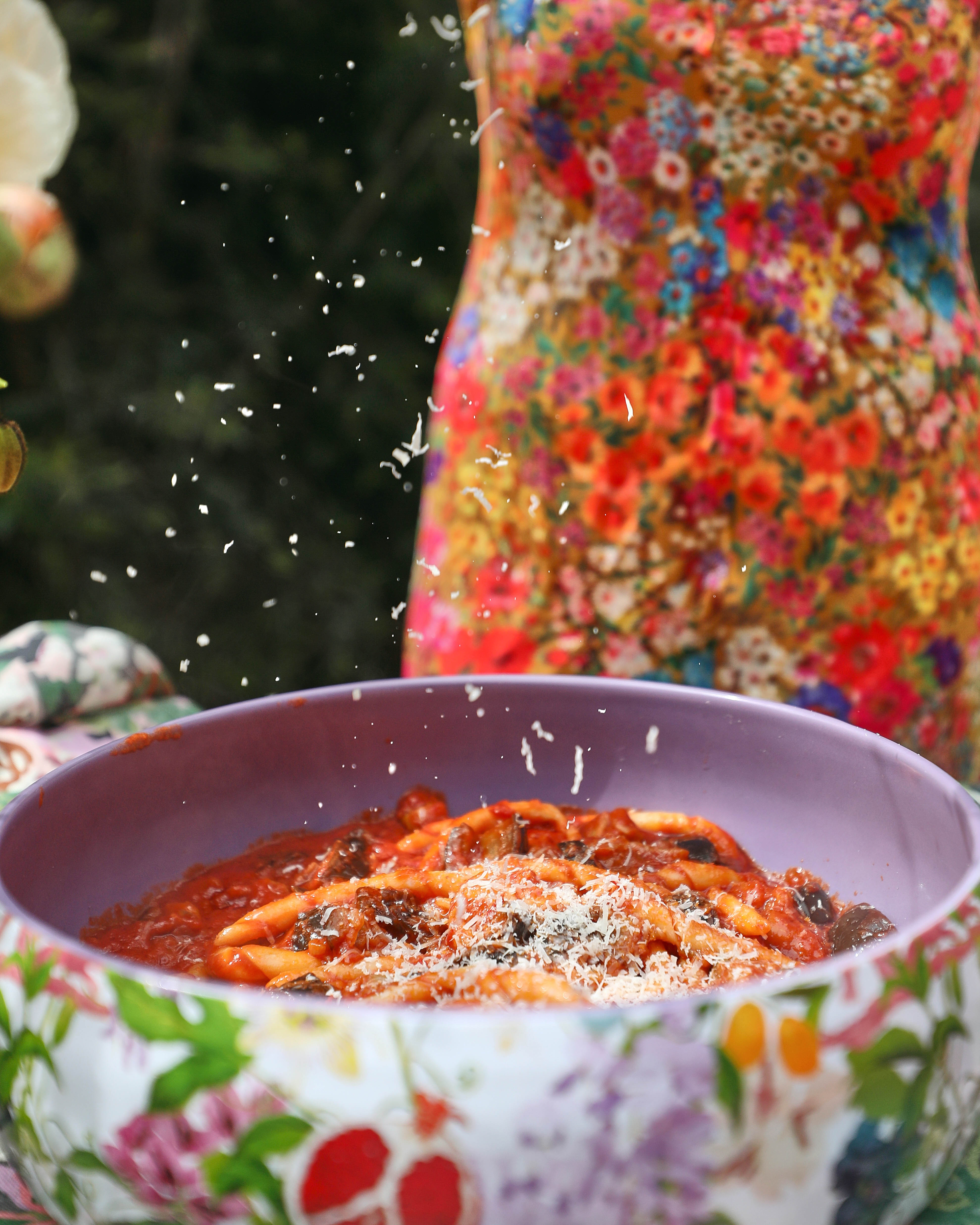 1.Hi Az! Thank you so much for letting us inside your beautiful home and sharing with us your delicious Busiate alla Norma Recipe! First of all, for those who don't know, can you tell us a little bit about yourself and what you do?
To kick this off, I'd like to say how fabulous it was having Kip&Co in my home, its been a brand I have been a fan of for 10 years and it was so much fun creating pasta magic together! For those of you who don't know me, my name is Az and I run Artisan Pasta Workshops and cater for events in Melbourne's North-west and also in la bella Italia! Whilst my heritage is Albanian, I have the biggest pseudo Italian soul, and L'anima Cucina (The Soul Kitchen) is beautiful immersion of both of these amazing cultures.
2. Where did your passion for cooking come from? Was there anyone in particular who inspires you?
My passion for cooking comes from my gorgeous mother, who often makes a cheeky cameo appearance on my page. My parents came from very humble beginnings. They made their own ricotta, yoghurt, butter, milled their own flour, made their own bread etc so when they migrated to Australia in the early 60's they continued to adopt all of these slow food artisanal practices for our large fam.
Most of what we ate growing up was either home grow or homemade, and Mum taught me to cook using my senses alone. As I got older, I realised how important it was to preserve these traditions so we could continue to enjoy these recipes and this way of cooking for many years to come and the only way to honour this legacy was to be able to share them with others….and L'anima Cucina (The Soul Kitchen) was born.
My greatest inspirations are the mum and dad cooks, the grandparents, the aunties and uncles who I've cooked with across Italy and here in Melbourne who have been kind enough to share their family recipes with me, as I feel this where real tradition is held. There are also numerous Italian chefs I follow I follow like Georgia Goggi who has this amazing balance between traditional and modern Italian cuisine, Julia Ostro , and Emiko Davies also rock my world.
3. If the pasta obsession wasn't a big enough giveaway, you are a HUGE fan of Italy and more specifically Positano! What do you love about Italy?
GRANDISSMO FAN! I have always had this incredible connection to Italy for as long as I can remember, and then the first time I went to Italy I landed, it was as though everything just made sense. A BIG (what Oprah would call a) Ah-ha moment, I felt as though I had been 1000 times before. I think only those who have experienced this feeling will understand this. Italians they are loud, passionate, emotional…these were my people!
Italy is so cinematic, it's a country so rich in history, culture and it doesn't matter how many times I've been the second I land in Rome I still get all the vibes! I love how they still carry so much tradition in this part of the world and particularly in the South of Italy where I feel most at home.
4. What are your top travel tips for someone who is visiting Italy? Any restaurants that are a must go-to?
My first tip is, don't put cheese on seafood dishes unless you want to create Italian pandemonium. You HAVE to try the Mozzarella di Bufala (Buffalo Mozzarella) when on the Amalfi. Mozzarella di bufala originated in the Campania region and it is nothing like the mozzarella you get here….it is super soft, milky and absolutely delicious! You will thank me later!
Positano has some of the best food Italy has to offer and very much inspired by Neapolitan fare. It has a perfect blend of traditional Italian fare and then some incredible Michelin star restaurants. As someone who has travelled there every year for 10 years I will give you my favourite hot spots to try the next time you are in Positano or on the Amalfi Coast.
There are so many to list…but my go-to places are: Da Vincenzo, have the Napoletana cult classic, the Genovese!! La Taverna Del Leone is sensational. The beach clubs in Positano are also incredible, often there is a Nonna in the kitchen banging out some of the best food you will have.
My favourite beach club where I spend most days when I'm in Positano with my beautiful friends at Arienzo Beach Club, their Spaghetti with clams is unrivalled plus the views of Posi from Arienzo are Instagram worthy. Another favourite and I have to say has quite possible some of the best food in the Amalfi (and the locals will back me up here) is Da Adolfo. It's a pebble floor beach shack, no fuss, zero fancy which I LOVE and their Zuppa di Cozze is insanely good! It's their signature dish which is freshest mussels in a red tomato sauce. SO GOOD! For something super dreamy and memorable you must experience Le Sirenuse, this restaurant is beyond incredible, full of climbing ivy it is simply spectacular and also Maestro's at Villa Treville….be prepared to be blown away by the beauty of this place. Complete fairytale vibes.
5. You offer pasta workshops in Melbourne and Italy. Tell us a bit about this and where we can join one!
There are so many exciting things happening in Lanima Cucina over the next 12 months. For those wanting to channel their inner Nonna they can jump onto my Instagram at @Lanima_Cucina and either slide into the DM's or drop me an email at abesim@icoud.com to register to be the waitlist for my workshops, as new dates will be launching soon. There are also some super exiting things happening in Italy next summer also that I can't wait to share….so stay tuned…. Thanks for having me Kip&Co. and Buon Appetito!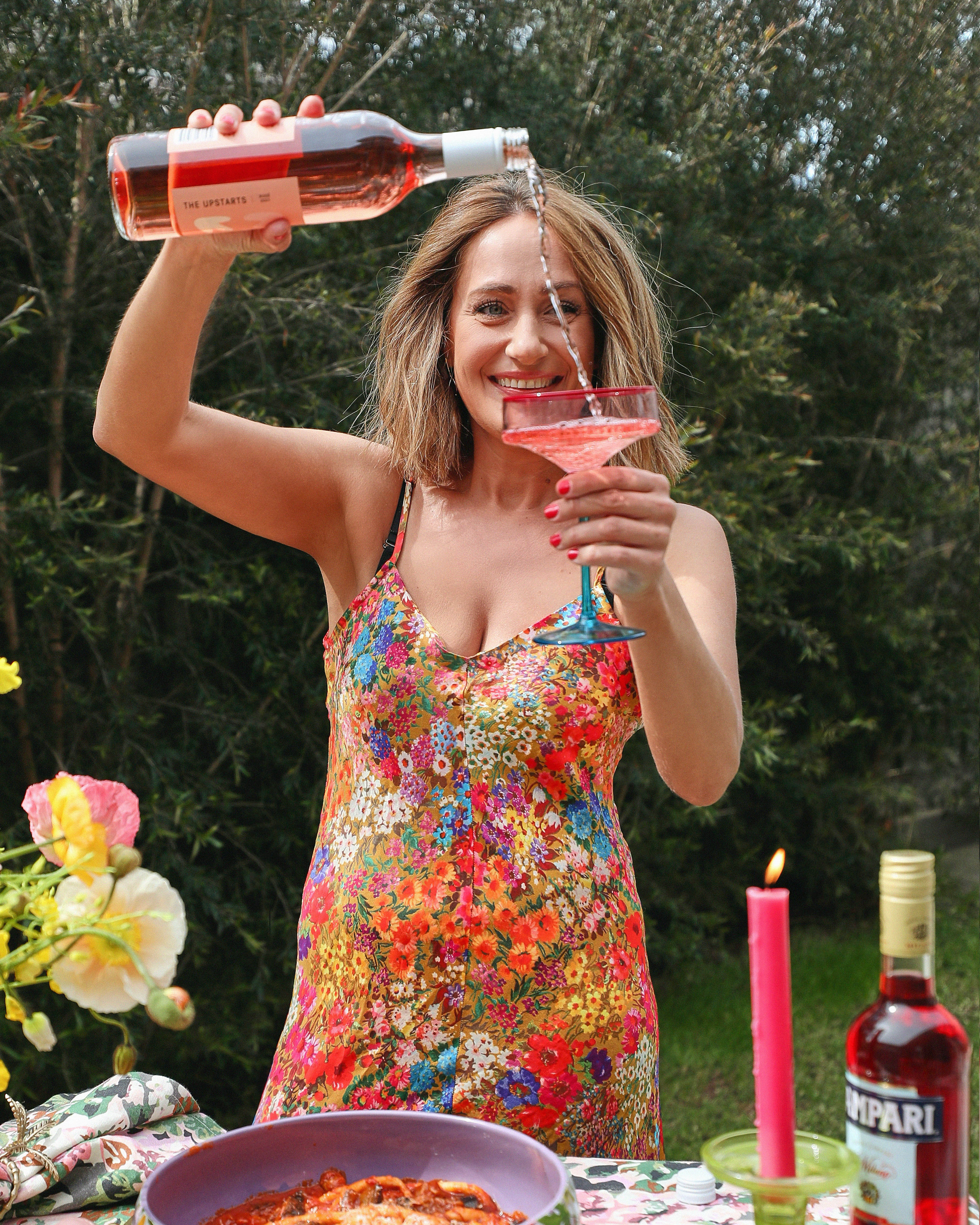 Busiate Pasta - A Sicilian pasta (Vegan, Egg Free.)
Ingredienti (Italian for ingredients)
- 200 grams 'Semola Rimacinata di grano duro' (Please note this is not semolina flour- its almost a cross between Tip00 and Semolina)
- Pinch of salt
- 100 grams of hot tap water
Method
1. Forming the dough
- Place the Semola into a bowl or on a wooden work surface and make a well in the middle of the flour. Gently pour in the hot water and use your fingers to incorporate the water into the flour. Once the dough has formed a shaggy mess, use your hands to knead the dough until smooth and elastic. You do this by stretching it out against you and then folding it back onto itself and rotating the dough until a smooth but firm homogenous ball forms.
Note: This dough is a little firmer to work with so its important you need for a solid 10mins to get that gluten working and give your biceps a workout in the process.
- Wrap in cling film and leave to rest at room temperature for 30mins.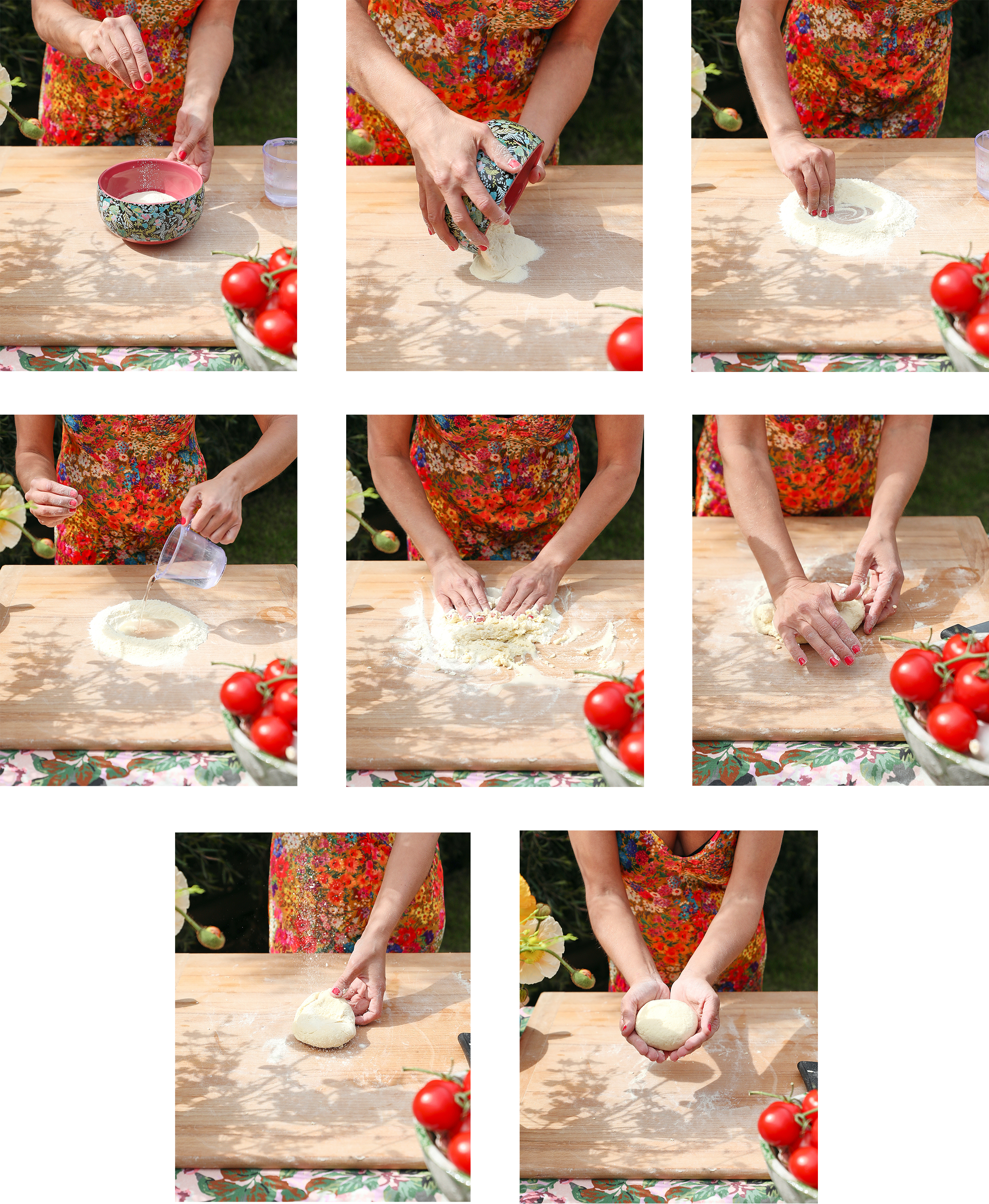 2. Shaping the dough
- After the resting time, take a portion from the dough and roll out into a long thin rope approximately the diameter of a thin knitting needle (be sure to cover the rest of the dough whilst you work to avoid it drying out).
- Cut each rope into 15 cm pieces.
- Place the dough in a vertical position and place a bamboo skewer (or a Ferretto if you happen to have one on hand) at the top end of the dough at a slight angle. Wrap the tip of the dough around the skewer and coil the dough around the skewer using your left hand to roll the skewer away from you. Twist the wooden skewer back and forth to loosen the coil and gently slide off the skewer.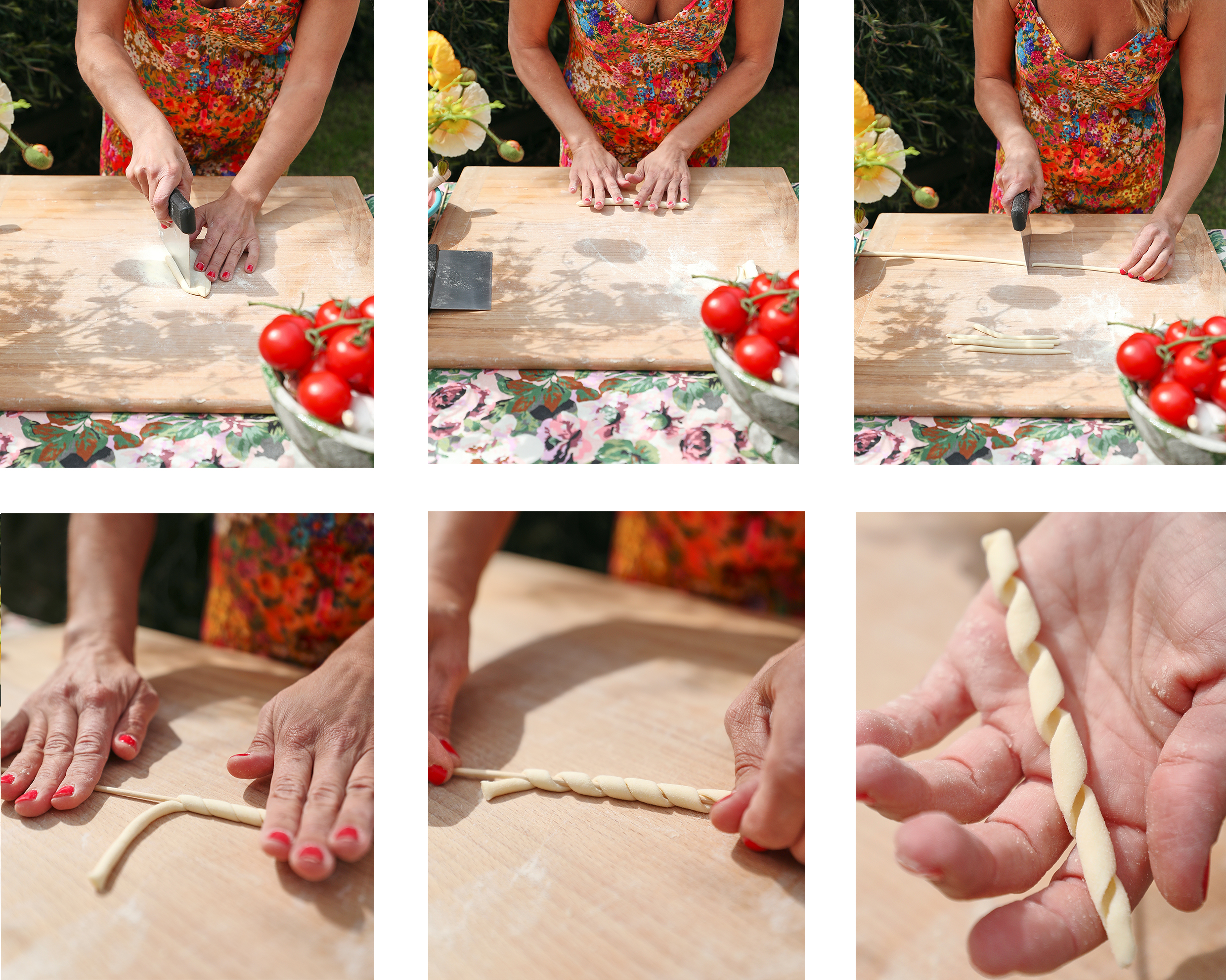 - Place on tray lightly covered in Semola so they do not stick. Continue with the remaining dough. Allow pasta to dry for approx. 30min-1hr prior to boiling.
- Place a large pot of water on and bring to the boil with a heaped teaspoon of salt (never skip the salt guys), gently place the Busiate in the boiling water. The Busiate are done when they rise to the top which should only take a matter of minutes, ensure they are al dente which means there Is a slight bite in the pasta (no one likes soft soggy pasta) and enjoy with sauce of your choice.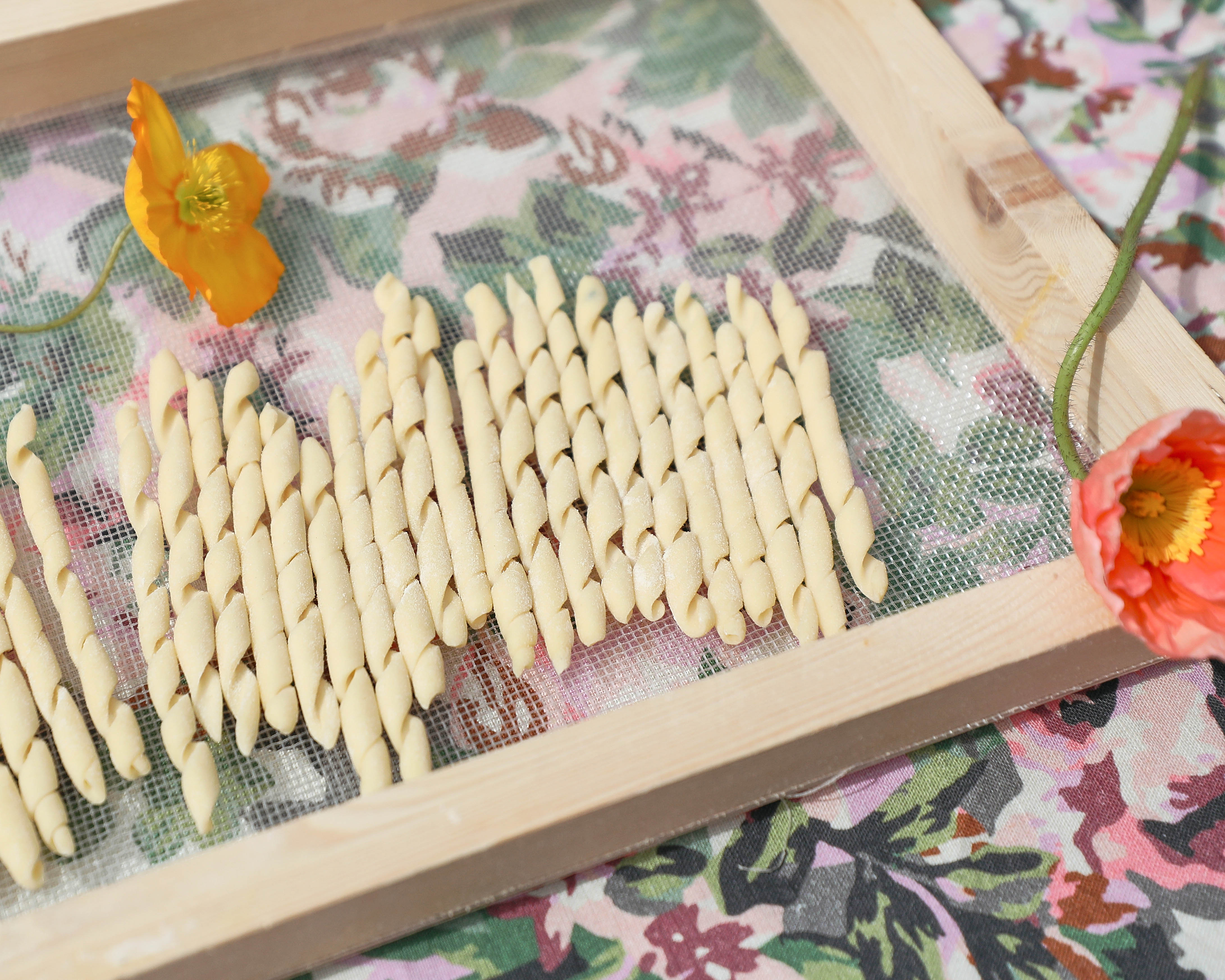 Alla Norma (a Sicilian sauce)
Ingredients
- 1 large eggplant
- 500 grams cherry tomatoes (refer to notes)
- 1-2 cloves garlic
- Olive oil
- Sunflower oil for shallow frying
- Pecorino Romano (or Ricotta Salata if you want to keep it traditional)
Method
1. Cut Eggplant into cubes and sprinkle with salt.
2. Pour in sunflower oil into a pan to coat the bottom of the pan.
3. On medium to high heat shallow fry the eggplant and then place into a bowl and set aside.
4. Finely chop garlic and chop cherry tomatoes in half and keep aside.
5. In the same pan, place a few good splashes of evoo and fry garlic on medium heat until fragrant. Add cherry tomatoes in the pan with the garlic and continue to sauté until soft and juices released. . (I usually blend the tomatoes with an emersion blender or if tasty you can leave as is)
6. Add eggplant back into the sauce and mix for a few minutes. Add ¼ cup of starchy pasta water to the sauce if needed to create that creaminess Add in cooked pasta, and mix.
7. Off the heat, tear some beautiful basil leaves and add to pasta. Season with pepper and finally…. sprinkle with some Pecorino Romano (Ricotta Salata is traditionally used, but I prefer the taste of Pecorino) and buon appetite a tutti.
Chefs notes: If you do not have sweet juicy cherry tomatoes on hand you could also use a can of Mutti peeled tomatoes. Use your hands to crush the beautiful pomodori before adding them to the pan