Set sail for long salty days, pastel pink sunsets, and sunshine kissing the water with our latest collaboration with Julia Ashwood, Kip&Co x The Vista.
Julia Ashwood (AKA The Vista), has travel in her blood, and has spent the last couple of decades sharing her free-spirited tips on global wanderings to a devoted community of followers. In more recent years Julz has switched from finding dream destinations to creating them, playing a hand in founding some of the Byron hinterland's coolest venues, including the Eltham Hotel, and her latest project Sun Ranch.
Together we have created a range that is inspired by the glow of a warm sunset, ocean swims and wild flowers. The collaboration is a reflection of Julz's amazing light and energy and includes terry towels, robes, hats, bags and pyjamas.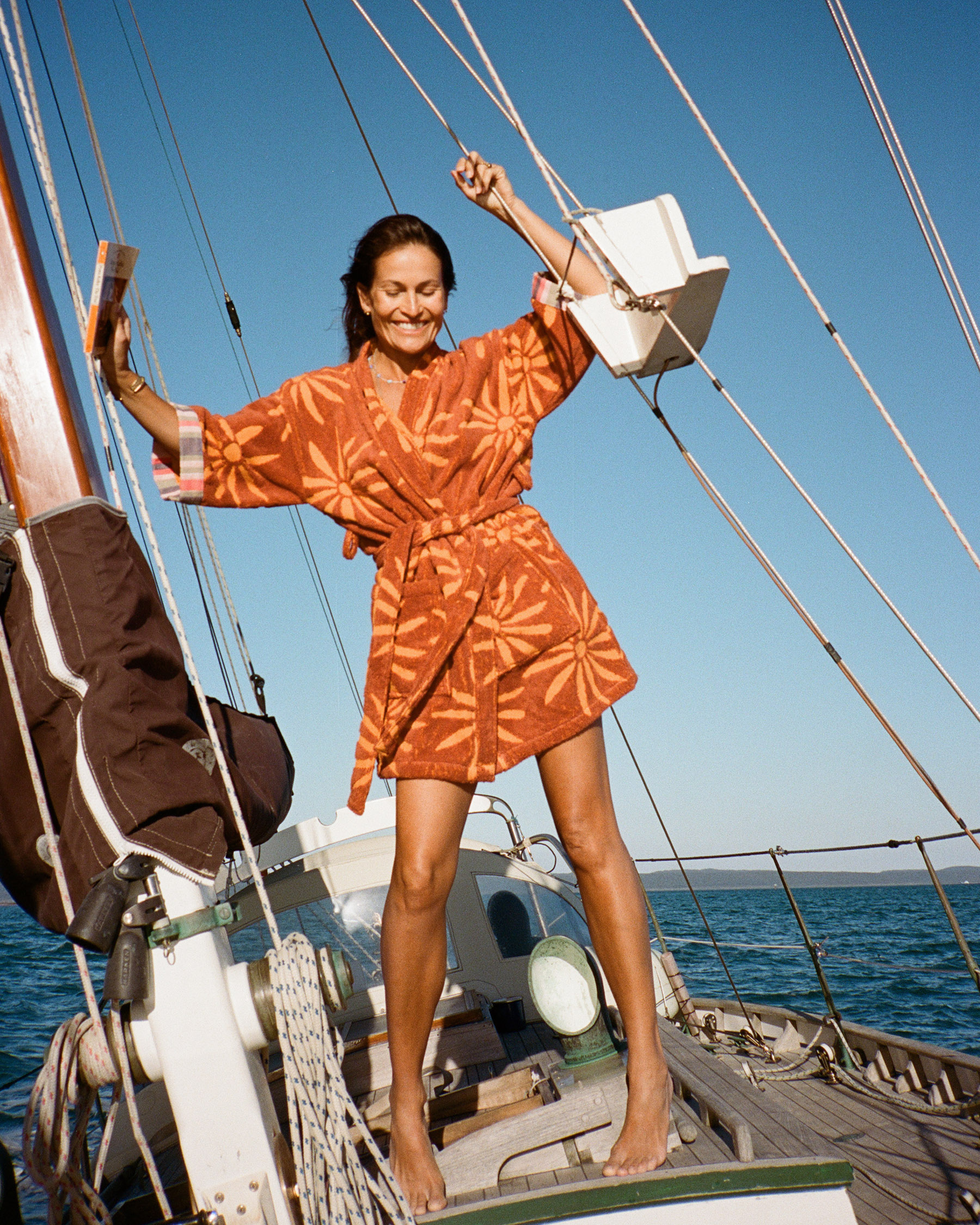 Let's kick off with a little bit about you. You've created a devoted community of followers as our north star for stylish yet free-spirited wanderings and authentic daily moments. When your kids ask what you "do" for a gig, how do you answer them..and what was your journey to get there?
I grew up in Lennox Head, which was (back then) mostly a fishing and surfing village 20 mins south of Byron Bay. My family bred cattle and there was little time for holidays, so once I was old enough to leave home it was honestly all I wanted to do. Travel and earning the money to travel became my soul focus. My first job was in a local surf shop at 13. Once finishing high school I bought a ticket with my two best friends to Hawaii, from that day onwards it was in my blood.
There was a whole world to see and I was constantly looking for the opportunities to get myself to the other side of the globe. Whether it was on a beach in Jamaica, in the jungle of Costa Rica, to a festival deep in the Arizona desert, treasure hunting in a Moroccan souk or riding a bike through Manhattan I was so hungry to see and feel it all.
I worked in marketing and advertising for many years before I returned to Byron Bay to marry and have a family of my own. For a while things slowed down, as our babies were growing we knew we wanted to plant our roots in the same earth where I was fortunate enough to grow up. We then, with a group of business partners bought a pub…things got busy from there. Now we are involved in four venues including our latest, a boutique hotel and luxury ranch stay ~ Sun Ranch.
When I asked my two kids what I did for work they said "take photos and make places you can drink wine…" I'm totally down with that!
Tell us a little bit about how the collaboration came about. Other than the fact we have been LONG time fans of yours obviously and have been dreaming of this partnership for oh, I don't know, about a decade (a great lesson in manifestation for everyone playing at home). So perhaps the better question is, what made you say yes to Kip&Co?
Ha YES! Manifestation is one of my favorite hobbies. You can't make it happen without dreaming it up and seeing it evolve in your minds eye first! I have always followed along with the Kip&Co story - we both share a love of vibrant colour of course, beyond that I love the sense of fun and joy they express through the brand. I also have always appreciated their approach to sustainability putting ethical considerations first.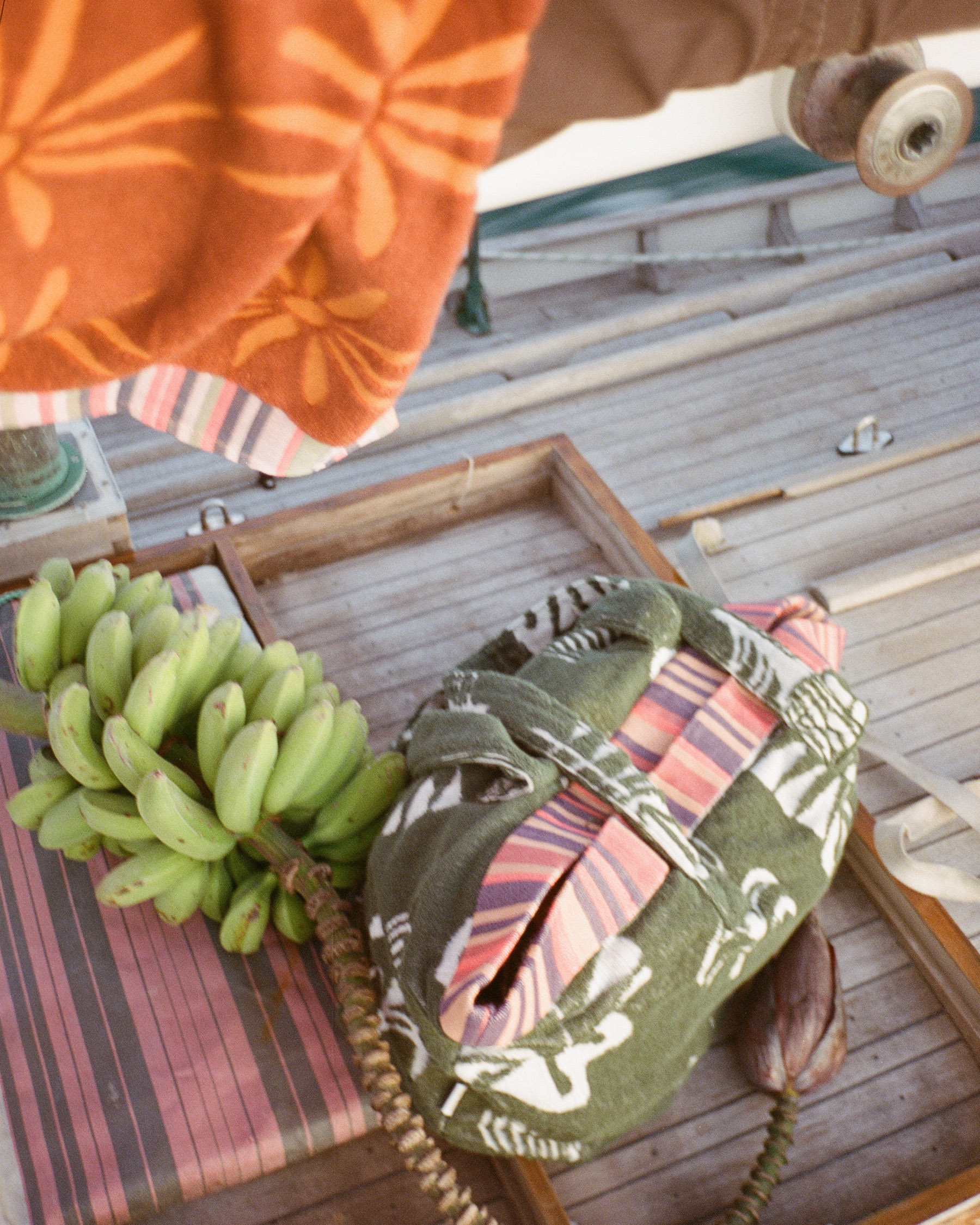 Tell us what your inspiration was for the range?
Knowing that we had a spring release I cast my mind straight to some of my most loved things of the season - a warm sunset glow, ocean swims and wildflowers… The whole collection is beachy and soft with a touch of Missoni inspired stripe.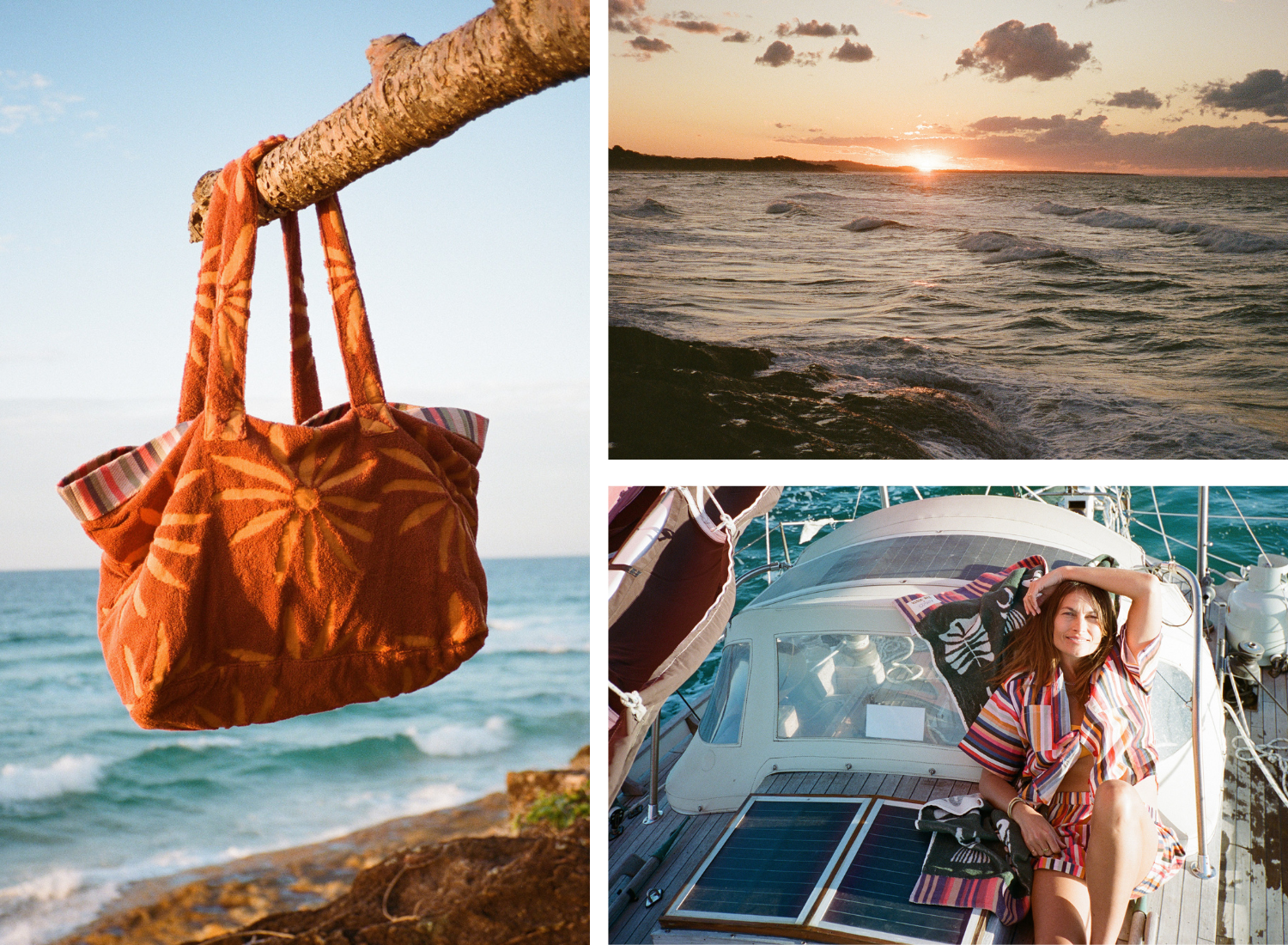 How would you describe the aesthetic and style of the collection?
It had to be colourful, carefree and multipurpose. Designing a robe which could go from pool or beach to sunset bar was loads of fun! The oversized beach bag is perfect for families, a bucket hat is always a must and of course bold, fun towels for the beach and bath.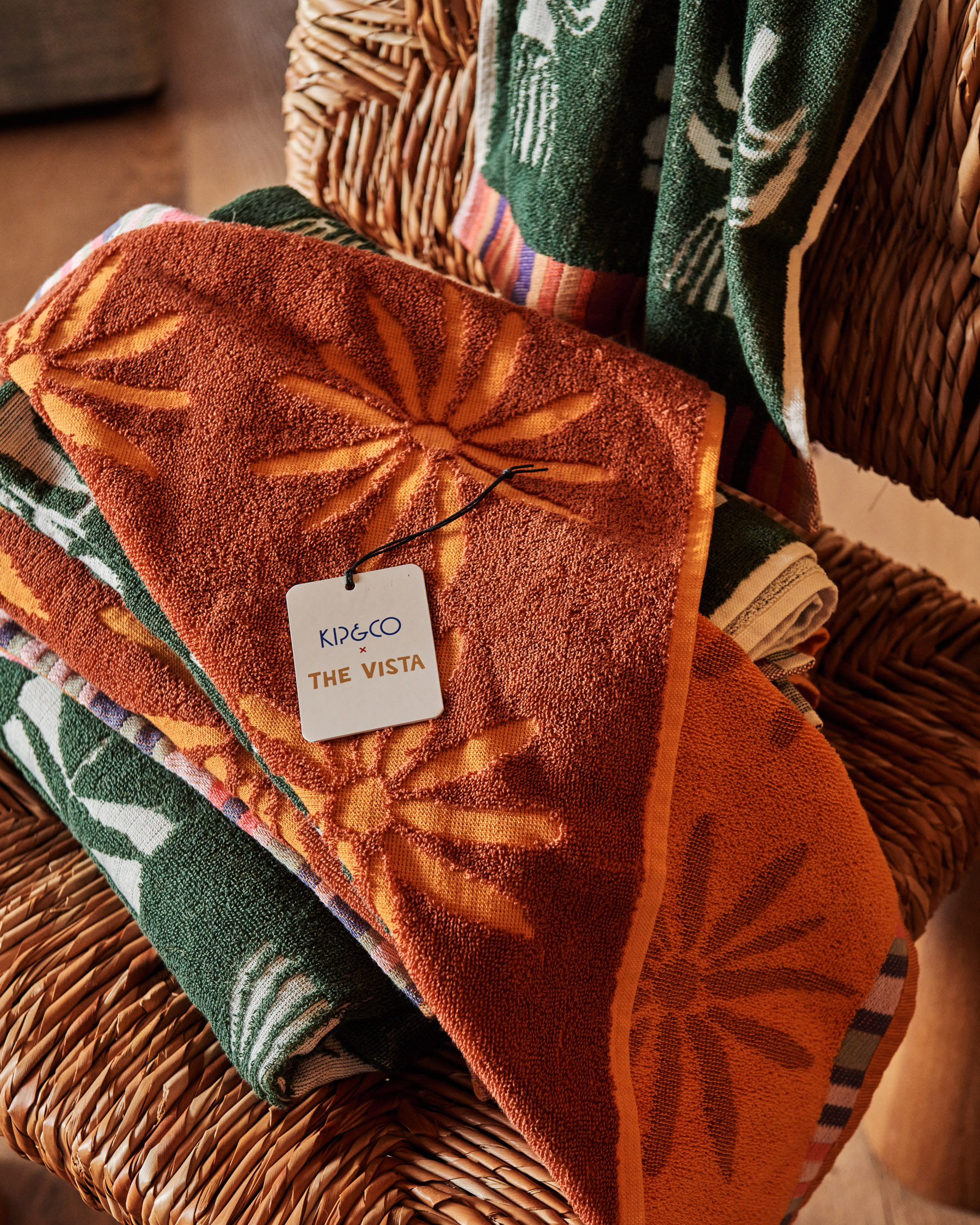 What's your favourite piece in the range and why?
It would have to be the robe. I have been living in mine already - although I still can't decide which is my favorite colourway!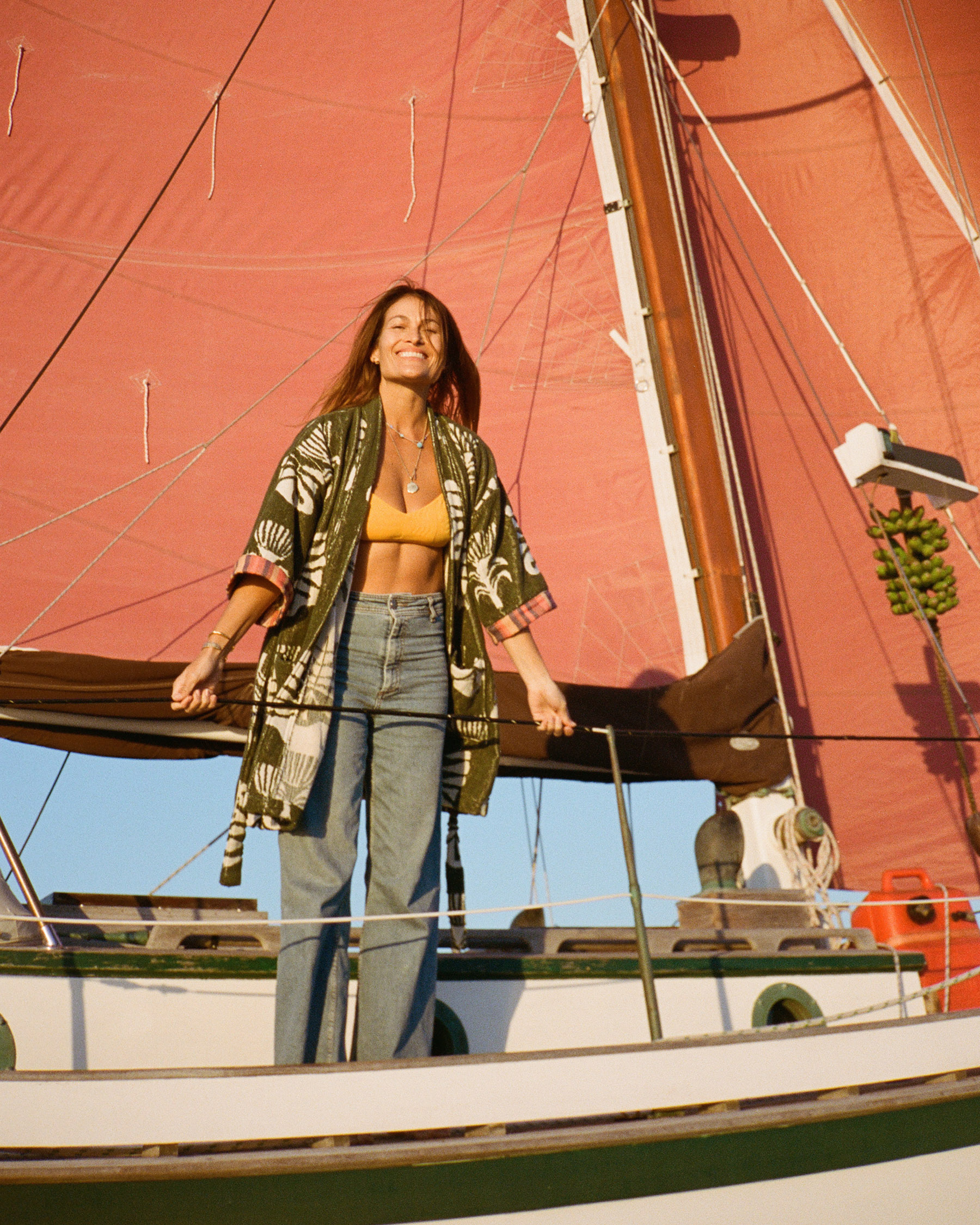 Where will you be using these products?
From coffee in the morning to the beach to the bar - it's certainly a collection to suit the Aussie lifestyle. I hope you love it too, Julia X