In the latest Kip&Co's Home Life Series we are entering the imaginative realm of talented Melbourne artist, Hilary Green.
Inspired by ancient shapes and organic forms, Hilary works across clay, paint and film from her sun-drenched home studio in Brunswick.
A curated collection of colourful memories fill every corner of Hilary's studio and home, from vintage hand-me-downs and treasures from friends to flower cuttings and a collection of personal art.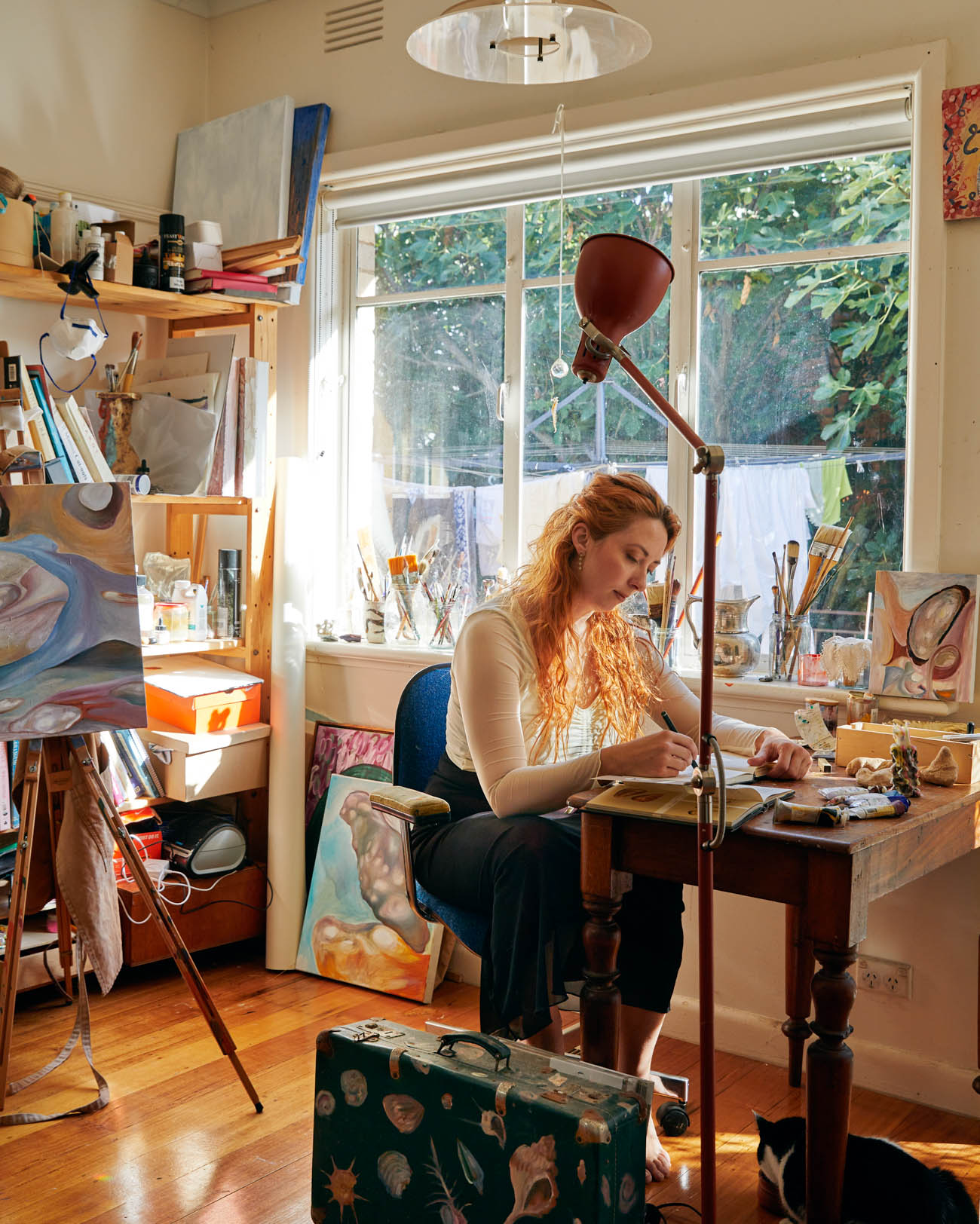 1. Hi Hilary! We are huge fans of your incredible work and have been eagerly awaiting our visit to your home studio to get a look behind the scenes. For those who haven't yet heard of you, can you please introduce yourself?
Hello and thank you! I am a Melbourne based artist who makes sense of my world with clay, paint and film. At the moment I am mostly creating ceramic functional and sculptural pieces that can live in your home such as candelabras, vases and ornate tableware. I have been regularly exhibiting my work in Melbourne for the past 6 years, sell collections of work online and also host a variety of events and workshops as well.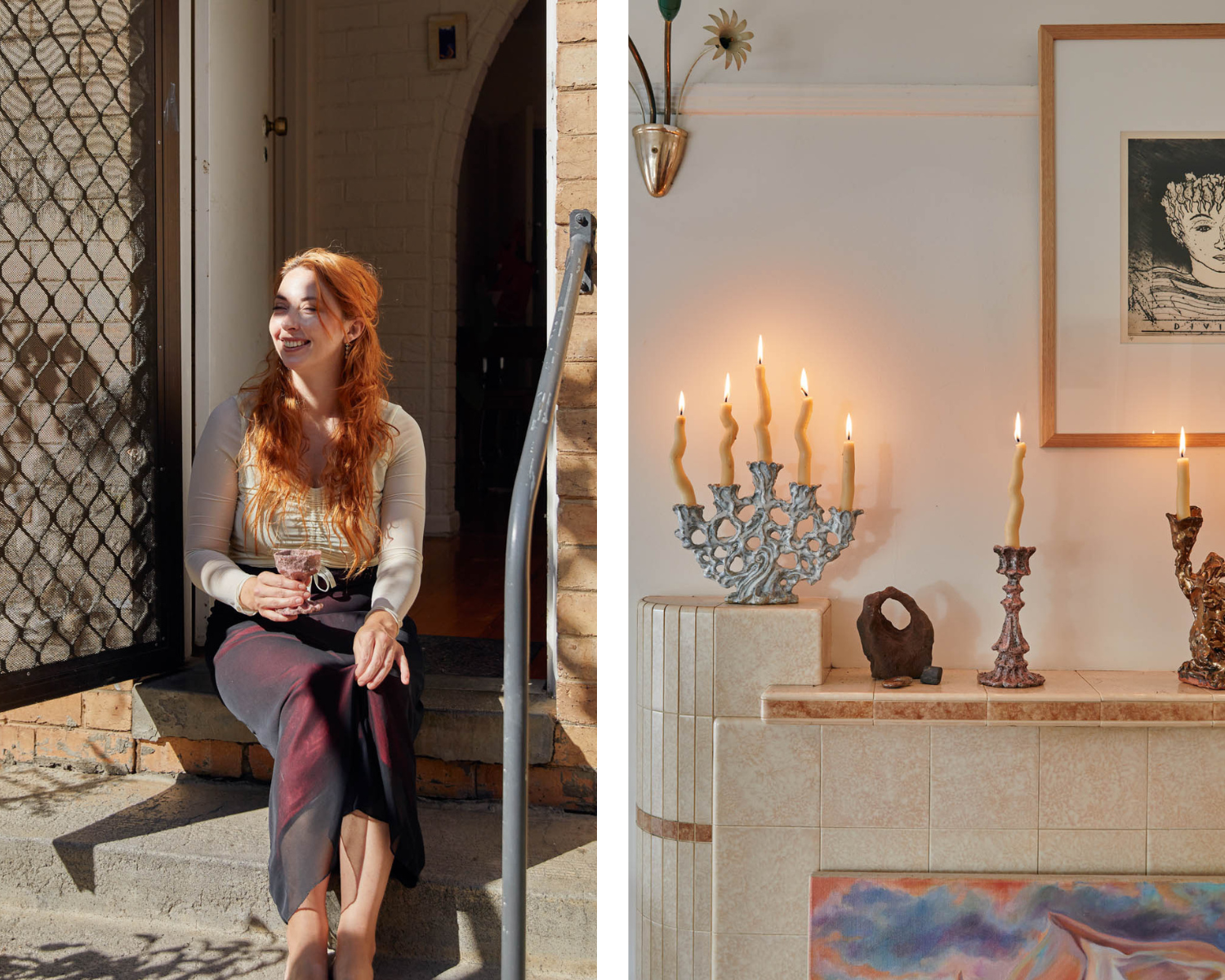 2. Tell us about your creative journey to date. Did you always know you wanted to pursue a career as an artist?
I have always been an artist at heart but have not always pursued it as a career. It has been a windy journey to get here. As a young child I wanted to be a geologist, an adventure photographer and a children's book illustrator. Somehow, I guess, I have combined all of those values in the life I lead now. It took me a long time to discover myself as an artist and I continue to learn what I want to create and what it means.
Completing a Bachelor of Fine Art Photography gave me conceptual grounding but I felt lost in the medium. Looking back now, my photos were tactile like paintings and sculptures. I travelled a lot and I had a career as a primary school teacher because I loved children and wanted to teach and learn from them. I taught animation and film workshops to children and I guess through that, I considered the storytelling potential of clay and tapped into my childhood sensory needs again. Teaching changed my life and really gave me an understanding of how I learn and how to expand my world. Meeting other artists in the community and informing myself in the ceramic art world was a huge catalyst for me to enliven my practice and discover myself as an artist.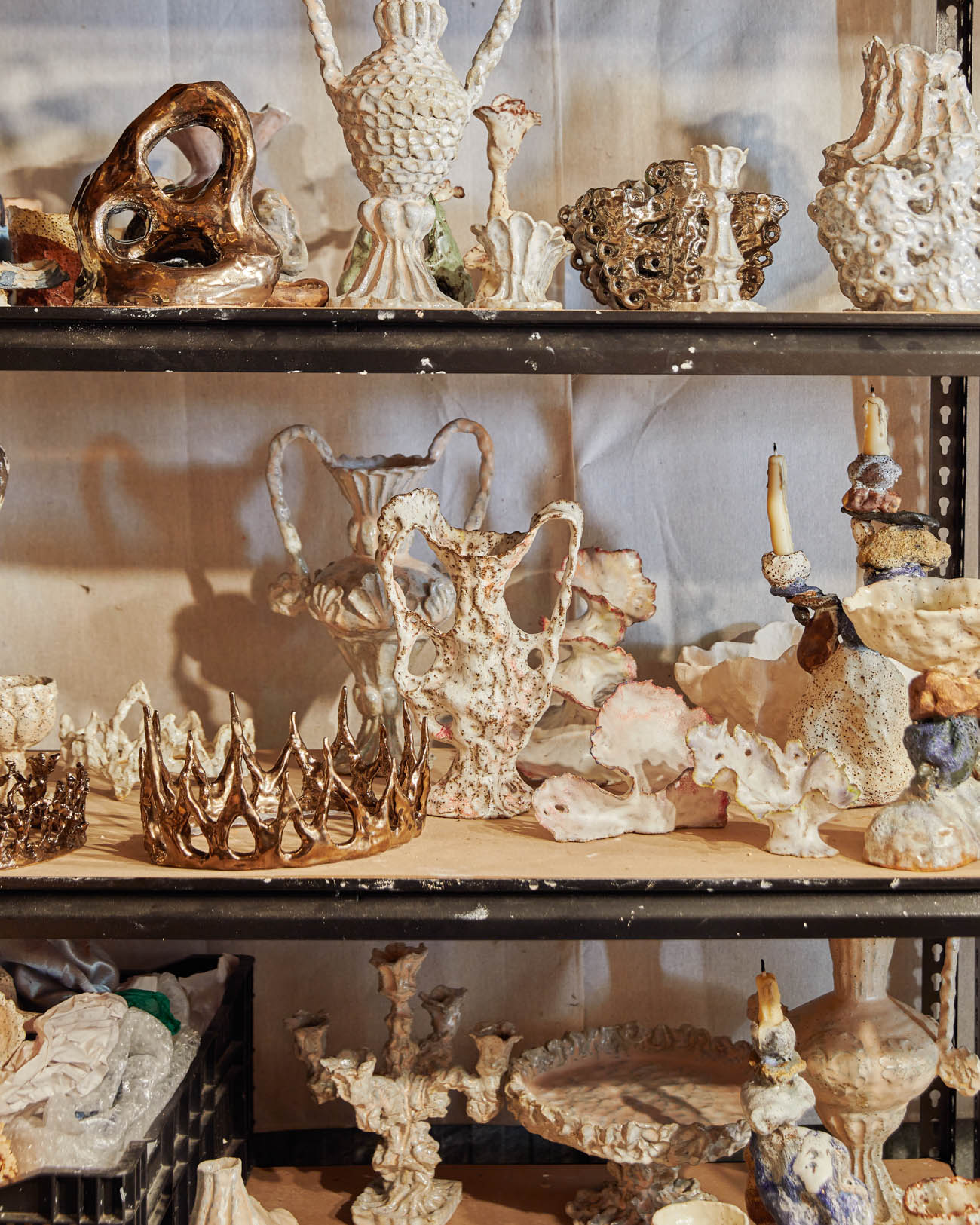 3. Your work is heavily inspired by ancient shapes, organic forms and most recently the ocean. Where did this inspiration stem from? Was there a defining moment?
I absolutely had my defining moment in lockdown 2020. I had loved going into nature before but what I yearned for the most was to swim in the ocean again. I spend so much time looking at rockpool locations on the map, dreaming of places I would go when we were able to again. When we were allowed to go outside again I went to as many waterfalls and beaches as I could. I appreciated their beauty so much and alongside my new handbuilding practice, it just came out of me.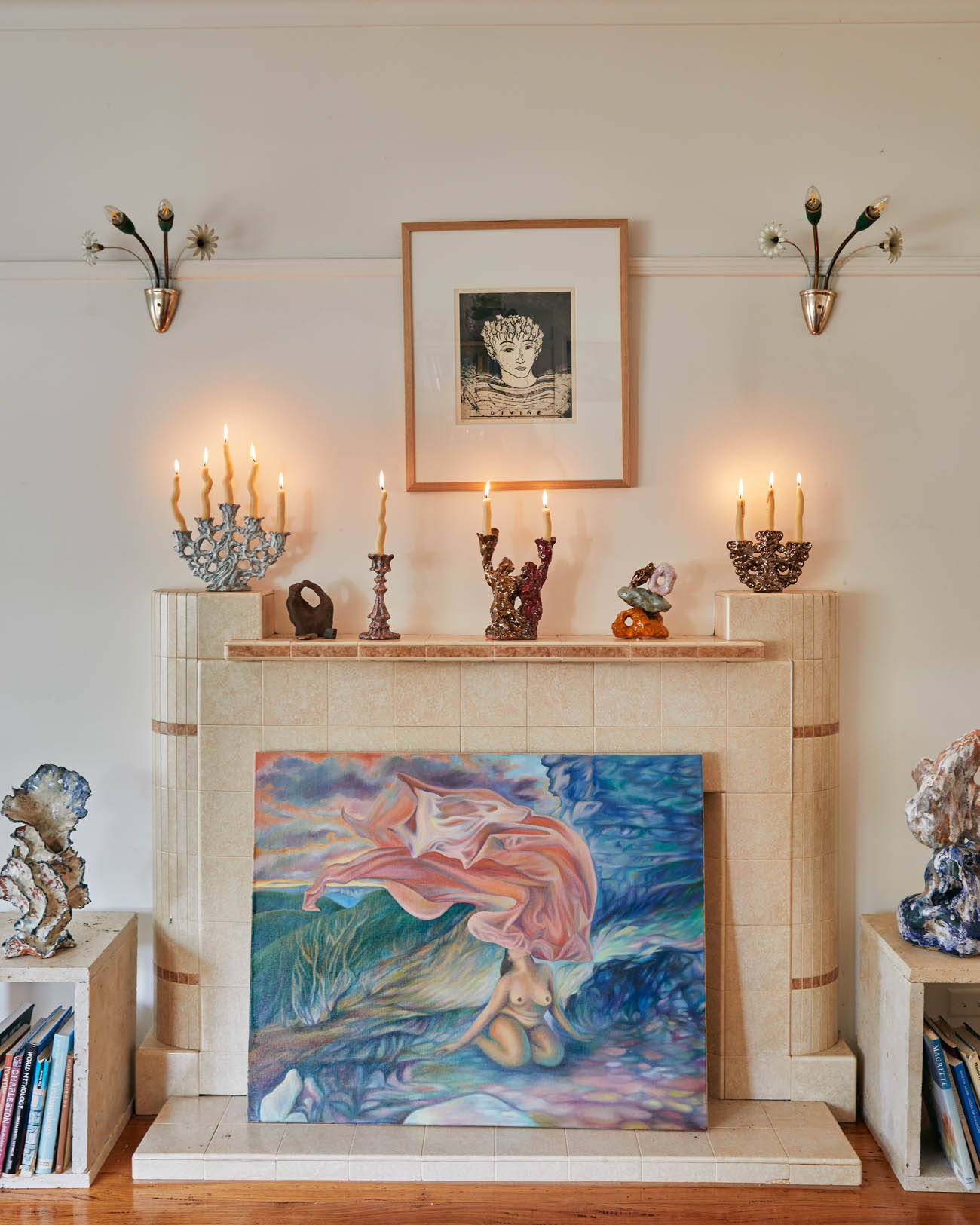 4. The incredible pieces you create are handcrafted and hand-molded, what pulled you to step away from the wheel and move towards this medium?
During lockdown in 2020 was, of course, an extremely hard time for everyone but it also allowed me to realise what helps me focus. So much time alone meant using up bags of clay whilst watching excellent cinema on the projector. I let myself make the biggest vessels I could imagine and I fell in love with hand-building. It was a eureka moment. My drawings had always been organic and imperfect line work so my sculptures now also carry those forms as well. The wheel is meditative but it doesn't express what is inside my brain. The possibilities for hand-building are endless and with each fingerprint I can express emotion, movement, layers of meaning and characterisation.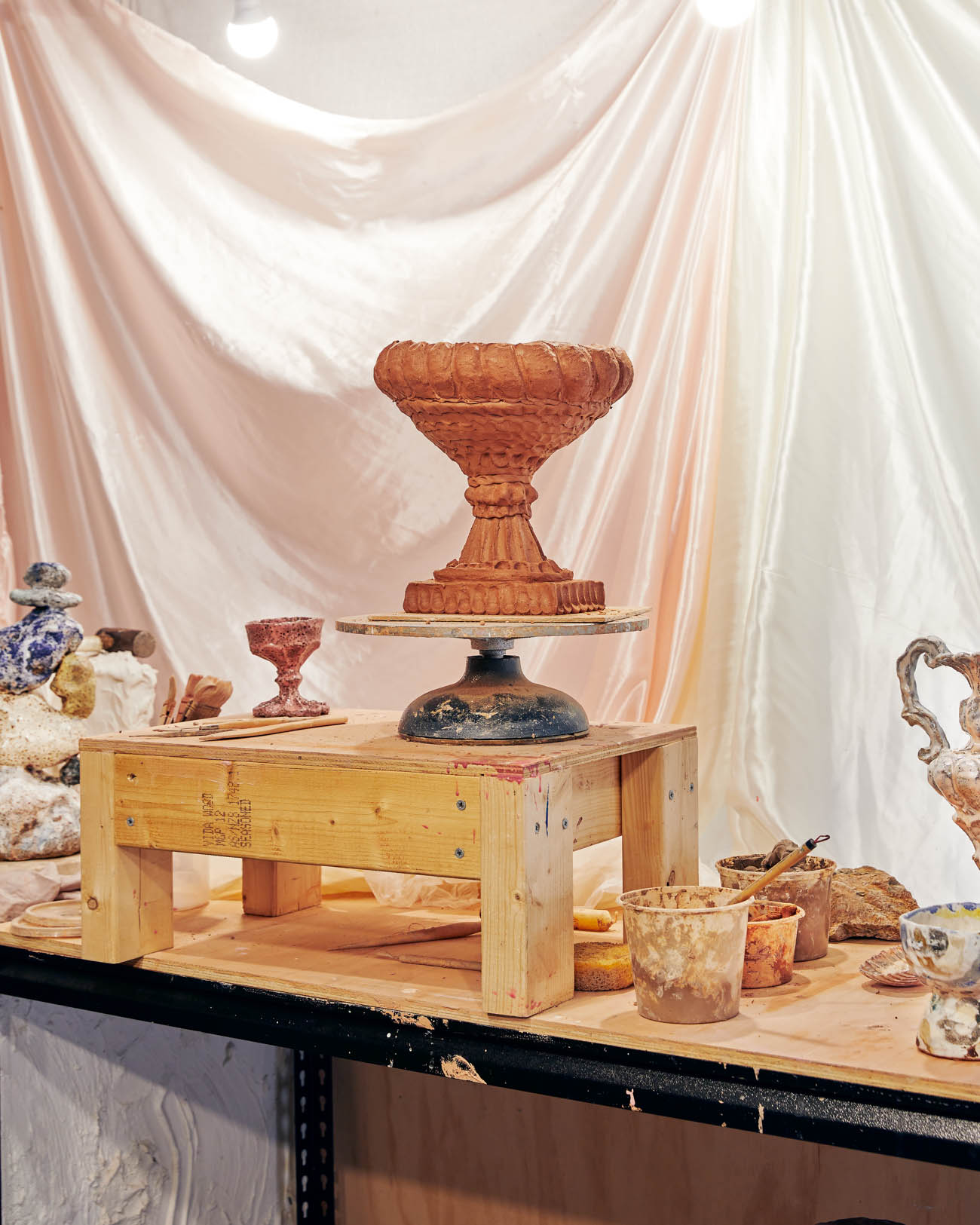 5. You've got the ultimate home studio setup which we bet has some serious perks! How do you like to stay inspired in this hybrid environment and do you have any tips for anyone thinking about starting a home studio?
Thank you! Yes I feel very lucky to have found a place that has a shed to shelter my messy ceramic work and a sunny corner to paint and draw in. I remember for so many years I didn't have any space to myself at home and I tried working in shared studios but it was so distracting. I love being able to check on my work late at night, finish something or have a break and come back to it without having to travel far. My cats are good company as well, we have sunbathing breaks together and I can't imagine creating somewhere away from them all day.
I stay inspired by having a gentle routine. Morning coffee and sketchbook time, writing lists and planning the days ahead help me stay on track. I have over ear headphones that trigger my focus time as I leave my home environment to work environment. I seem to work better in the evening, so I split my working hours into two parts so I can have a break in between.
As for tips for a home studio, I think start with what you have. Once all I had was a pencil and sketchbook sitting in a cafe. That is where my best ideas start and you don't need an amazing space to create amazing ideas. Don't feel down that you don't have the ultimate set up. If you do have a nook or room to work in, put love into it so you feel comfortable, safe and happy in it when you are creating. I work in a shed but I have candles, silk, flowers, music and a sleeping cat to inspire me in one corner, in the other I have organised chaos that is practical and necessary for my work. Everyone is different in their spatial needs so discover what works for you.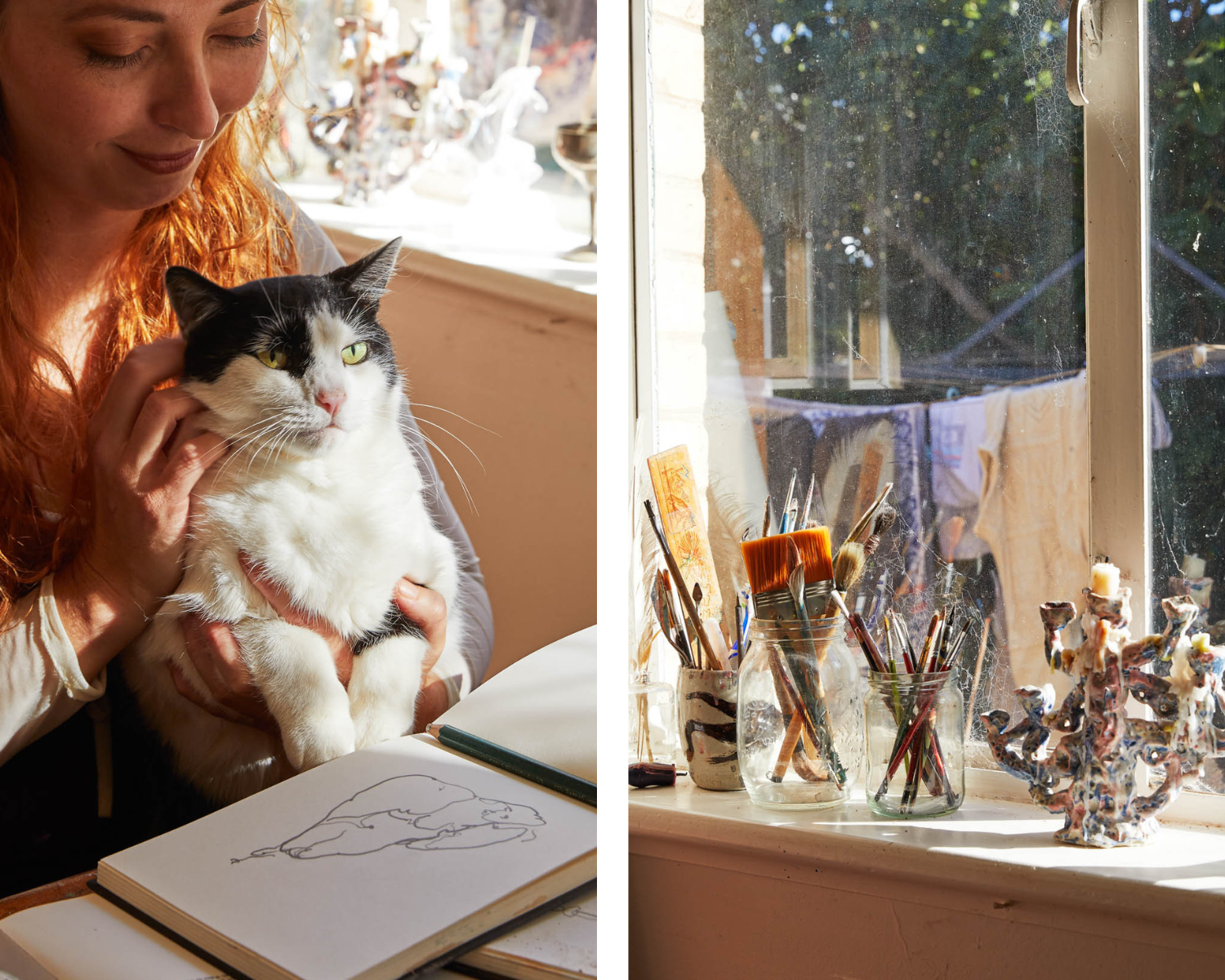 6. Your home is filled with so many beautiful and unique pieces. How would you describe your interiors style and what are your favourite corners of the home?
I have tried to slowly fill my home with cosy, colourful memories. My style tends to appreciate warm tones, inviting and comfortable furniture and personal art collections from nature and friends. I still work in a brightly coloured office chair that I had as a child and it means a lot to me. My parents made my wooden coffee table together in their youth and it is so strong you can stand on it. I love having worn wooden surfaces that carry the scars of every gathering around them.
My favourite corners at home are my courtyard where I sit under the fig tree to sketch, sculpt and think, the vintage rug space that has allowed for dancing, games, photography, spreading out of many books and simply lying to stare at the ceiling and the sunny desk area where I receive the best light for painting.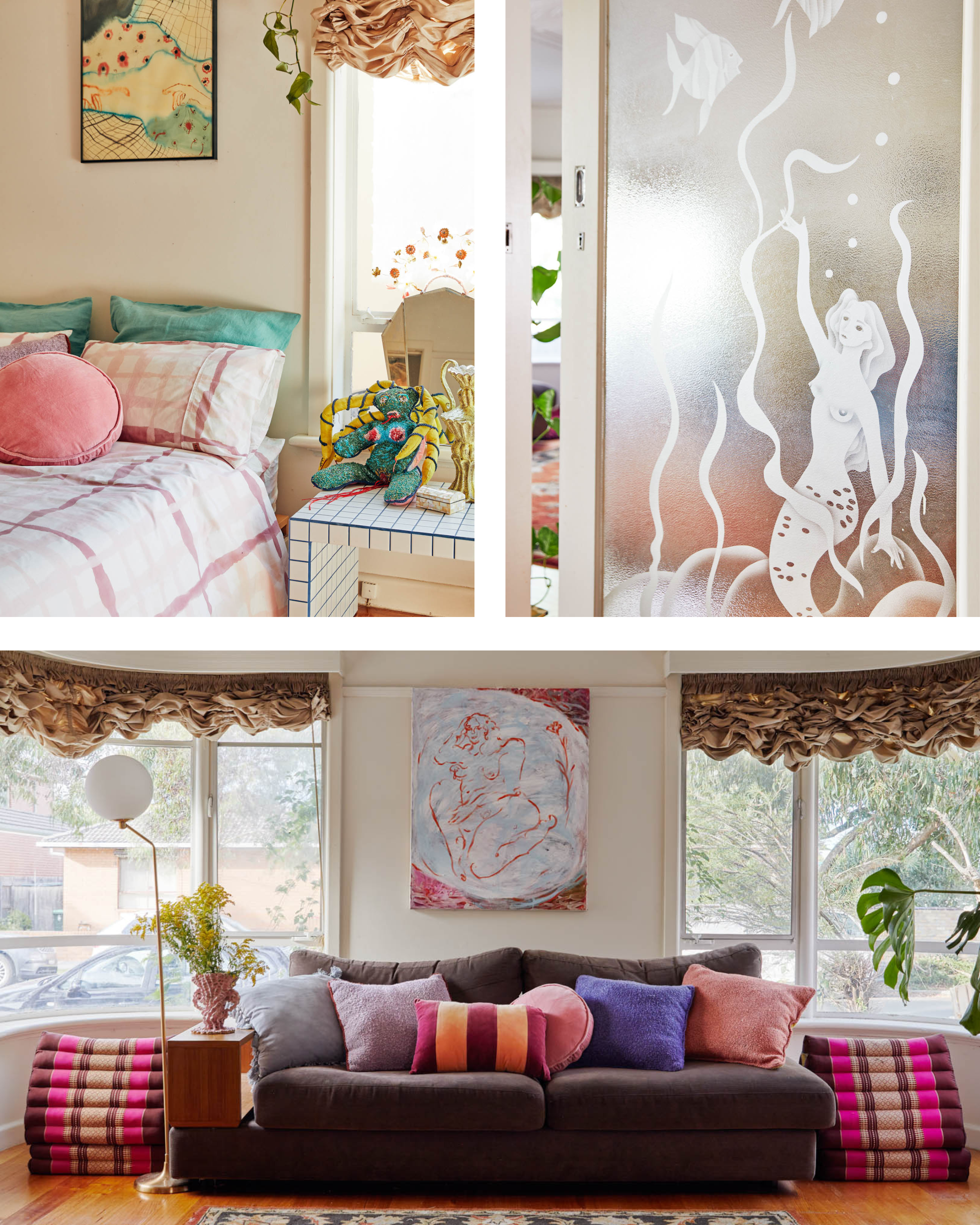 7. Do you have any upcoming projects you want to share?
Yes, I actually have a wonderful group show called 'Subtle Realms' at Modern Times from 20th April where I have some exciting new sculptures that I am so proud of. I also am releasing my new collection titled 'Mineral' featuring a range of ceramic work and paintings inspired by rock formations, body language and spiritual feminism. These will be available to view on my website www.hilary-green.com mid April. I am very much looking forward to showing this work to the world and seeing who connects with it.