In today's Sweet Gigs feature, we have the delight of catching up with the vibrant Georgina Bird, the creative force behind the kaleidoscopic wonderland known as Crate Expectations. This fabulous store has been painting Malvern with a rainbow of hues for a whopping 25 years, in which 11 of those have been stocked with Kip&Co (what an absolute honour)!
During our delightful conversation with Georgina, we delved into the world of owning and curating a homewares store, explored the magic behind her iconic window displays, and uncovered her top recommendations for this season's must-have items.
For all you retail therapy enthusiasts out there, a visit to Crate Expectations is an absolute must. Immerse yourself in our new season collection, Holiday, try on the luxurious satin PJ's, feel the softness of our velvet cosmetic cases and even mix & match your favourite adult bedding prints in real life!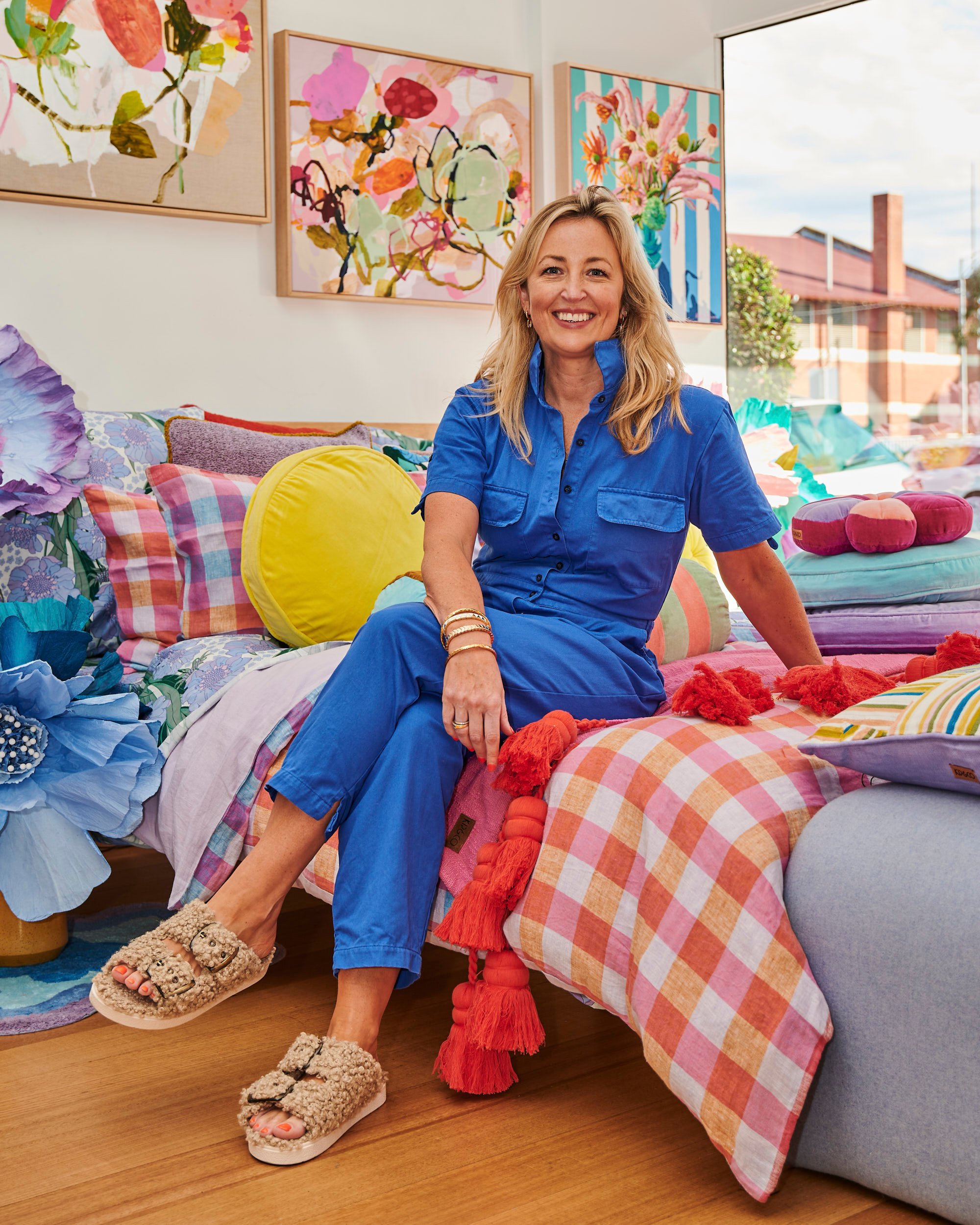 1. A destination for all things colour, your iconic store in Malvern has been open to locals and visitors alike for over a decade (which is incredible)! Can you tell us how Crate Expectations came about and your vision for the store?
Crate has been existing for a looong time! In fact nearly 25 years. It was first started by a gorgeous English lady called Kim, who named it after the famous Charles Dickens novel Great Expectations. I was 27 years old and working in finance and was bored out of my brain, working in my little cubicle in the city and going out on my lunch break to spend time in homewares stores and always coming home with a new lamp or cushion every week.
One day I answered an add in the newspaper (yup the paper.. that's how long ago it was-wink) and it was to be the store manager of Crate Expectations. Never working in retail I applied for the job and got it.. the rest is history.
In 2006 I got married and shortly after that Kim sold the business to me. Kim's style was very much beige and white, French provincial style, I slowly changed that and starting bringing in colour.
2. You're a big supporter of many local brands, artists, Australian designers – and love unique and colourful objects. What inspires you when selecting new pieces for your store?
Yes I love colour doesn't it just make you feel GOOD!! I also love unusual things/objects. I seek to inspire people with unusual pieces, pieces that are not everywhere… must haves.. so to speak! We have so many incredible designers in Australia it's really not that tricky to fill your home with goodies.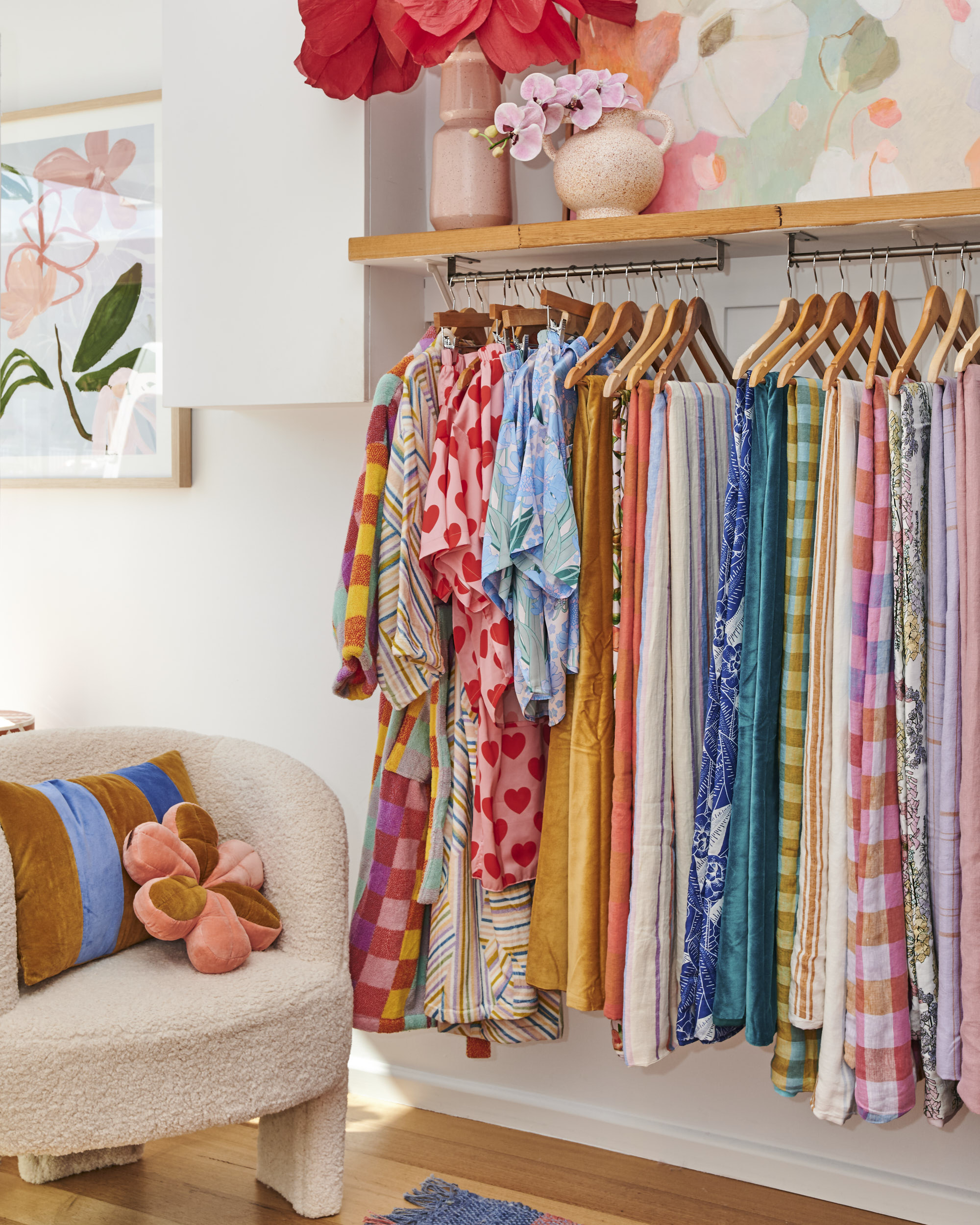 3. You are known for creating some seriously amazing window displays! Talk us through your love for merchandising and what's unique about the Crate Expectations in-store experience?
It's funny, I see a window display like a game of Tetris. I start by adding the core pieces then move things around based on height, colour and filling spots to make them balance. When you have a shop full of colour you do have to be considered with merchandising otherwise it can be a bit overwhelming for the eye. I sometimes colour block and pair it back when needed.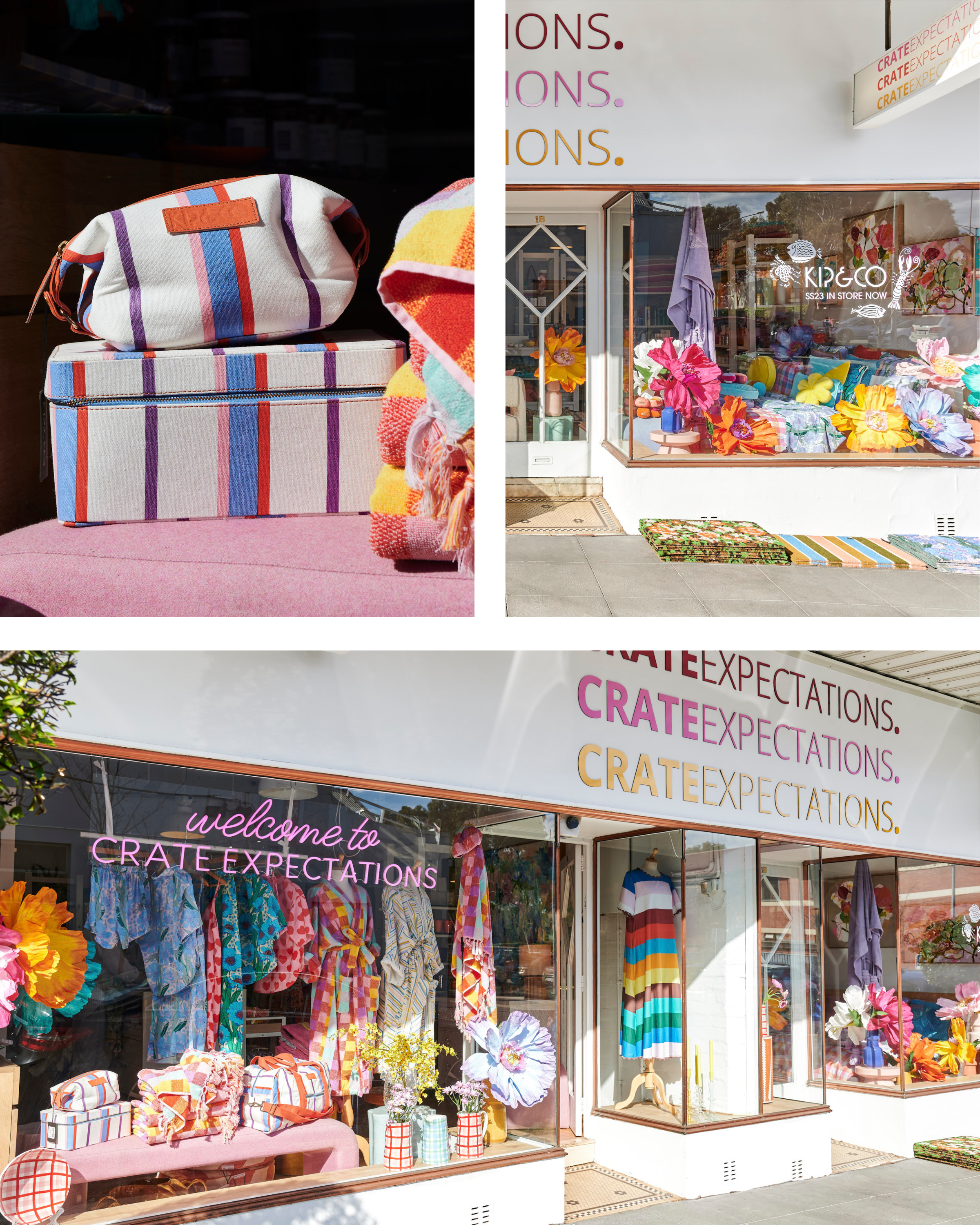 4. The warm weather is finally upon us and we'd love your keen eye and expertise on a some styling tips for summer. What are some tips from bringing some sunny, European summer vibes into your home this season?
Well who doesn't love the blue and white fresh vibe from Greece? Or Lemons, oranges and tomatoes from Italy. Whether it's on your bed, in your living room or on the table…. it's always nice to stick to a theme and not over do it! For the table it's always nice to add props like big bowls of fruit or lovely bunches of fresh flowers and greenery.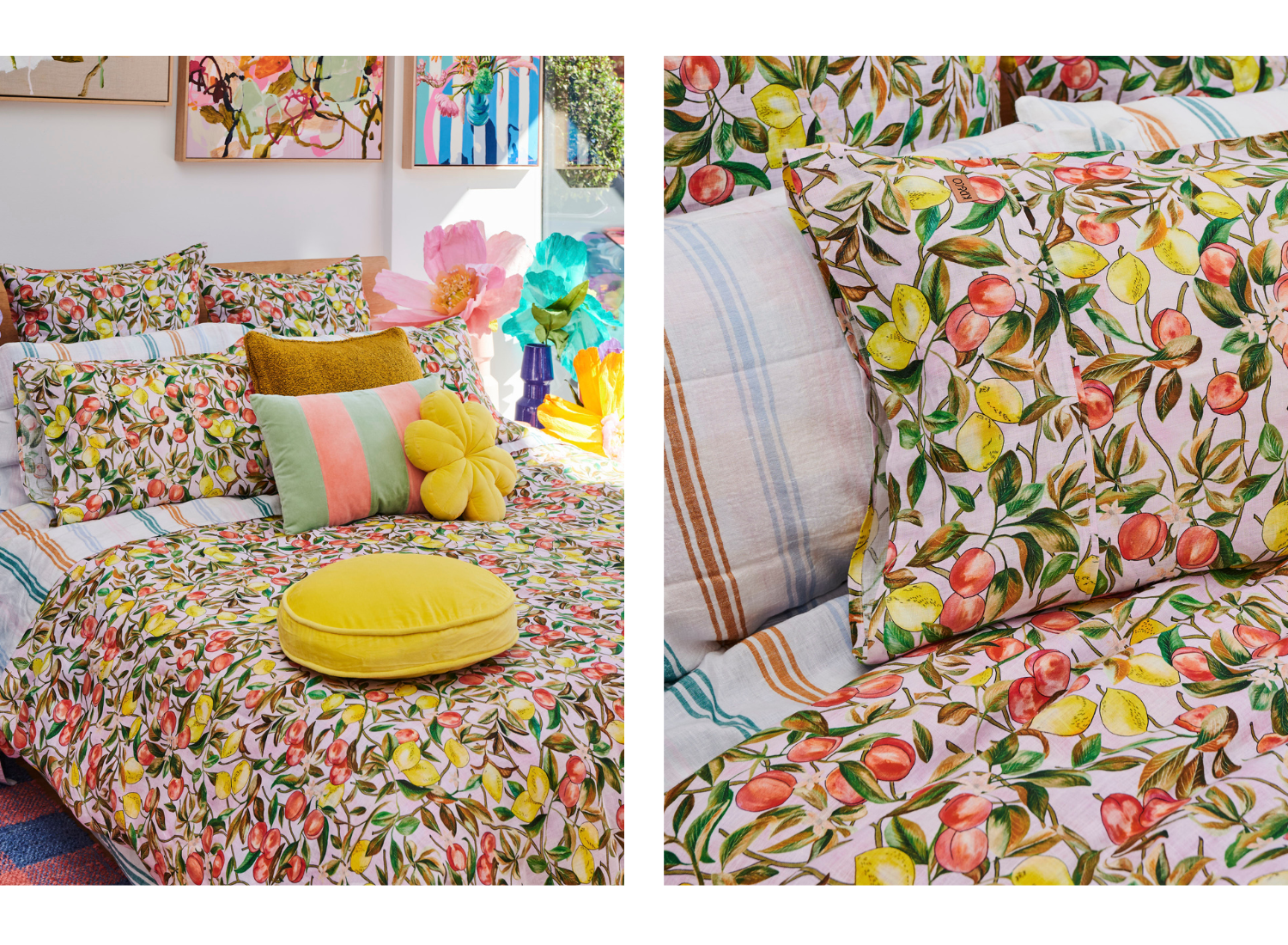 5. You have a very special relationship with Kip&Co – you've been stocking us since we started 11 years ago! What about our product resonates with you and why is it so loved by your customers?
Kip&Co is one of my all time favourite brands. I've been a massive fan since it started and half my house is covered in it. I remember Kip&Co's iconic 'Croc" bed linen, everyone wanted it and we just couldn't get enough of it!! It was cool, and so different, well ahead of it's time.
Fast forward 11 years and well the girls are still coming up with the goods. From bath towels, toiletry bags, napery, cutlery, cushions, throws, bedding, pets to PJ's everything is colourfully considered and just bloody COOOL! It's hard not to like it!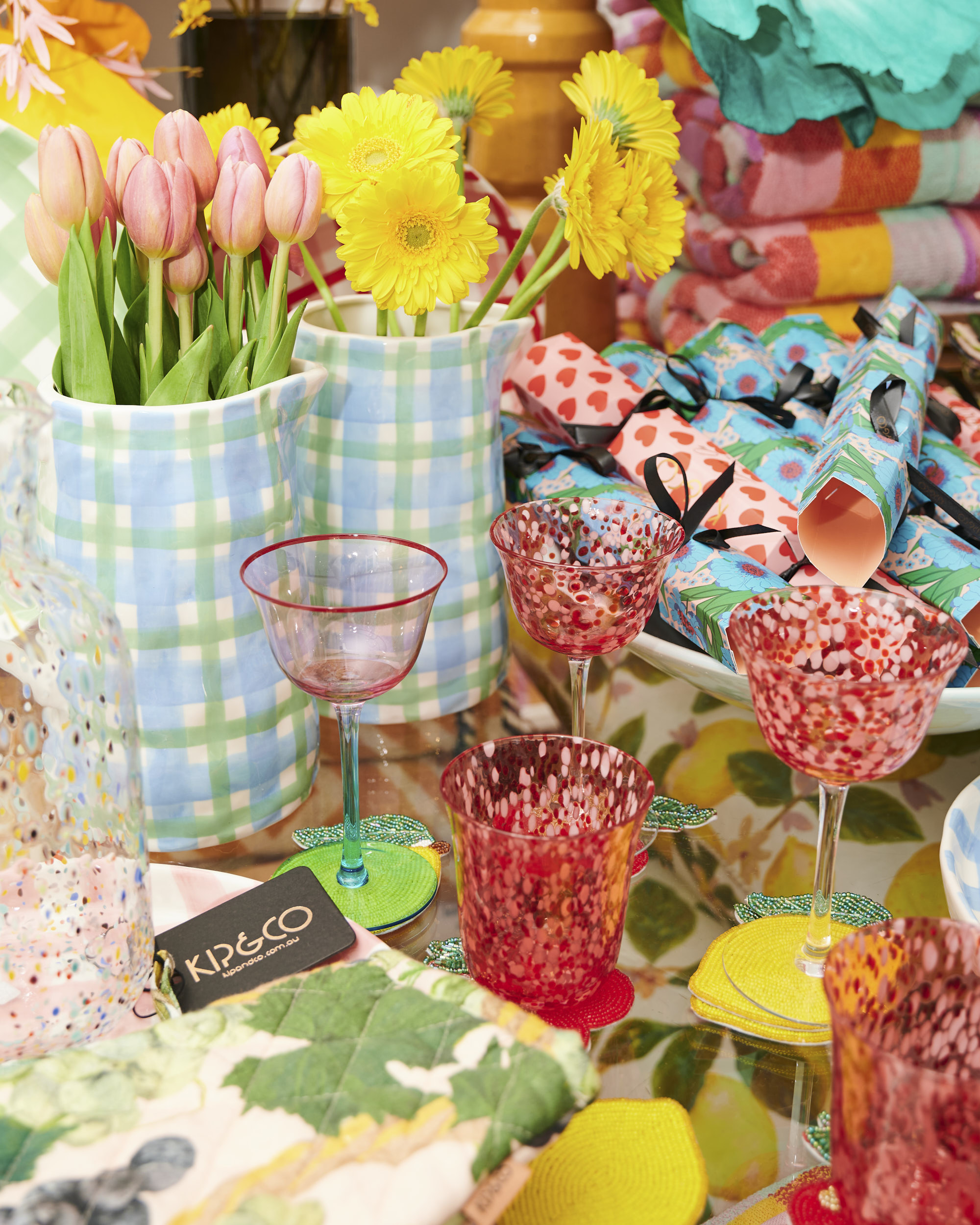 6. Lastly, we'd love to hear what your favourite pieces are from the new Holiday collection!
This season I'm loving the siesta stripe bed linen, mixed with sea blue cushions and I'm also loving the new sweetheart satin nighties that I'm wearing to bed every night. Also I can't go past the vine linen table cloth for that gorgeous little taste of Italy where I spent June/July this year. It truely takes me back to eating and drinking way too much vino… never a bad thing!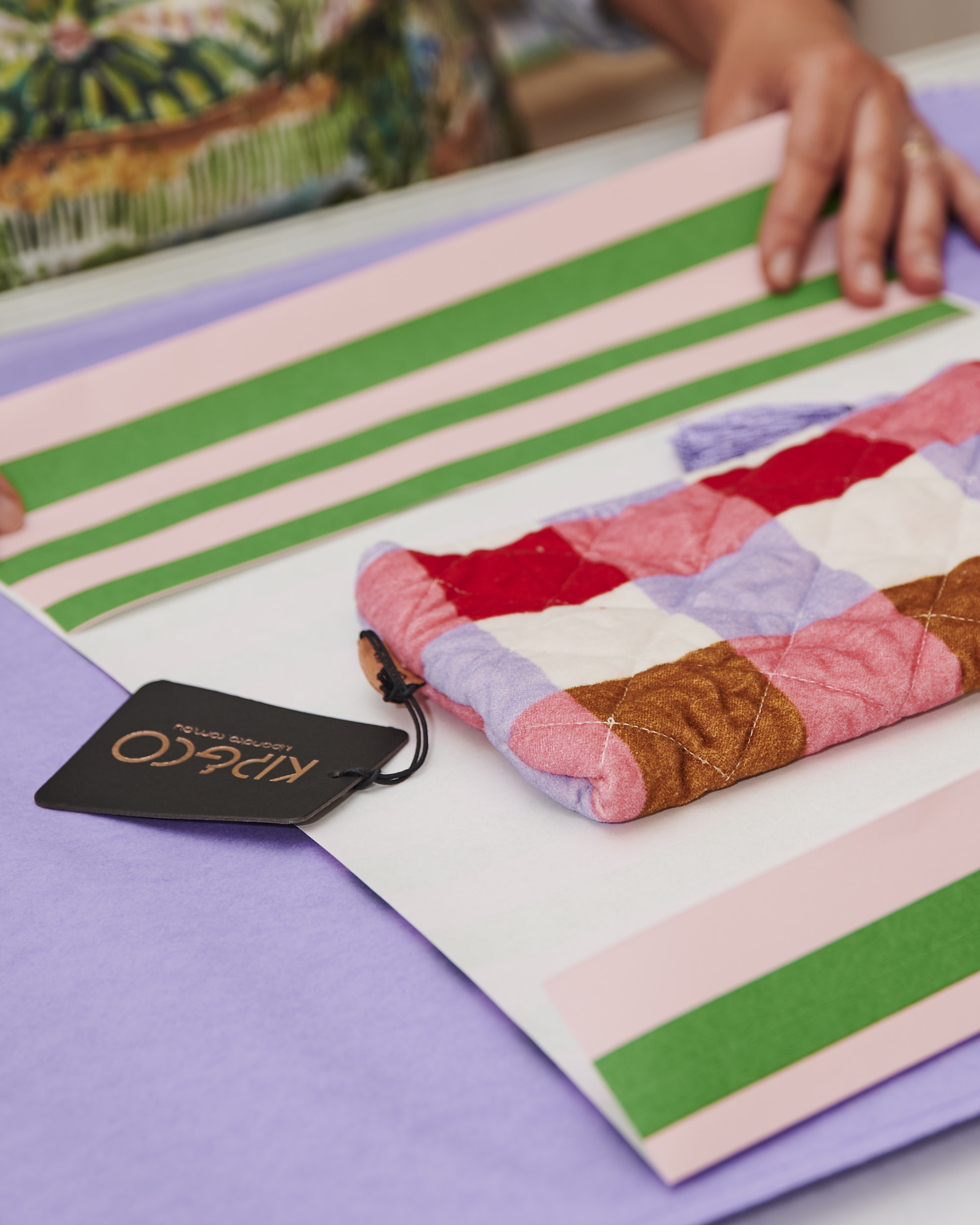 Make sure you visit Crate Expectations at 1A Llaneast St, Malvern to find all your colourful Kip&Co goodies in real life! If you want to find another Kip&Co stockist near you, use our stockist locator here.