This week on the Magazine, we're taking a well deserved pit stop at one of Victoria's best breweries, The Daylesford Brewing Co. In 2015 owners Dave and Jessica took the leap from backyard batches and turned their passion into their very own restaurant and brewery, crafting high quality Pale and Golden Ale varieties.
Passionate about paying homage to Daylesford's rich brewery history during the gold rush, this roadside gem is definitely worth your next visit!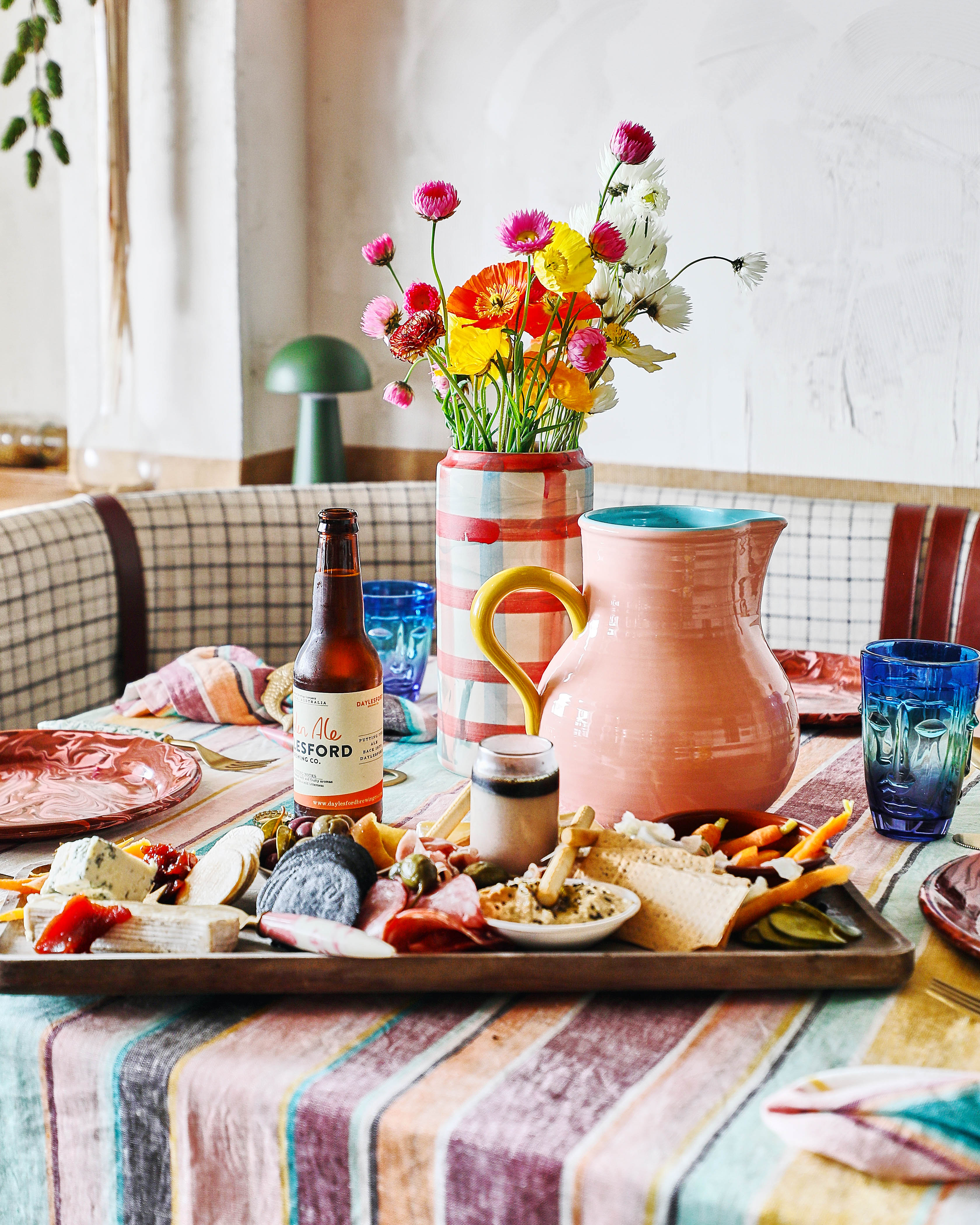 1. Hi guys! Thank you so much for letting us stop by your amazing brewery! Tell us a bit about yourselves.
We met ten years ago in the VRC Nursery carpark on Cup Day (as one often does) - Jess would host and style carparks every year, and by Stakes Day the following year we were on our first date. We've been together ever since. We initially lived the dream at the Howard Lawson designed Beverly Hills apartments in South Yarra, and then made the shift to my (Jess') hometown of Daylesford to start Daylesford Brewing Co and a luxury bed and breakfast in a miner's cottage on the lake.
Dave's background is environmental science but had always home brewed on the side, and he quit his day job after finishing a Masters in Business, and I (Jess) shifted course with my design consultancy to renovate and create our country guesthouse. We planned a couple's weekend to Daylesford and from then knew we needed to re-establish a brewery in the town being such a tourist mecca, so decided to make a shift to the country asap. Some of the first batches of beer sat cooling in the Beverly Hills pool in the really early days, but Daylesford quickly became home from about 2015.
We lived through renovating a miners cottage on Lake Daylesford which Jess has managed until recently - Wentworth House Daylesford (www.wentworthhouse.com.au) – and is one of the region's most well regarded getaways. Our other focus has been on wholesale and securing a beautiful old pub for our master project and brewery, but in the interim we have established our Taproom, Bar and restaurant on the main street and now have our two year old son Blake now in tow!
2. In 2015 you founded Daylesford Brewery Co! Tell us about this venture and what inspired you to start up your own brewery.
Dave has been brewing beer for over fifteen years on the side but was ready for a change and really wanted to follow his passion. He took the leap and quit his job after our couple's weekend away to Daylesford exploring the area and doing the tourist thing. It seemed like the perfect fit to combine our knowledge and loves into a business - Dave with his science and economic background and mine as a designer and creative head.
Being an historic tourist and gold rush town dating back to the 1800's, Daylesford has always been a destination and was once filled with breweries, including the original Daylesford Brewery - yet no memory of this remained- so we decided to take it on and bring it back.
3. The space you have created is beautiful, unique and textured. Talk us through the inspiration for the interior and your use of materials.
When designing the space we wanted a venue that was very relaxed and light, and not reminiscent of most brewery spaces. We had to incorporate a kitchen and coolroom in essentially a concrete bunker shell with no plumbing or ventilation- so we gutted the space and combined two shopfronts into one which gives great symmetry and loads of natural light in the afternoon, with the kitchen open to the bar area and the coolroom cleverly concealed. The arches and booths that feature are a nod to the original arches in our bigger brewery site which is an old gold rush pub, but with a contemporary take on them for this space. We have lovely big booths under the arches which are upholstered in earthy and natural tones and a traditional plaid. Most breweries and taprooms have a very rustic or industrial feel to them, but this is not us. The space is filled with texture and details that represent beer – from the hand stitched dried wheat and barley runners on the ceiling, to the malt and grain covered planters and hops suspended around the bar and restaurant.
4. You both are now lucky enough to call Daylesford home. What is the sense of community like here and what drew you to this area?
Daylesford is an incredibly diverse and vibrant community to live in, which we love. Dave is from Sydney originally but Jess has grown up here, and seen it evolve and change over the years from being a quiet country town, to progressive and alternative living- to the iconic food, travel, lifestyle and wellness destination that it is today. Everyone is welcome and catered to, and that's what makes it so special and unique. We have amazing hospitality venues and local produce, shopping galore and it is a wonderful community for families, so it's kind of like the best of a big city, but in a beautiful country setting. We made the shift because we really wanted to, not just to establish the business, but to lay our roots here and keep family close too.
The hundreds and hundreds of accommodation options and local natural attractions make Daylesford such a beautiful place to escape to, but also live in being so close to Melbourne. It's a cosmopolitan bubble in a regional setting and we are very lucky to experience that balance.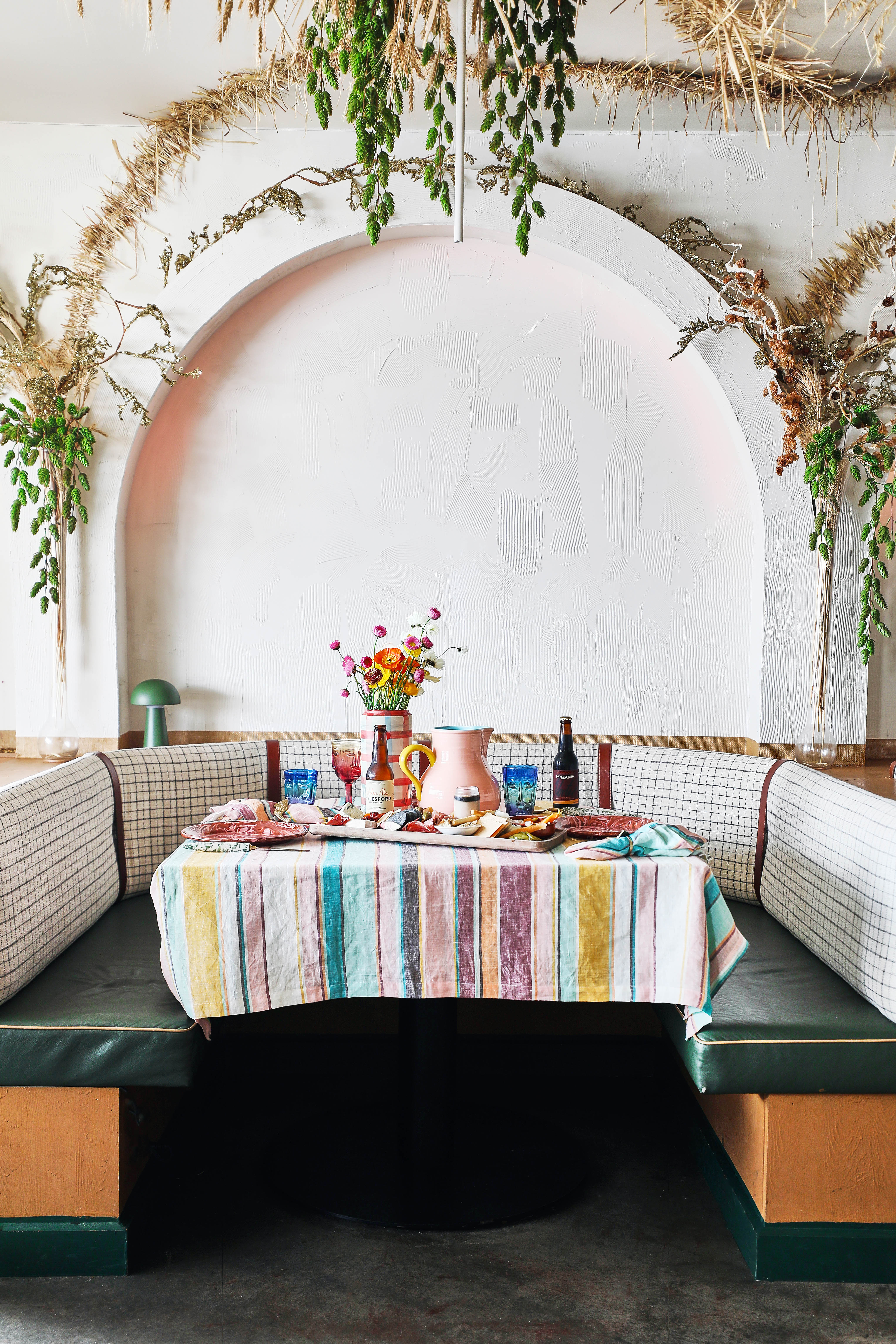 5. What would be your top recommendation for a beer and bar snack pairing?
Coming into sunshine and the Summer months, definitely our Prawn Roll and a Hazy IPA – tropical flavours which are perfect for the warmer weather. We also have an expanding doggie menu too for our fur friends, and options for kids – popcorn chicken is a favourite!
6. You mentioned you'll be moving a few doors down to a beautiful, bigger heritage building (see building in painting below). Can you let us in on what's to come for you and the business?
Yes, we have a huge old building just a couple of doors down, which is an historic old pub from the 1850's. We bought this a few years ago in complete disrepair, it hadn't been touched for about 80 years in any way and was in terrible condition, so much so that no one was game to take it on!
The left side being the original pub with the right side the hotel addition - was so deteriorated, that to help preserve it, we had to have the building dismantled literally by hand. There is so much movement in moisture in old buildings from the gold rush with the use of limestone mortar, which meant the bricks were basically unfired and held together with this, so extremely soft on this side of the building.
We have saved what we could with the right side being a later addition as a hotel - and will use the footprint to create a contemporary but sympathetic addition to the old. This will encompass the brewing and manufacturing facility, along with a larger venue and hopefully accommodation too, taking it back to the pub and hotel that is once operated as. For the taproom, bar and restaurant now we have a new menu launching for Summer, and additional outdoor seating along with plenty of seasonal beers on tap!