Blooming beautiful! Our favourite local florist Alice, founder of She's a Wildflower, shares her tips on creating a Kip&Co floral favourite, Field of Dreams inspired bouquet🌸
TOOLS
MATERIALS
Vessel – I chose a squat vase with a wide opening
Floral tape, also called pot tape
BOTANICAL INGREDIENTS
3-5 bunches of flowers, you may not need to use all the stems from each bunch, but having a variety makes for an interesting arrangement.
CONDITIONING YOUR FLOWERS
Remove any foliage from the stems that will be below the water line to prevent bacterial growth;
Recut the stems (approximately 1cm) on an angle, cutting the stems on an angle creates a larger surface area allowing stems to drink more water;
Keep flowers in a cool room and out of direct sunlight, if placed in a heated environment they will wilt quicker;
Recut the stems, refresh the water and wash the vase every two days if possible (recutting the stems and washing the vase with an arrangement is tricky but try and gently tip the water out and replace with clean water).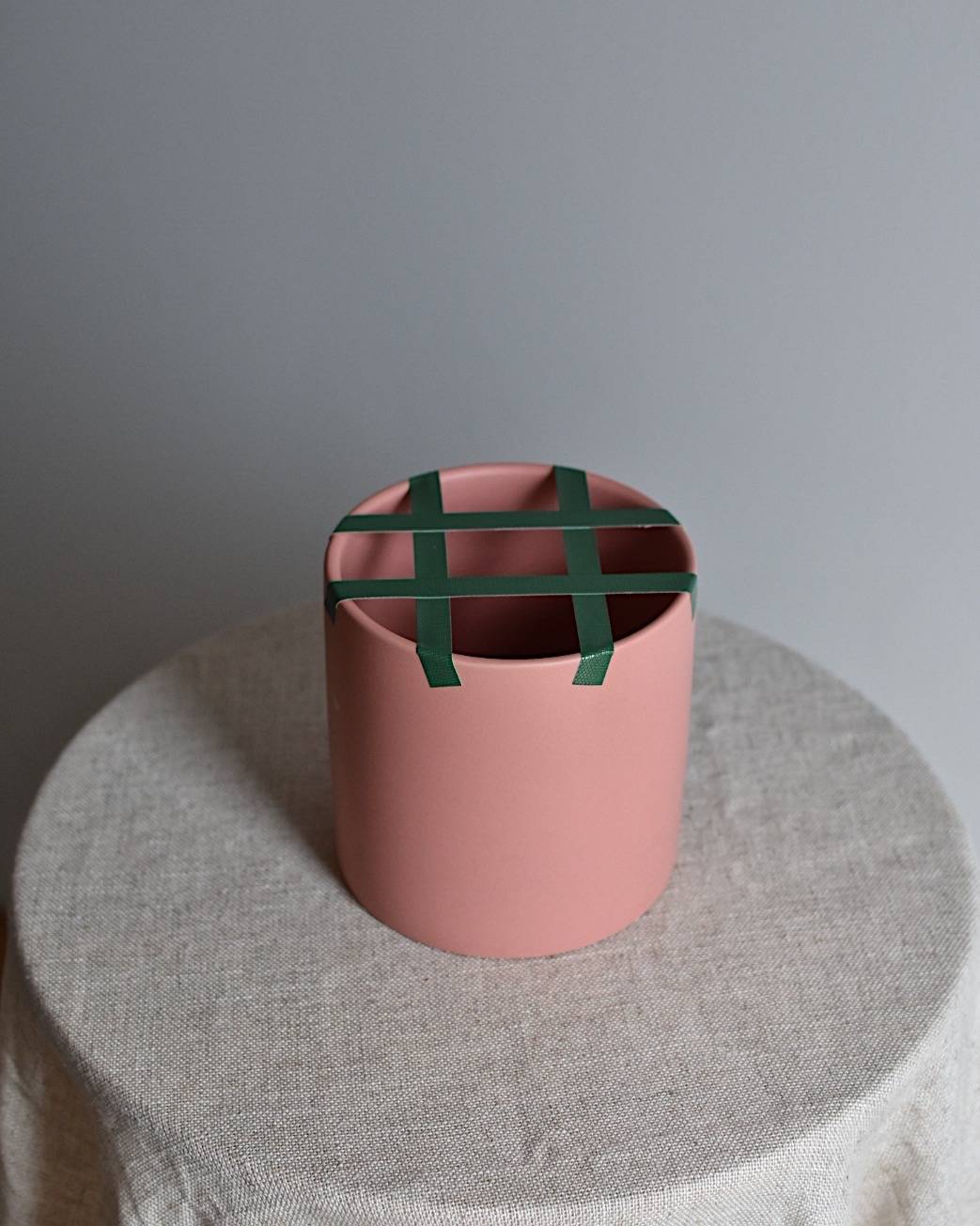 Using the floral tape create a grid across the opening of the vase leaving 1-2cm of tape over the edge of the vessel (as pictured). This helps to create a nicely spaced arrangement without crowding too many flowers together;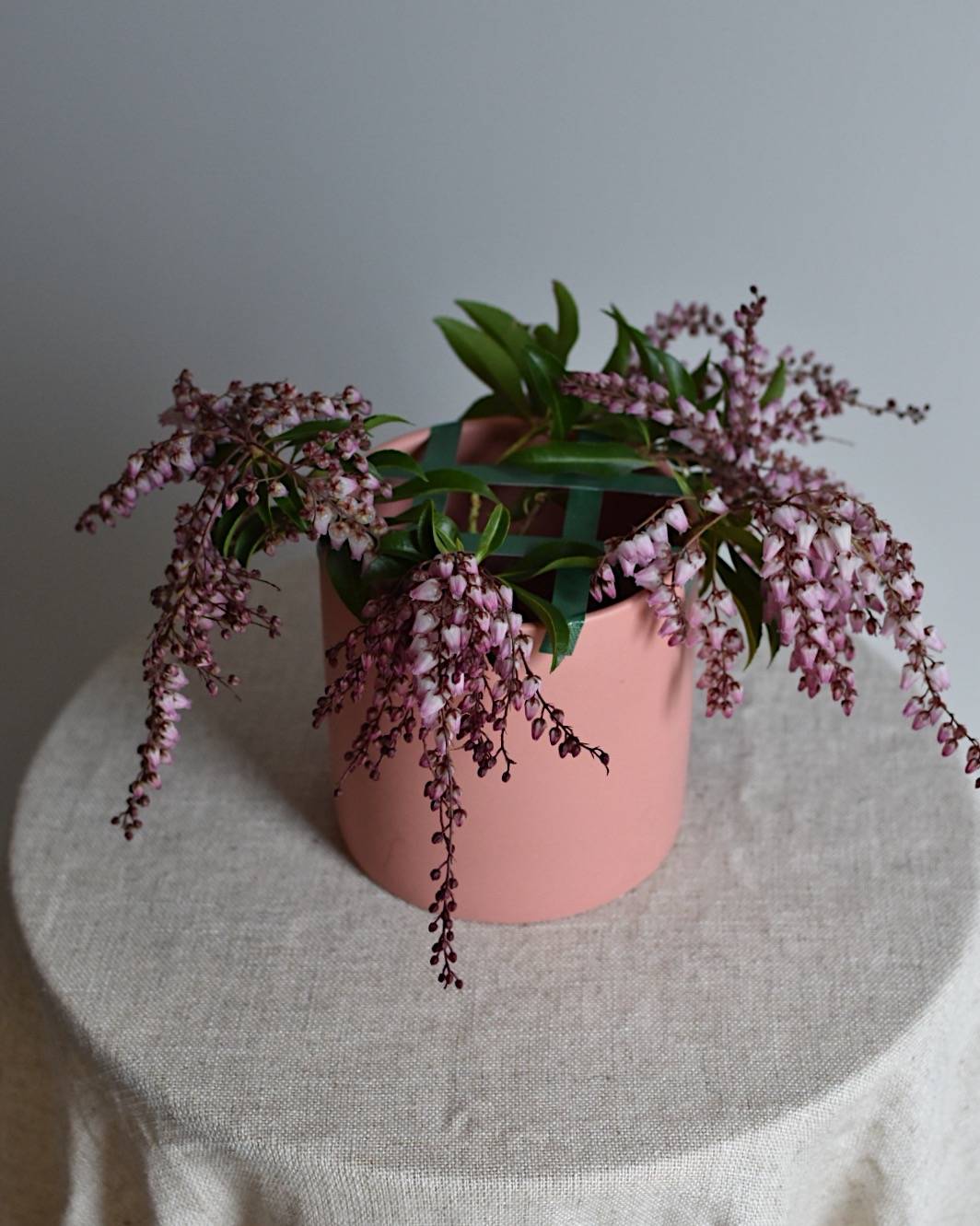 Fill the vessel with water approximately halfway to the top, do not overfill the vessel as the water level will rise as you begin to place your flowers and you can always top up the water at the end if required. Begin by placing your foliage around the outside of your vessel to hide your mechanics (the floral tape), I have selected andromeda as it has fine bell like flowers;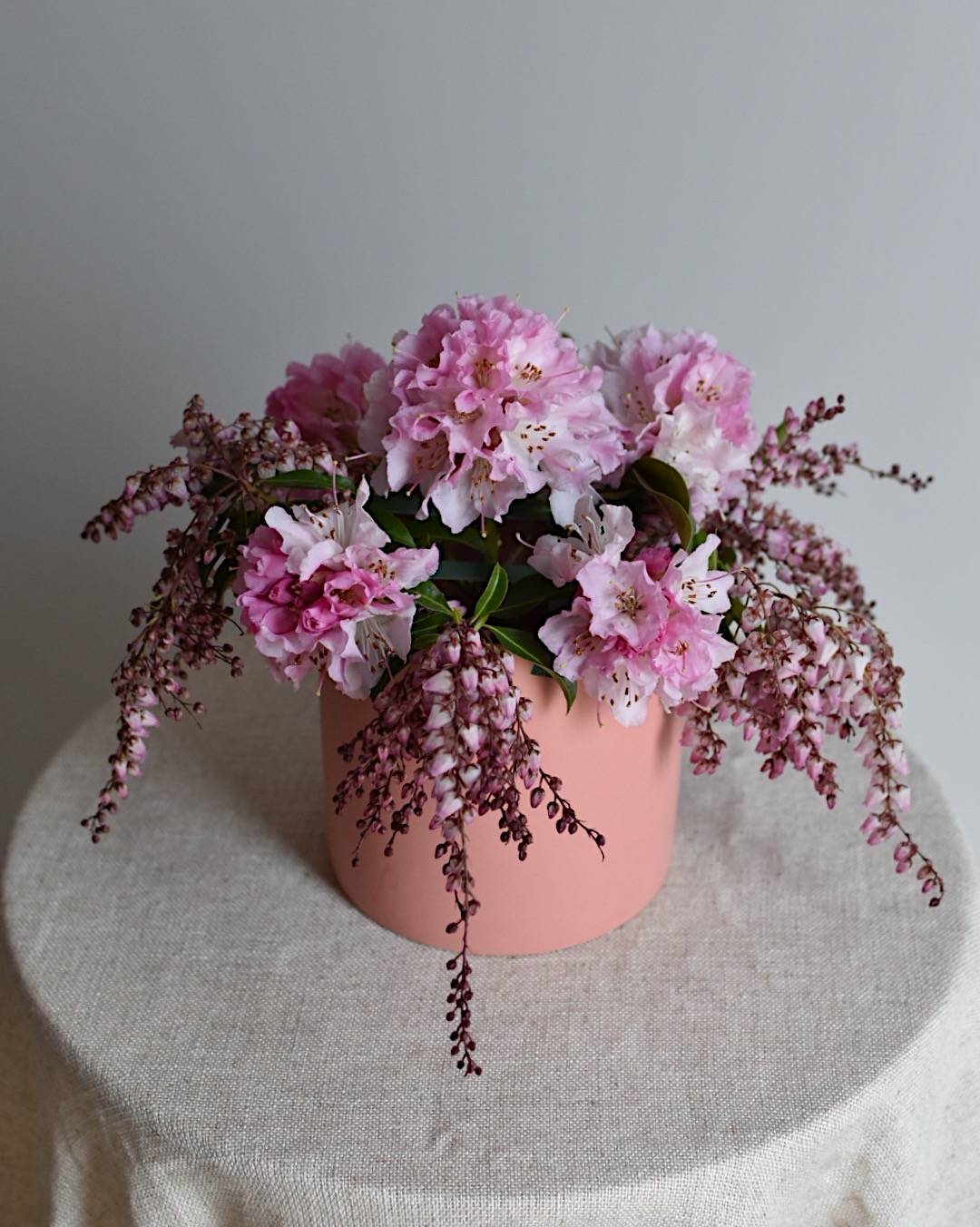 When placing the other flowers use the heavier/bulky flowers first (eg. natives or branches) as pictured I have chosen rhododendron next as it has a large flower, followed by large roses and cumquats;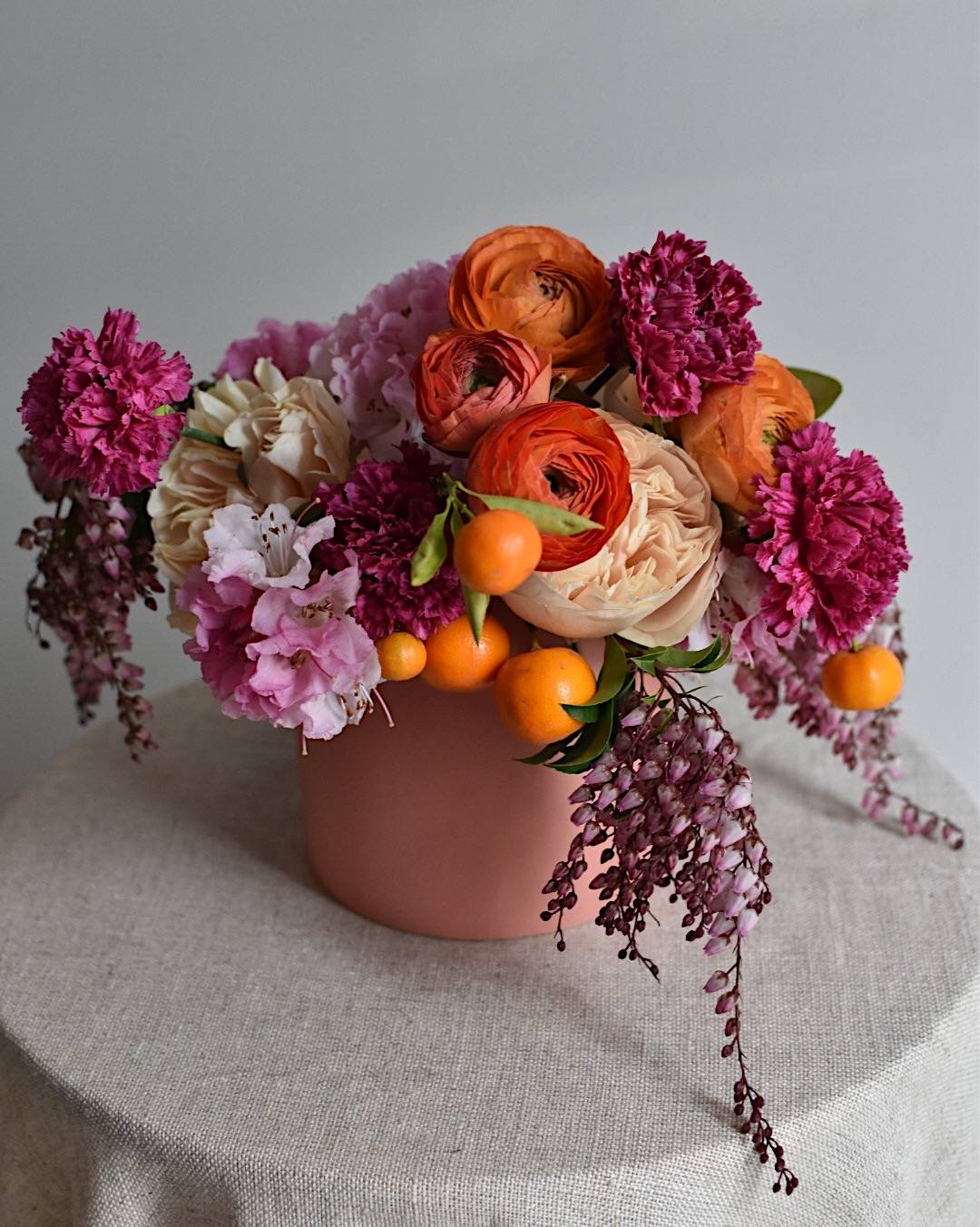 Place your medium sized flowers amongst the heavier flowers and be careful not to force stems, I have selected ranunculus and carnations as my medium sized flowers. To create depth, cut flowers at different lengths so they are layered (but not squished), avoid creating lines where the same flower is vertically or horizontally adjacent to on another;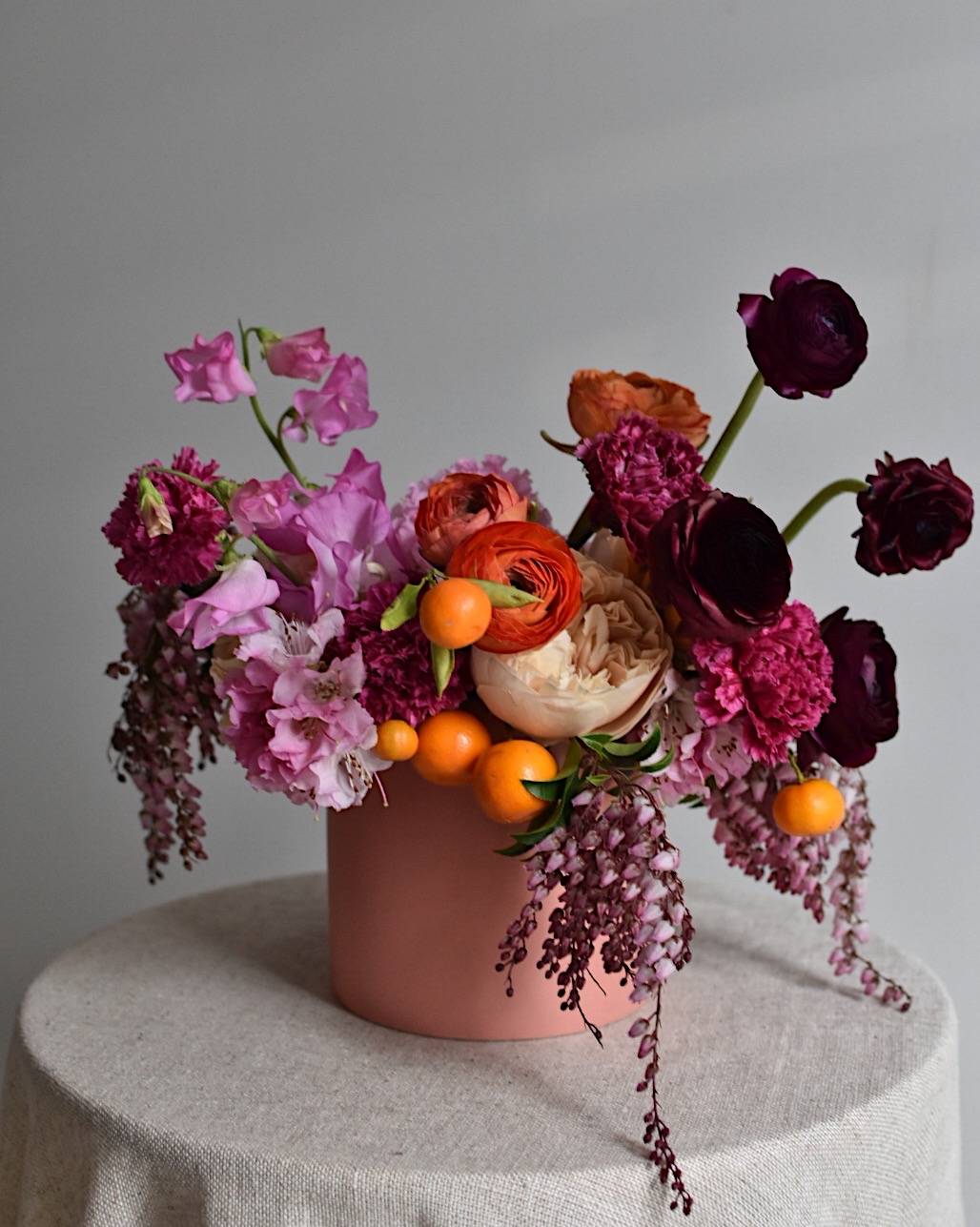 Repeat the above step until you have achieved your desired arrangement, remember to always turn your arrangement and stand back to view it from all angles making sure you can't see the floral tape.
Add some light "dancing" flowers high in the arrangement above the flowers, this helps to create height and interest, allowing your eye to travel through the arrangement, I have used a few long stemmed ranunculus and sweet pea;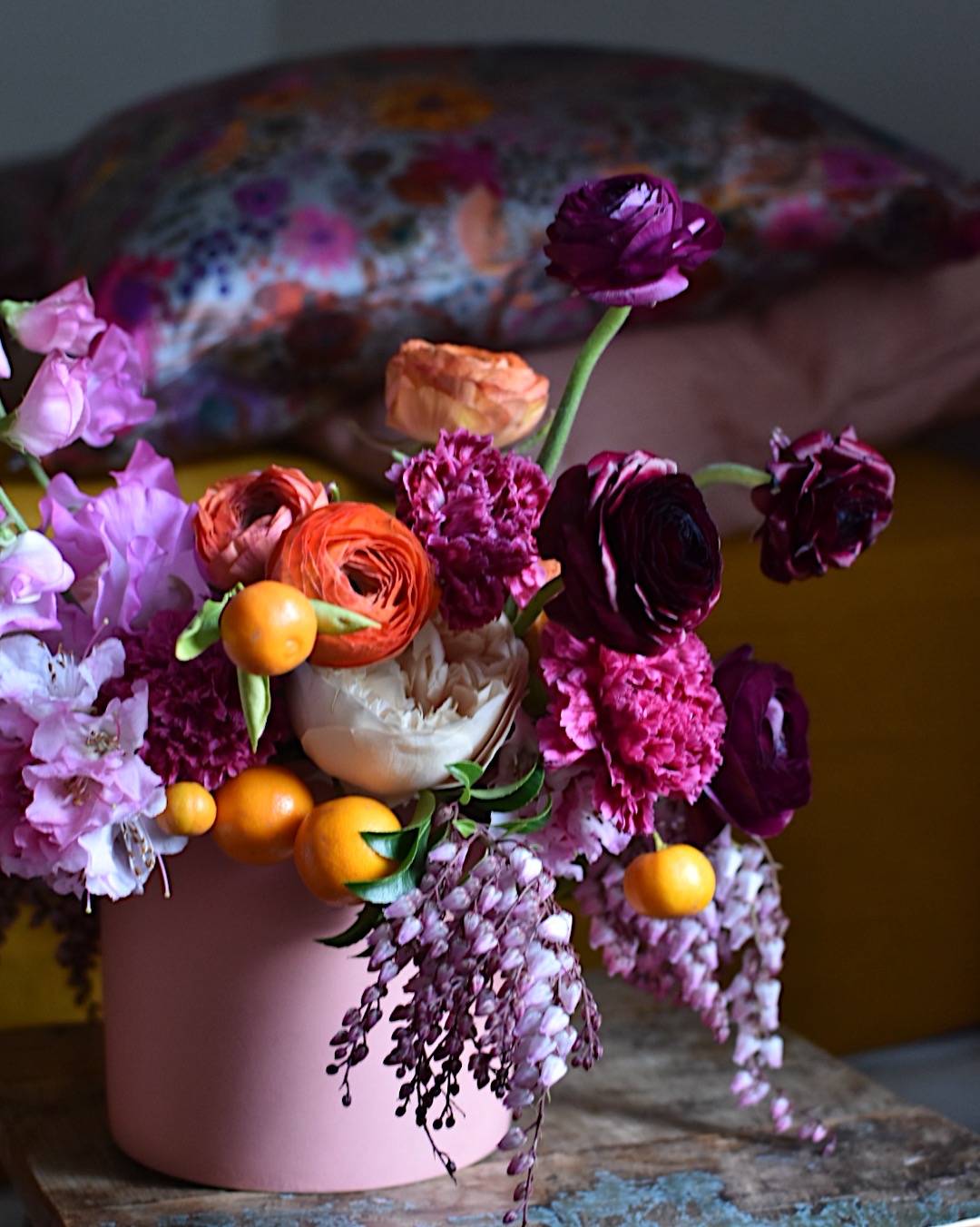 Top up with water if required. Stand back and admire your creation!