Since 2019, we've been donating 100% of our cotton off cuts from our Indian supply chain to local community initiatives managed by Indian charity, Goonj.
Goonj are AWESOME! They've been operating in India for over two decades, and re-use and recycle urban surplus (3500 tonnes of cotton offcuts a year!) to address core community issues like water, sanitation, health, livelihood, and education. 
Our cotton offcuts are used to create cotton pads, providing a clean, essential solution that has saved women from infections, and a loss of dignity. Other fabric offcuts are used to create products like backpacks and purses for the local community, with sales going back to Goonj to allow them to continue their amazing work.
All this means when you support Kip&Co, you're saving offcuts from landfill, and ensuring that they now have a meaningful impact in people's lives.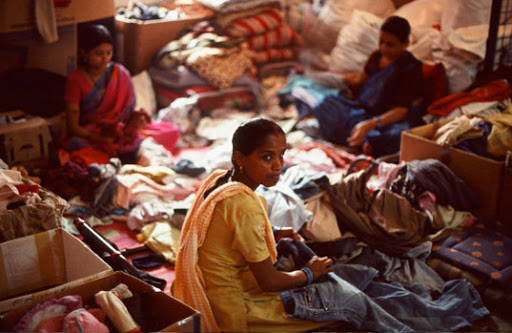 How did Goonj start (and who started it)?
GOONJ was formed in 1999 by Anshu Gupta, together with his friends and his wife Meenakshi. Highlighting Cloth as a metaphor for basic but ignored needs of economically weaker people Anshu started Goonj to bring clothing into the development agenda as something important to work on. Anshu Gupta, Founder Director, GOONJ is the head of the organization which is governed by six members governing body. The organization does not believe in a lot of hierarchical layers so everyone is Team Goonj.
Anshu Gupta, was awarded the Ramon Magsaysay Award in 2015. In 2012, he was named India's Social Entrepreneur of the Year 2012 by Schwab Foundation, a sister organization of World Economic Forum.
What are the cultural and environmental issues that Goonj is trying to address?
Goonj aims to build an equitable relationship of strength, sustenance and dignity between the cities and villages using the under-utilized urban material as a tool to trigger development with dignity, across the country.
How is Goonj trying to solve those issues?
Goonj launched the Cloth for Work (CFW) programme, evolving two new currencies of development – material and labour. In CFW, Goonj works with partners and communities to identify infrastructural improvements that need to be undertaken in the villages. Villagers then work to dig wells, clean ponds, repair roads, and build schools in the community, for which they are compensated with material resources like clothing, utensils, furniture, and foodgrains
In 2004, Goonj started providing affordable easy-to-use clean cloth napkin made out of waste cloth for women in villages and slums. They found clothing gave these women, who neglect or are ignorant of this critical health issue, a sense of dignity and self-respect. Today, Goonj pads called MyPads is 100 per cent biodegradable, and can be either reused or disposed of.
Some other programmes involve uses such as unique school kit designed by Goonj to promote participation of children. Goonj begins with sessions in urban school followed by a visit to the Goonj centers where they learn about recycling. Urban children contribute their old school supplies to create a school kit which consists of bags, pencils, uniforms etc. Goonj also creates activity centers in village schools and awards the school kits while engaging the children in other activities.
In addition to those projects, you also make goods to sell. Where / to whom do you sell the products that you make from the offcuts? How is that money then used?
With Green by Goonj brand of recycled products we ensure that nothing goes waste – un-wearable clothes, torn oversized jeans, old fabric, obsolete audio tapes, unused ties etc. We make items like office supplies, carry bags, hand purses, backpack eco mat etc. These products are available for sale at our various centres & also online at above mentioned website. The entire operation is a huge logistical exercise; where money is needed for expenses on transportation, storage space, and manpower for sorting, packing etc, office expenses and team salaries. The money collected from these sales is utilized to take care of part of these various expenses.