---
---
If there is anyone who knows colour and texture it is interior stylist
and designer Simone Haag. Queen of curation and sourcing, Simone shares her hot tips on home styling and more with us!
---
What are your top pieces in the new Kip&Co Heartland range and why?
Well I am off to LA in two weeks with my Design Team – so I am all about the pyjama at the moment! I want to be totally coordinated so I fit in at the Santa Monica Proper! I am loving the heartland range – as always Team Kip and Co create brave, bold designs that are playful – ps how good is that green!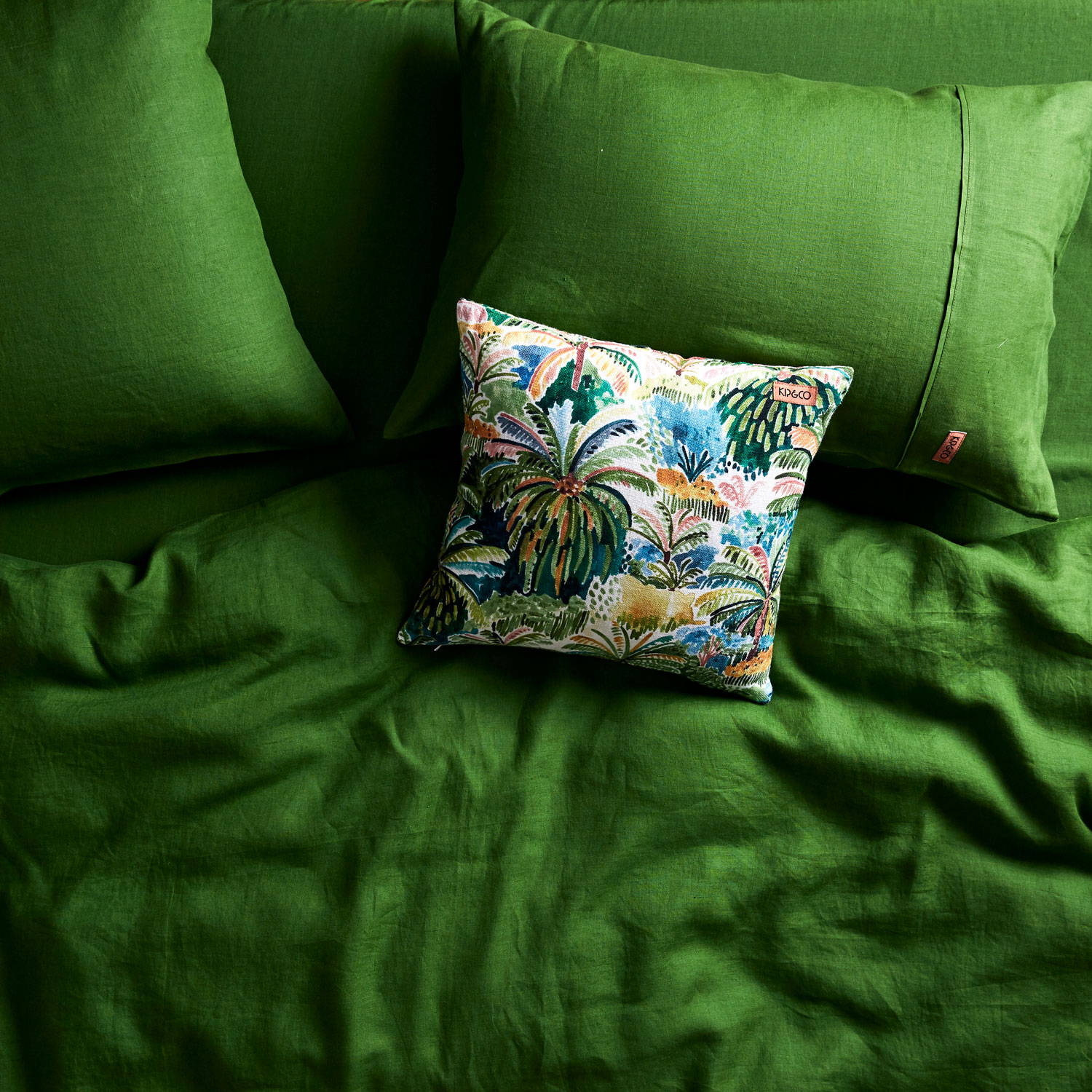 ---
Having met you myself, I can confirm that, hand on heart, you are as effortlessly cool, stylish, joyful and friendly as you appear on the world wide web. But the first big question for me is, how on earth are you managing to pull all these off with three gorgeous little munchkins in tow? Tips please!
Managing!? Are any of us managing? The days I am at work I miss my little people and the days I am at home - I miss my work. I rely heavily on those supposedly nutritious kids meals in the frozen section of the supermarket. A gorgeous babysitter helps me get three kids to a different school, kinder and creche all by 9am multiple days of the week – BUT I have found my happy place – it is an infrared sauna which was my 40th birthday present to self. I am indulging in a little ritual which involves getting the kids to bed and superseding a glass of wine / cheese with lots of water herbal tea, sweating, that app called 'Calm' a hot / cold shower and a bucket load of cream lathered on self by Californian brand 'Fat in the Moon' and as early a night as I can muster.I saw a great meme on insta this week which touched on sentiments I feel every day 'you want it to speed up and slow down in the same day. The things that drive you insane are the things you know you will miss the most, you want to cry because you are so broken but then cry because you are so whole. I think that is how I feel daily!
---
Can you take us on a little trip down memory lane, and tell us the big milestones that got you to where you are. Did you have a sliding doors moment or was this always a clear trajectory for you?
Yes there a multiple sliding doors moments in my life – One of the more obvious sliding door moments would be when I had finally returned to Melbourne after 7 years of travel and I wanted to work in a creative industry where converse cons were acceptable and in a creative hub of Melbourne. I was offered two positions – one was in an Architecture firm in Collingwood where I would have been immediately immersed into the design side of things encouraged to study on the side. The other role was an admin role at Hecker Guthrie in the Cremorne precinct – although the design role was where I wanted to be, I knew that working alongside the team at HG would be more inspiring and educational – which it was! I credit my 8 years as the equivalent of a double degree in design and marketing and so glad I chose that path. Another sliding doors moment was after the birth of Goldie – deciding whether or not to return to my role or embark on a solo career. I chose the latter and whilst it has been scary, occasionally lonely and a huge learning curve, I really do enjoy the freedom that comes with being Boss Lady.
---
I love that you talk about your role in styling as being like that of a journalist, investigating the personal story to be able to create a narrative that is as individual as the client themselves. For those who are styling DIY, are there any hot tips you would give them on how to achieve a beautifully curated home?
Ohhh hot tips – ok. Well I think take cues on how to layer colour and pattern from team Kip&Co – you do it so well.  
I think go maximalist where you can – austere styling only really works to me in very architectural spaces.
Look for art that is three dimensional – I love art that has an element of paper or paper mache such as the one featured in my home that was a vintage find in NY.
Opt for a modern and spirited voice within your home with a tinge of nostalgia – meaning – choose things that will spark conversation, are artful and mix high/low, old/new, shiny and organic.
Dim lights, use lamps, stack books, water plants and light candles.
---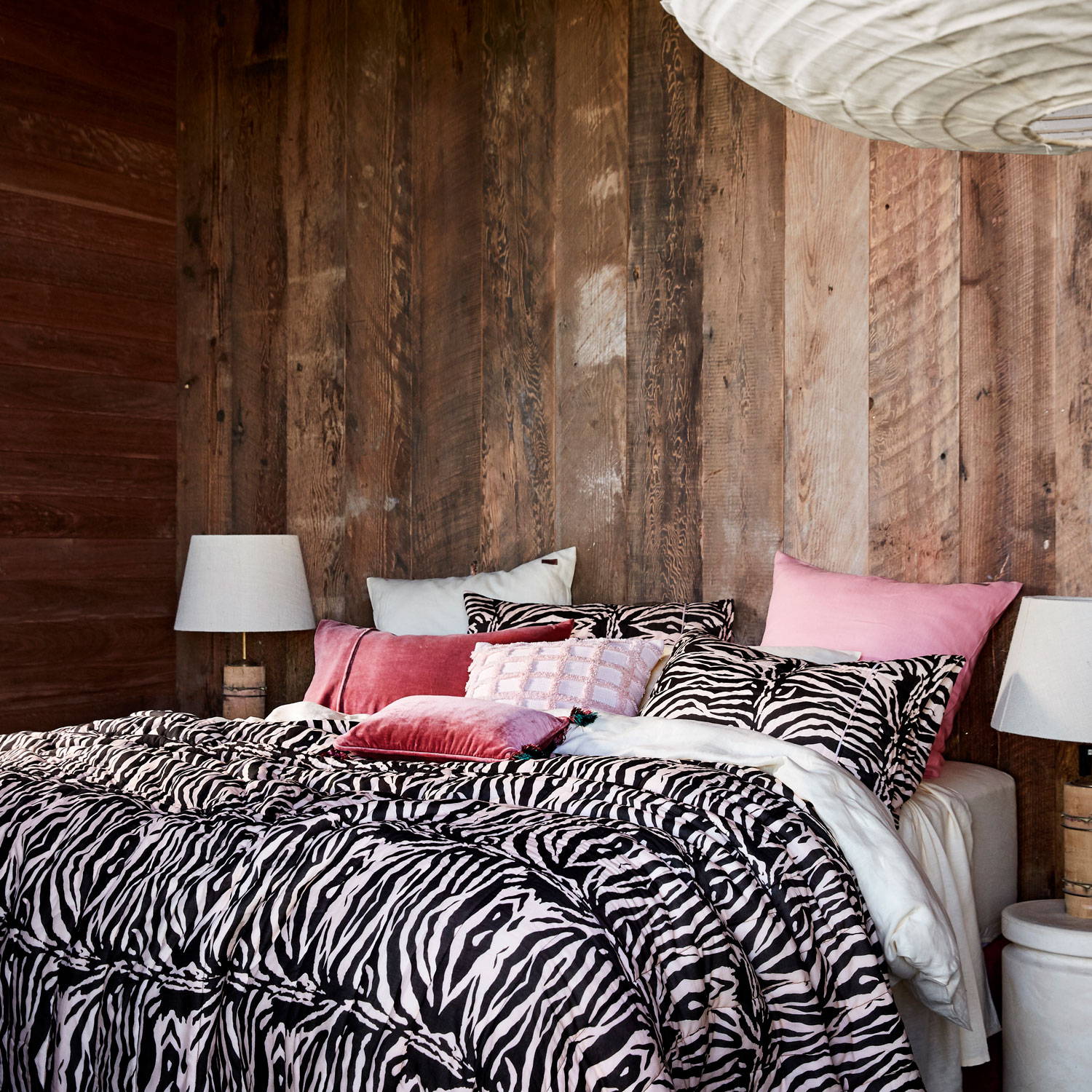 ---
You've worked on so many glorious projects, and been rightfully recognised for your skill and hard work, but can you pick out a career highlight?
Being nominated for 6 projects and emerging designer of the year at this year's IDEA awards was up there. A little stint on TV was fun, but talk about the nerves! Being invited by Woods Bagot to furnish an architectural gem in Flinders, having my own little design studio which is being decorated (and redecorated) on a daily basis, hitting 50K on Instagram and just having a kick ass team who get as excited as I do by a chunky fabric or a sexy chair.
---
And, cause we love a balanced life, can you also give us a personal highlight? What are you most proud of outside of work, maybe other than your kids cause that's a no brainer, they are ADORABLE!
I am very proud of my family – I am not an overly social person – and take far more pleasure in hanging out by the fire watching the kids do puzzles. I am enjoying taking my fitness back into my own hands and getting to the gym of a morning is a little piece of heaven. I am excited to design a mountain house with my husband this year – we love doing personal projects and this one will be tiny – but hopefully gorgeous.
But at the end of the day – what I do for my work can't be switched off and forms so much of my personal satisfaction!
---
You travel a bunch for work, do you have any tips you swear by to get you through the long hauls?
Ohhh, I must admit I am a bit out of practice with the travel – the last year and a half hasn't seen much travel with the arrival of the baby (who is fast approaching 1). But I did travel for over 7 years and my advice would be the carry-on bag with lots of compartments – I once made the mistake once of using the carry on suitcase that you have to open in half to get anything out of it, and of course you have to lay it out in the aisle to do so – so I like a pocket and pouch for everything.
A Kip&Co eye mask (might need one of those for LA!)
My other tip for long hauls – avoid taking children! I would love to say that my children are well travelled and well behaved – but for the most part they are neither – so if I have the luxury of an OS work trip, I am quite partial for going alone. It refreshes you as a person, as a mother and I think reminds your family how much you contribute to the running of the house.
---
Where can we see you in 2020 and how can people contact you if they want to hire you?
This year will be centred around some travel. My youngest is now 12 months so I can start to spread my wings again. Myself and my team are off to LA (Feb 15th-20th) we plan to see sexy houses, shop at flea markets, meet suppliers and get inspired. Our plan is to make that an annual trip – so would love your readers to follow us on that journey! The plan is that we can collect some epic pieces and do a small exhibition when we return – I am even thinking of doing that at my home.
In April, I am also off to the Milan Furniture Fair – it's actually my first to that fair – which I am excited about – but also slightly nervous about as I think some serious FOMO might kick in – as I have been told time and time again that you can't do it all when you are there.
Otherwise, 2020 will see some more projects being completed and photographed, getting our groove on in our new studio and laying down some new processes to systemise what we do. What we like to say in the studio is that we do the magic and the logic – and we need to constantly find ways to cement the process so the journey we take our clients on is refined and enjoyable as it can be.