In today's blog, we take you inside the studio of jewellers Terry and Angie Cockrem, founders of Mint Melbourne. Situated in the beautiful Dandenong Ranges, the talented brother-sister duo design & finish each of their creations right in their very own backyard studio. With a heavy Art Deco inspiration, each ring is designed and made to become heirloom pieces to last.
We spoke to Terry and Angie about their journey thus far as ring makers/entrepreneurs. and get their expert tips on how to look after your treasured pieces.
1. Hi Terry and Angie, thank you so much for having us over at the Mint Melbourne Studio. Can you please introduce yourselves and give us the backstory on why you decided to start your own jewellery business?
Mint Melbourne may be a new business for us, however Terry has been designing, making and teaching jewellery his whole adult life. His first business saw him designing and making thousands of rings, Mint Melbourne is the culmination of decades in the industry and was born from a desire to make the process of buying an engagement ring as easy as possible.
Terry fell in love with jewellery making in high school and has spent his adult life mastering his trade. He studied Fine Arts (Gold and Silversmithing) at RMIT, followed by an apprenticeship and various short courses. During his apprenticeship Terry spent 5 years repairing engagement rings that had worn out after a few years of daily wear. He meticulously analysed why those designs failed, with the intention of turning that knowledge into engagement and wedding rings designed and made to last generations. From here he opened his first business, Rose and Crown Jewellers, which saw him designing and making thousands of rings. As he added skills, he pushed his designs. Designing rings for clients that he knew were out of his skill level intentionally, to push himself, it always worked it out.
It was with Rose and Crown Jewellers that he started to see an opportunity, a nook in the market that hadn't been done well yet. He started asking clients why they chose him and it was for two main reasons, one they loved his designs and two they felt overwhelmed by the glitz and glamour of a traditional jewellery shop. So he started brainstorming and planning an engagement ring buying system that covered everything he learnt at Rose and Crown Jewellers. Mint Melbourne was born.
This is where his sister comes in, he couldn't do it on his own, he needed a sounding board, somewhat who's brain works in a different way to his. Angie brings complementary skills to the table that mean the business runs well and flows, Terry does the creative stuff, Angie does the rest.
Terry and Ange went into brainstorming mode and came up with a buying process that made engagement ring shopping easy! Every aspect has been considered.
We only use premium diamonds in a choice of natural or lab grown. We only use platinum and 750 (18ct) golds and all our feature diamonds are set in platinum.
Along with a determination to keep all processes onshore we also use Australian mined gold and Australian suppliers where possible. We boast the iconic kangaroo in a triangle (Australian made and owned) with pride and each of our rings are hallmarked accordingly. Our rings have twice the amount of gold and platinum then the average engagement ring, ensuring that they last a lifetime. Every aspect of design has been thoughtfully considered from aesthetics, to the way the wedding band sits flat against each engagement ring, complementing its beauty. Our wedding bands also double as stackables & our engagement rings as cocktail rings.
Each of our collections focuses on a specific diamond shape and the rings have been designed specifically to complement each stone, whilst stepping up in design detail progressively as the range progresses, to enable you to select the perfect ring.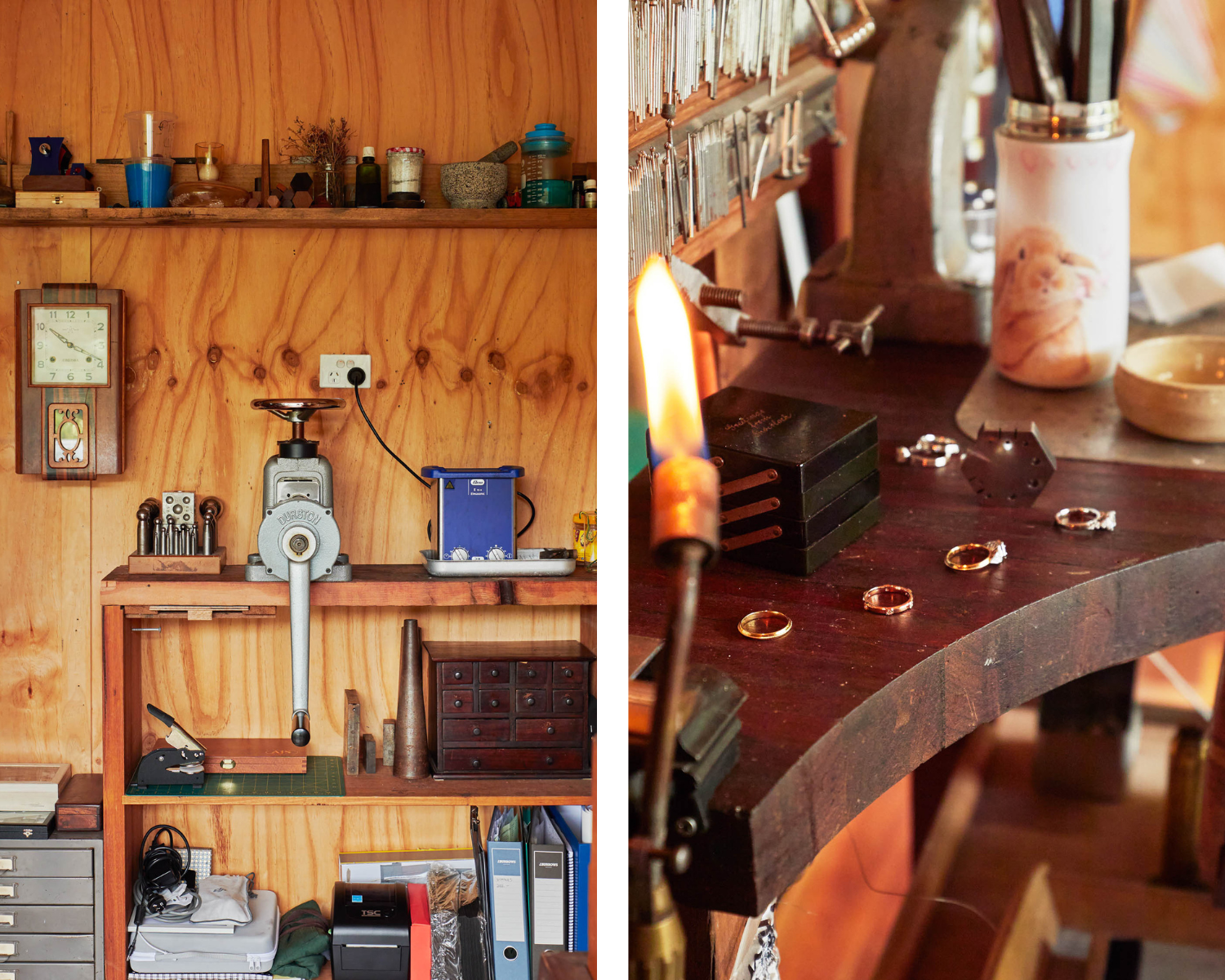 2. Each of your beautiful pieces have a strong Art Deco inspiration. What is it about this era that you love to reimagine in engagement rings?
We have a deep love and connection to all things Art Deco. We grew up in a family with a passion for classic cars and spent countless hours admiring the beautiful lines of the Art Deco motor industry. We were also blessed with a grandmother who had a draw full of magnificent Art Deco jewellery that we would admire with each visit, Art Deco is in the blood. Whilst at RMIT Terry was drawn to Art Deco architecture and began to draw upon the bold lines and repetition of shape that timelessly captures design. As well as being at the peak of design, being able to make Art Deco engagement rings also represents the peak of craftsmanship. It was a natural progression to design our range around the Art Deco aesthetic. We also love that Art Deco design is timeless, all of our rings are designed and made to become heirloom pieces to last, so having a timeless aesthetic is important.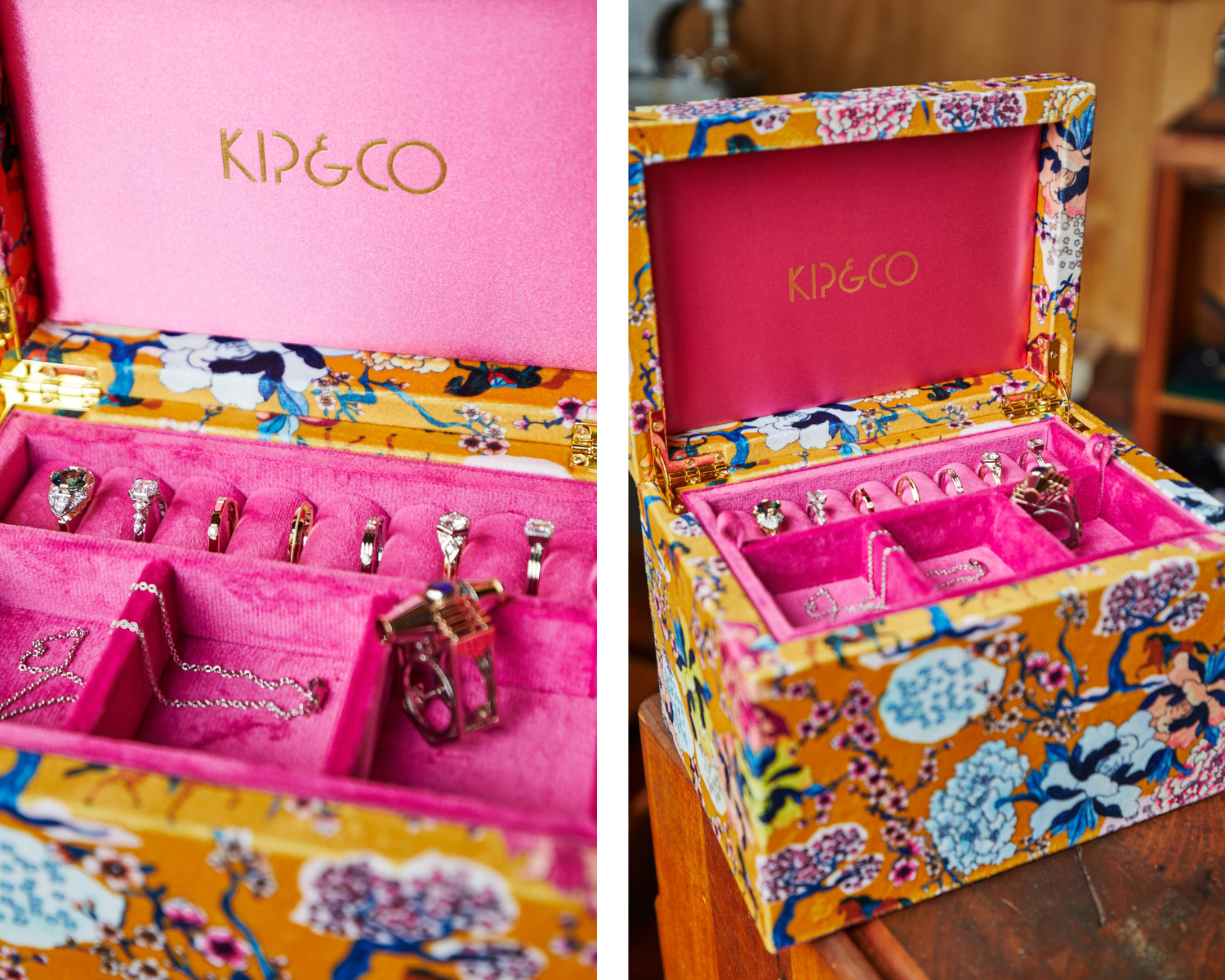 3. How long does each ring take to craft and what is this creative process like?
The making process of our Mint Melbourne range always starts with a pencil sketch. Initial ideas become renders and the making process kicks off. There are quite a few steps that take place to bring a ring to life. Once the designs have been sketched and cross checked a digital render is drawn and a wax is printed using a 3D printer. The lost wax casting process is the next step, this process involves submerging the wax into a plaster mould, burning out the wax and pouring the molten metal in its place. Once the ring components have been cast the clean-up process is commenced, using traditional hand tools and polishing techniques the rings are brought to life. The final stage is setting the diamonds, this is done under a microscope using pneumatic gravers and pushes to ensure premium quality and diamond setting. Finally, the rings are quality checked by one of our master jewellers before being sent out. The whole process takes quite a few weeks, as each of our rings are made to order here in Australia, allow around 4 to 5 weeks form order to proposal.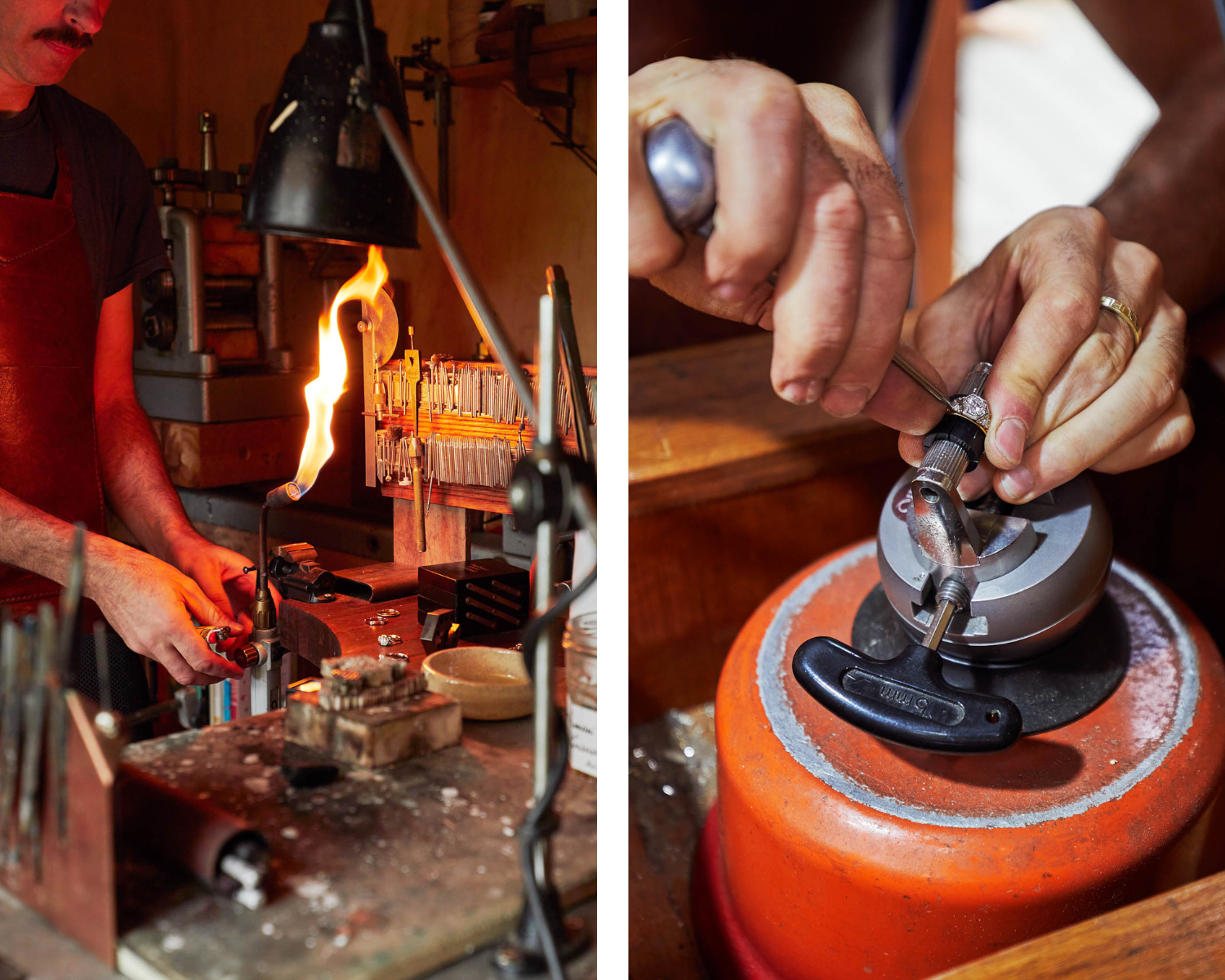 4. Your studio is located in the beautiful Dandenong Ranges and celebrates the beauty of the natural surroundings with large bifold doors and wooden finishings. What is it about the outdoors that keeps you inspired?
Having grown up in The Dandenong Ranges, we have a deep appreciation for and connection to the natural world. We love being able to fold back the doors of our studio and feel connected to the elements, it is grounding and allows inspiration to flow.
Walking through the forest and immersing ourselves in the trees allows us to dream big. Our best ideas are born in nature.
This love for nature and the outdoors informs all of our business decisions, including the fit out of our studio. The fit out was done by us, almost exclusively with recycled and salvaged materials, the natural materials mirror and complement the environment and help us feel grounded and in flow, in turn helping with the creative process.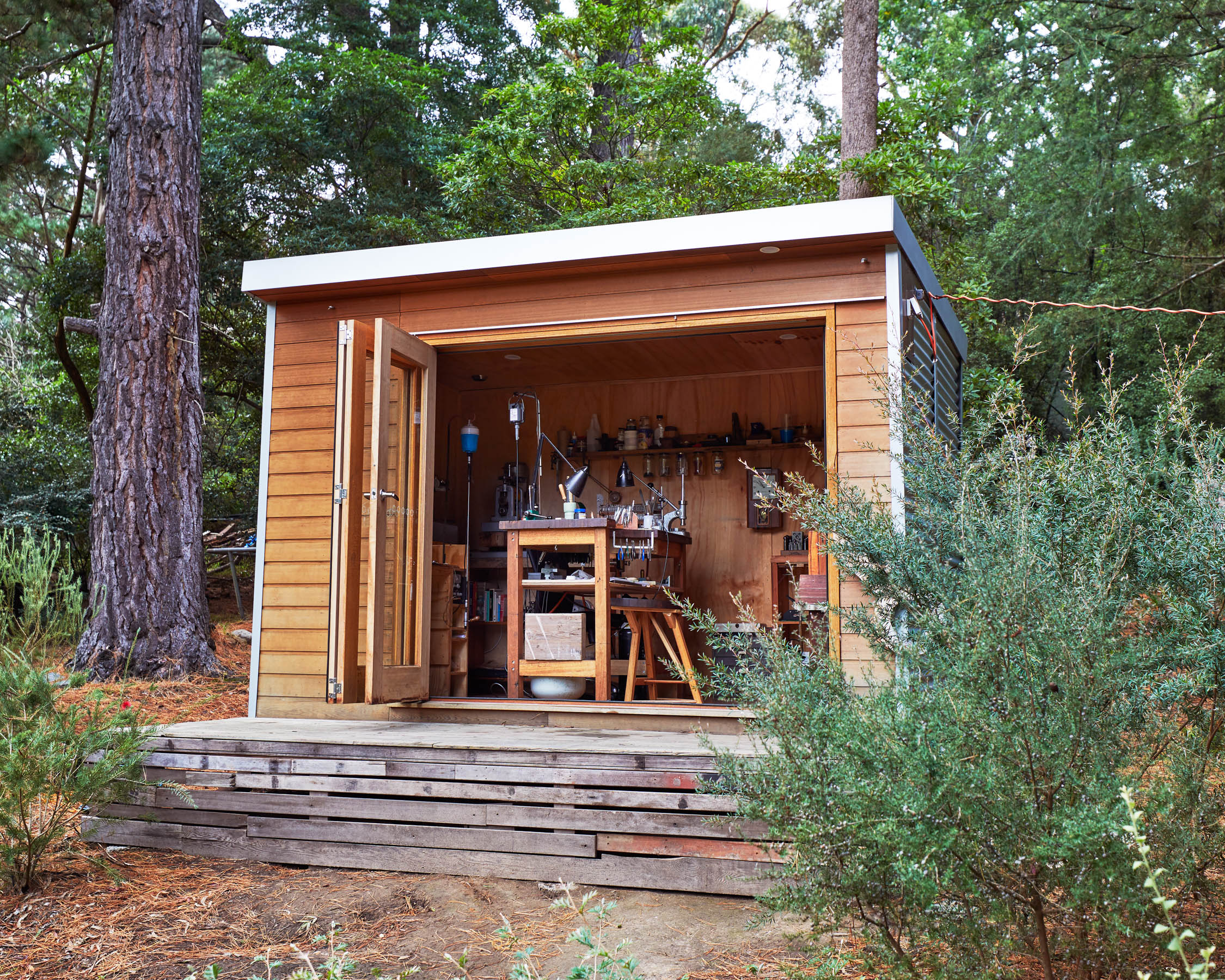 5. The secret to keeping your treasured pieces shining forever is proper care. What are your top tips for storing and caring for jewellery?
Our rings are designed and made to be worn and enjoyed every day, this being said, here are a couple of pointers to ensure your jewellery stays in top nick for you to enjoy for a lifetime.
- Take rings off at the beach, sand is an abrasive, think of sandpaper, that stuff is rough. Also, waves wash rings off, and from there, there's no return.
- Take them off gardening, once again dirt, sand, stones and gardening tools are all going to take a toll on the life of your ring.
- Take them off at the gym or when participating in contact sports, when applying lotion, sunscreen, hair products etc.
Finally the best way to clean your Mint Melbourne ring at home is with a soft toothbrush, hot water with a small squirt of dishwashing liquid. Be sure to rinse your ring off in boiling water to ensure no chemicals are left behind that could irritate your finger. If it helps here's a link to our care guide: https://www.mintmelbourne.com.au/pages/care-guide-engagement-ring-platinum-care-gold-diamond