Our beautiful friend Megan Moss is a maker, jeweller and artist from the Bellarine Peninsula. She invited us into her home to chat about her incredible jewellery, every piece beautiful imbued with connectivity and symbolism. Dive in.
1. Thank you for opening your beautiful home on the Bellarine Peninsula. How long has this been home for you and can you tell us a bit about the house and who you live with?

When I turned 18 the first thing I did was get my licence and travel to my favourite surf spot in Ocean Grove, then down the great Ocean Road... I remember saying to a friend I would live here one day... and here I am. We didn't plan it, life just has a funny way of taking you where you need to be. I currently live in a beautiful home nestled in the middle of Point Lonsdale with my Fiancé Angus and 8 month old baby girl Mahlee. The day we moved into this house we took a pregnancy test and found out we were about to become parents; you can imagine our excitement and pure joy! So this house has been our sanctuary and is so special to us. Until now, as of today we have just become homeowners. So the home journey continues and the nesting will begin again, with new ideas and new inspirations for our gardens and interior design and of course building a new studio.

2. We love your incredible jewellery, every piece has such beautiful symbolism. What inspires your designs and what's the creative process like for you?

Designing for me is dreaming, I have ideas and always the desire to bring them to life. I feel I have only just scrapped the surface
of what's in my mind.

Many designs are inspired by nature, our ancient makers, stories from Roman and Greek mythology. My main passion is to connect and design unique customised jewellery such as engagement and wedding rings. Also, for ones who would like to carry with them
a personalised talisman of strength, beauty, wonder and magic. Sacred pieces that have been carefully carved out in collaboration with my clients.

Connection with like minded people and the land I live on, is what drives my creative passion. I really enjoy every process involved, especially sketching many variations of designs and ideas.. its therapeutic. I sketch a lot so I have years worth of designs. Then turning them into metal, that change in juxtaposition is very satisfying.

Currently I am working on my baby bracelet collection, inspired by my adventures with Mahlee. I plan on launching that on her first birthday. Since having her in our world, my life has become so much more colourful, inspiration has been bursting around me, from angles I have never seen before. She is my muse.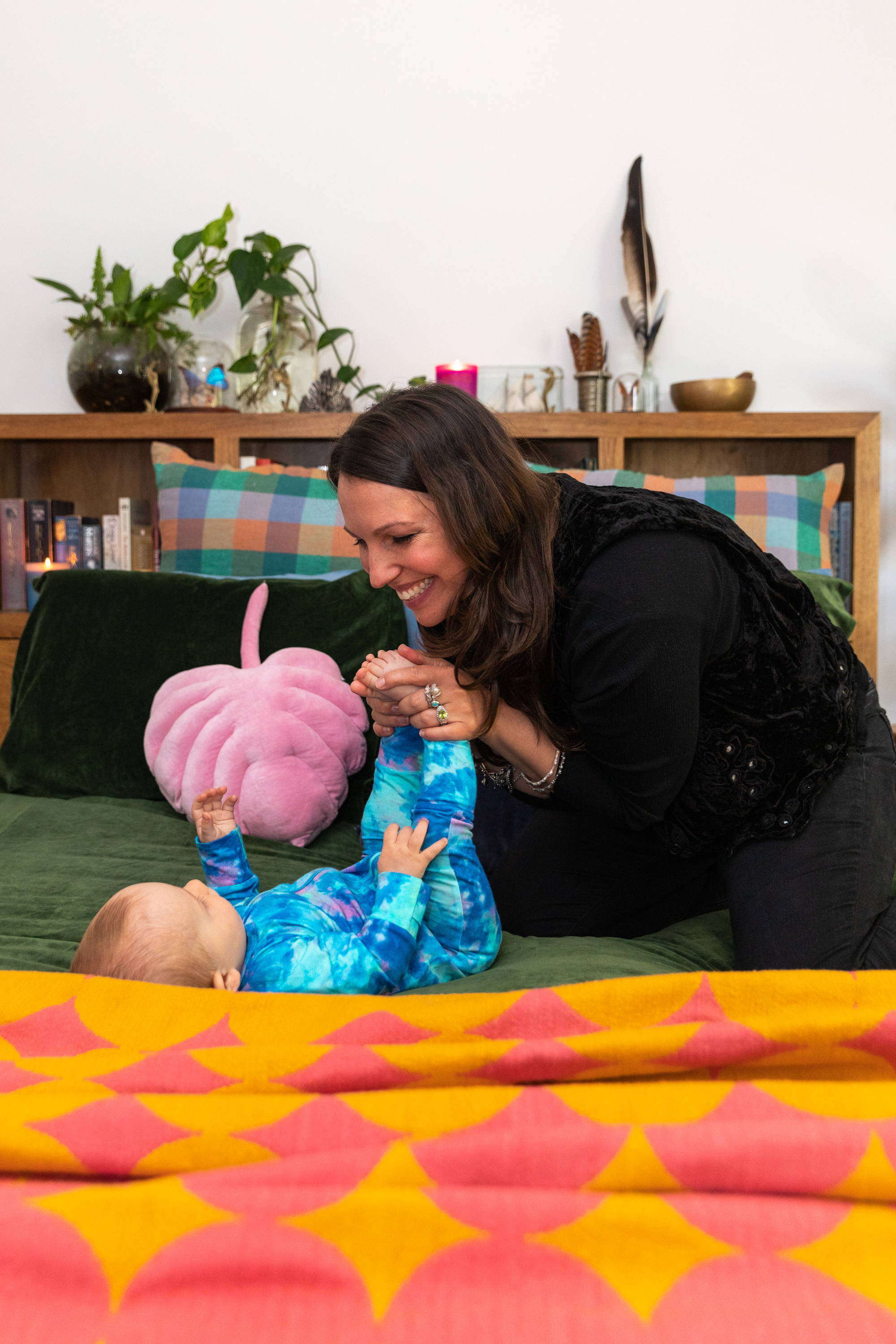 3. How important is your physical space when you're creating?


It's everything!!! I have only ever been satisfied with two of my studio spaces and I have had many over the years as we have moved around. Your studio space is a window into your soul, when done well it's a perfect reflection of the mind… if life gets stressful and you begin to forget who you are, get back into your studio, put on your favourite tunes, sit back and soak it all in. It will remind you of your dreams, where you are going and who you are. And having my studio at home means I can sneak into it whenever I feel inspired, to sketch or carve a new vision. With our new home in mind, I love that I can eventually trickle the studio vibes throughout our house and into the gardens, mixing our families styles in together. That's what makes it a home, all our essences woven together in the most delightful way! Fun, creative, peaceful… a home.

4. You're a new mum, congratulations!! How has that changed your outlook and approach to work?
Whoa, it's changed Everything!!! It's changed how I was running my business and where I was going with it. Having Mahlee has given me new goals, more inspiration than I could have ever dreamed of. My brain has re wired itself and I have a whole new vision of what and where I'm going with the business now. Two words to describe how I feel about it all…. Fearless and Purpose.
5. What pieces are you coveting from our Golden Hour range?
Ahh I love so many things but to just name a few, The
Little ray of sunshine
print is the best! It made me think of Mahlee as her middle name is Ray. When I was pregnant, I would dance around the house singing that song by Axiom 'A little ray of sunshine, in a shape of a girl". So, it made me so happy when I saw this print! I also love the
Pinkie join the dots throw
, it's the perfect complement for the
Wakame green velvet
bedding, that makes me feel like I'm sleeping in a forest, and I love the colours in the
sugarcane tartan
, It's like our dusty outback at sunset. Ooo and what else… the
Shade of autumn towels
… you guys do the best prints and fabrics! To top it off I absolutely LOVE that you are a sustainable business, so everything I buy from you makes me feel good and aligns with our values as a family. When we buy new, it's important to us that it's from sustainable businesses.