Hi Kate, thanks so much for taking the time to chat with us! What's your beauty philosophy?
I'm not too big on make up anymore, which might be due to how long I spend either working from home or at the beach :) I think natural beauty is the most beautiful by far.
2. What are your beauty rituals? 
I keep it very natural and simple. A natural cleanser and face oil, with a tinted SPF during the day.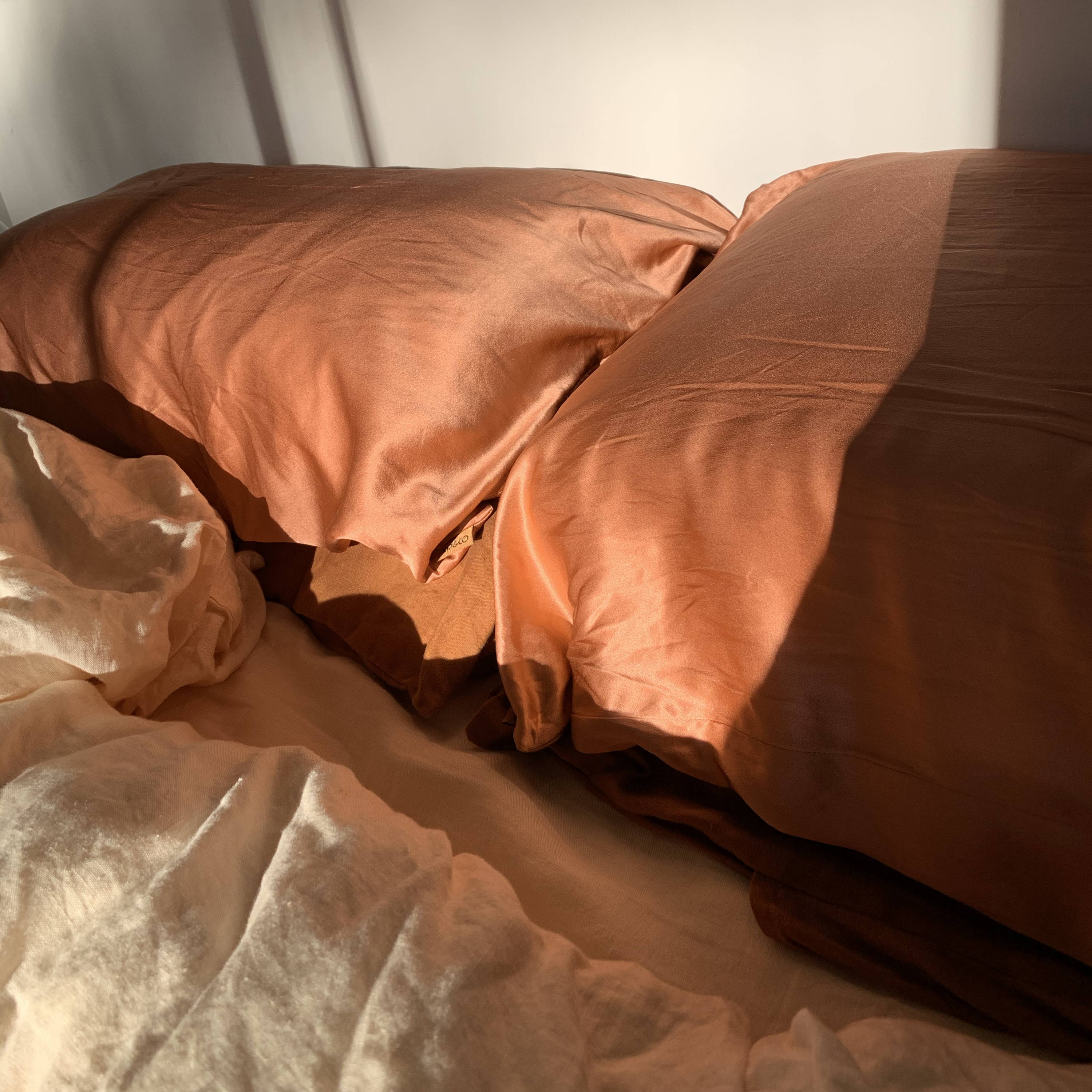 3. What do you think the benefits are of silk pillow cases / how do you incorporate silk into your beauty routine?
Using the silk pillow case is so much softer on my skin and hair than the linen one I was using previously. I've noticed since switching, that my skin stays hydrated overnight now- even during the cooler months. My favourite part though is that it is the most beautiful, softest silk to put my tired little head on after a big day of work and chasing little Alfie around the house all day!
4. Your tea is phenomenal and there are so many beautiful mixes. Do you have any hot tips on what tea combos we should be drinking these winter months to keep our skin look fresh and hydrated.
Thank you so much! Yes definitely! As the weather cools down, we should incorporate herbs into our diet that have warming energetics and that support circulation- this is important for overall health, but especially skin health. My favourite picks for winter are cacao cinnamon spice, organic chai, sticky masala chai and energise.
5. First beauty product you ever bought?
Probably a moisturiser with a million chemicals that I would never go near these days!
6. Drink of choice?
Tea of course!
7. Healthy modality?
Herbal medicine and nutrition.
8. What inspired you to create Mayde tea?
My own health problems - I was formulating blends to help with digestion and anxiety. All of a sudden people wanted to buy them and it organically became a business like that.
9. What did you learn about well being and beauty through the creation of Mayde tea?
I think nature is the most beautiful thing, so all of our products have just that- 100% organic plants and nothing else. I truly believe that our bodies have the innate ability to heal, and plant medicine just assists this process.
10. What beauty and well being rules will you have for your own beautiful baby as she grows up?
I tell her she is beautiful every day. I think being the daughter of a nutritionist she has no choice buy to eat a wholesome diet!