Hi Kate! You are synonymous with the creative culture that makes Melbourne what it is. You've had your finger in many a tasty pie that have been formative influences on our own creative journey. Can you give us your back catalogue, how did you get to be, "you"?
Well that is a VERY nice thing to say, thank you! I have been lucky to have met a lot of amazing people along my path who've been so inspiring and influential in all the things I've done in my life. I've always been a big fan of collaborating, it's way more fun when things go right, and it's a lot nicer when things go wrong.
All I wanted to do when I was a teenager was to be a designer in a London agency. And after being booted out of school, and art school, I finally made it to my dream job at 24.
I moved back to Melbourne in 2004, had a baby, and another 9 months later opened a café in the centre of Melbourne, called Switch Board. It all happened because I found a cute $100 a week hole in the wall in the Manchester Unity building and managed to convince my best friend that opening a café together was a good idea. I'd never actually worked in a café before, the closest I'd come was waitressing in a bar … badly.
We sold the café in 2007, and it's still there today!
After Switch Board I worked as a freelance designer, moved to Sydney, moved back to Melbourne and then moved to regional Victoria.
I started the Photo School in 2012 after people kept asking me what camera I used for my Instagram photos. I just used my phone, and I wanted to show other people how to get the best out of the phone, instead of forking out cash on fancy cameras.
This same year I started the Lunch Lady blog. It took on a life of its own. I was a little blown away by how well it was received. It's funny looking back at it now, as even though I LOVED how I baked the crap out of my kid's lunch boxes at the time, I definitely feel there's a little more balance of baked v convenience in our lunches.
In 2013 I was approached by Louise and Lara from We Print Nice Things (founders of Frankie Mag). It was like they had read my mind! We got stuck into turning my humble blog into the incredible magazine it is today. I left after two years, I realised I was making a magazine about family and not actually having time for my own. I was mentally exhausted and also felt I was really letting my kids down, which was the very reason I started Lunch Lady. It was time to walk away.
6 months after leaving Lunch Lady I floated around Lake Daylesford drinking wine and crying, thinking I was never going to have another idea ever again.
Another 6 months later, I launched OK Motels.
OK Motels came from my insane love of old motels and country towns. Firstly, it was an Instagram account, and then by chance I stumbled across a 70s function room in the beautiful town of Charlton, Vic. We've had 3 mini music festivals there now and are planning number 4, 5 and 6! We're also looking at bringing it to states other than Victoria, so stay tuned.
As much as I love OK Motels, it is still a passion project, and to pay the bills I have now started my own little creative services and branding bizzo, Friendly Service. And even though Friendly Service does all the things most creative services bizzos does, design, copy writing, photography, social stuff and web stuff, the thing I love doing more than anything is finding the magic in someone's business story and building a brand identity around it. It's so fun, and it's such an amazing thing to find what's behind all the incredible ideas people have.
Oh, I wrote a book too, it's called Family, Food and Feelings.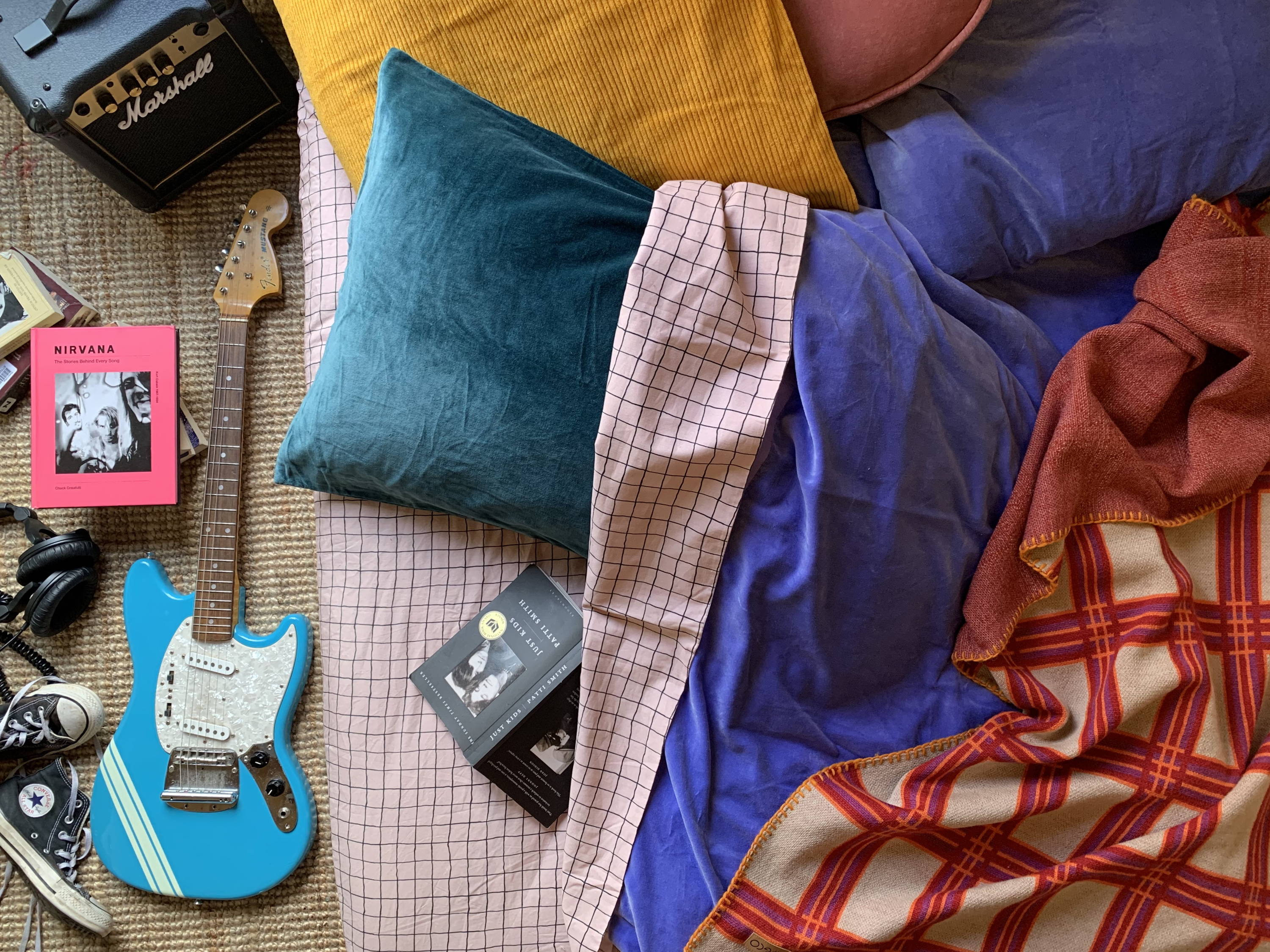 You've shared with us some home snaps of a teen bedroom. How would you describe your own personal interiors style, and how has that influenced your styling in this space? Any tips for teen / tween rooms specifically?
You can't really see from the few pics of my kid's room, but our style is a bit of a mix of pattern clashes, colour clashes, textural mish mashes, and a big ode to music and art. My biggest tip for teen / tween rooms, and I know this is SO lame, but I really believe in stepping back at this point and allowing them to put their own stamp on their own space. It drove me insane when I was a kid that my mum wouldn't let me express myself the way I wanted to, so I wanted to make sure I didn't do the same. The only rule I really have is … KEEP IT CLEAN!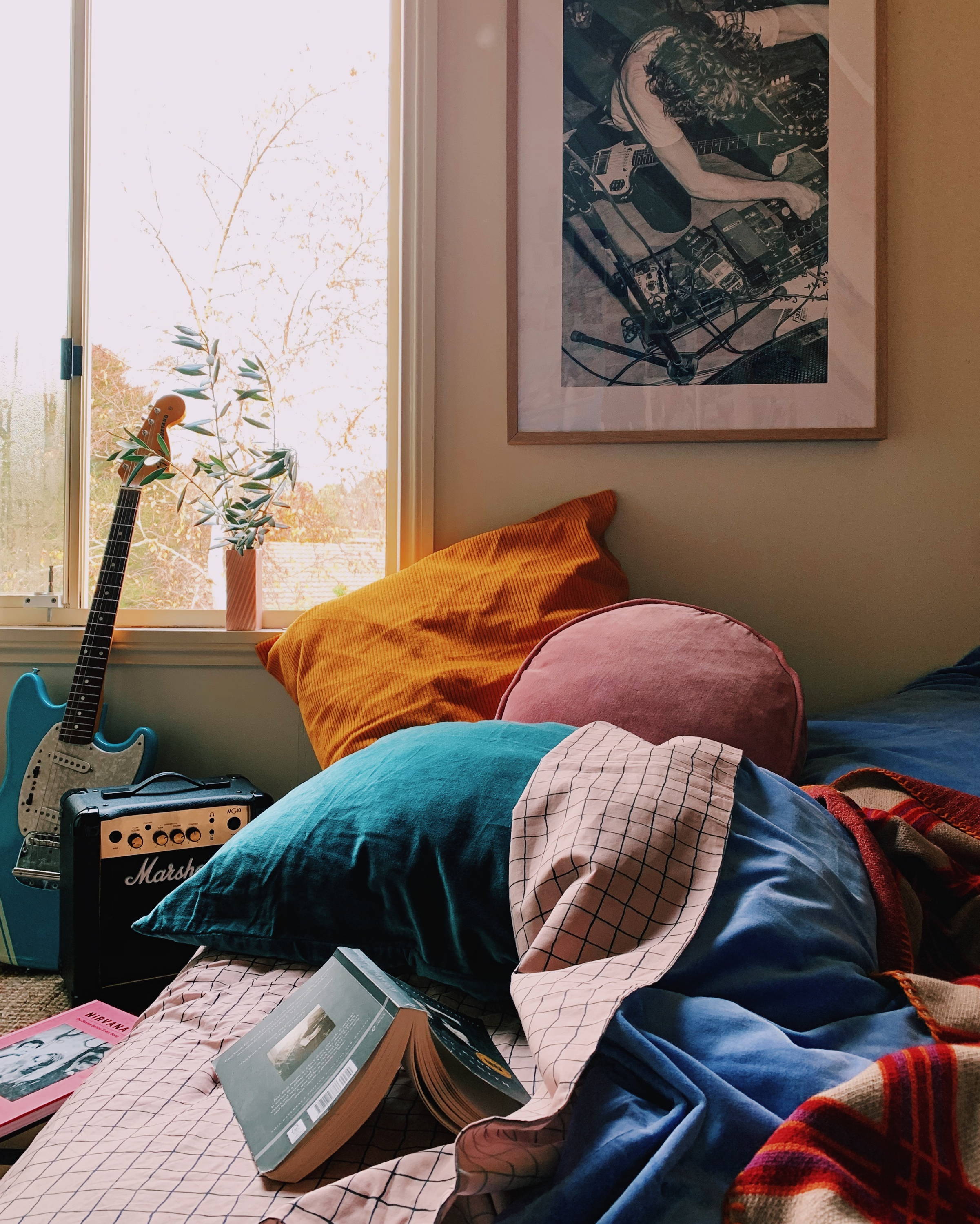 One of your many and varied skills is photography, and particularly making it accessible by taking great shots on your phone. You run an amazing class on this (we can attest to this as Kate attended a version of the class in real life at a Home Work even last year and we've seen a big improvement in her happy snaps, ha!), and today we are thrilled that you've agreed to share a few of your hot tips. Over to you...
It's such a great thing to realise that your phone is the only camera you really need. Most of us aren't taking photos of our family, and day to day, for glossy mags are we? In fact, all of the photos in my book, apart from the food ones, are all shot on my phone!
Here's my three top tips:
USE THE GRID
Pretty much all phones have a feature where you can turn on a grid in your camera. This is extremely helpful with composing your pics. It makes sure you've got straight lines (particularly those horizon lines!). It's also a cool way to use the rule of thirds (google it if you're unsure) when composing pics.
USE THE LIGHT METER THING
If you're in your camera and you're composing a shot, touch your finger on the part of the photo you'd like to expose for. This will either make your photo blow out, go quite dark, or look perfect! Play around with this feature, as it is what gives your photo the mood you're looking for. There's a little slider you can increase or decrease the exposure too, make it darker to make it moodier, or slide it up to make it lighter and brighter. It takes practise, but this will CHANGE YOUR PHOTOS FOREVER!
CUT THE CRAP
If there's something you really want to take a photo of, then try and make sure you compose the pic for that thing. Look around the whole frame, and if there's extra stuff in your shot that's distracting from what you want people to see, then recompose. Move in, look from a different angle, or physically move something from the frame. This seems obvious, but it's amazing what you see in frame when you look properly.