---
One thing we know for certain (and that list is pretty short right now, as the world grows increasingly unpredictable!) is that Em Rusciano is a dead-set legend and solid candidate for Australia's next PM. She's a smorgasbord of talent (hand up if you were cheering her own in Australian Idol 2004?!), utterly hilarious, and totally unpretentious. We had a chat to her before Woiyne Toiyme to talk all things lock down, life and interiors.


Hi Em! How ya doing?
Right now, at 10:30am I'm pretty good! I've got lots to keep me busy during the day. It's just when my head it's the pillow at night that the worries set in. I need day time Em to give night time Em a pep talk!
 

Congrats on managing to keep up the humour amidst all the madness. What's your hot tip for keeping it light at home when the world outside is feeling a wee bit off kilter?
If you're staying at home make sure you get up, get dressed, brush your teeth and make your bed each day. Just doing the small, normal, human things means so much. I also love to inflict spontaneous dance parties on my family. I've been making a lot of videos lately, I'm lucky my girls (Odette 13, Chella 18) enjoy making online content as much as I do. They're happy to dress up as Kath and or Kim for Instagram or TikTok.
 

We're happy Woiyne Toiyme is in our lives and we whole heartedly encourage everyone to add this to your weekly schedule. What's been your favourite Woiyne Toiyme suggestion (and maybe tell the kids folks out there that haven't heard, what WT is!)
In these times of self isolation and uncertainty I feel it is my job to bring everyone a weekly escape from the monotony of it all. Each Friday night at 8pm (Vic time) I partake in full blown glittery shenanigans in a Facebook live. Woiyne Toiyme LIVE from lock down has songs, sexy stretching (run by my husband), my children performing and my Dad on guitar. It's a hot mess, but people seem to like it. It's also a Rona free zone.
We're all about making your home / quarantine zone, somewhere that will keep you sane, happy, comfortable and happy. What are your tips for home styling to keep you smiling?

 

DO NOT BE AFRIAD OF COLOUR!! Now is not the time for neutrals. My house has it everywhere, and if you have kids make sure there is small corner somewhere just for you. Up high if need be, put some flowers or a nick nack or a cushion or a scented candle - anything! Something!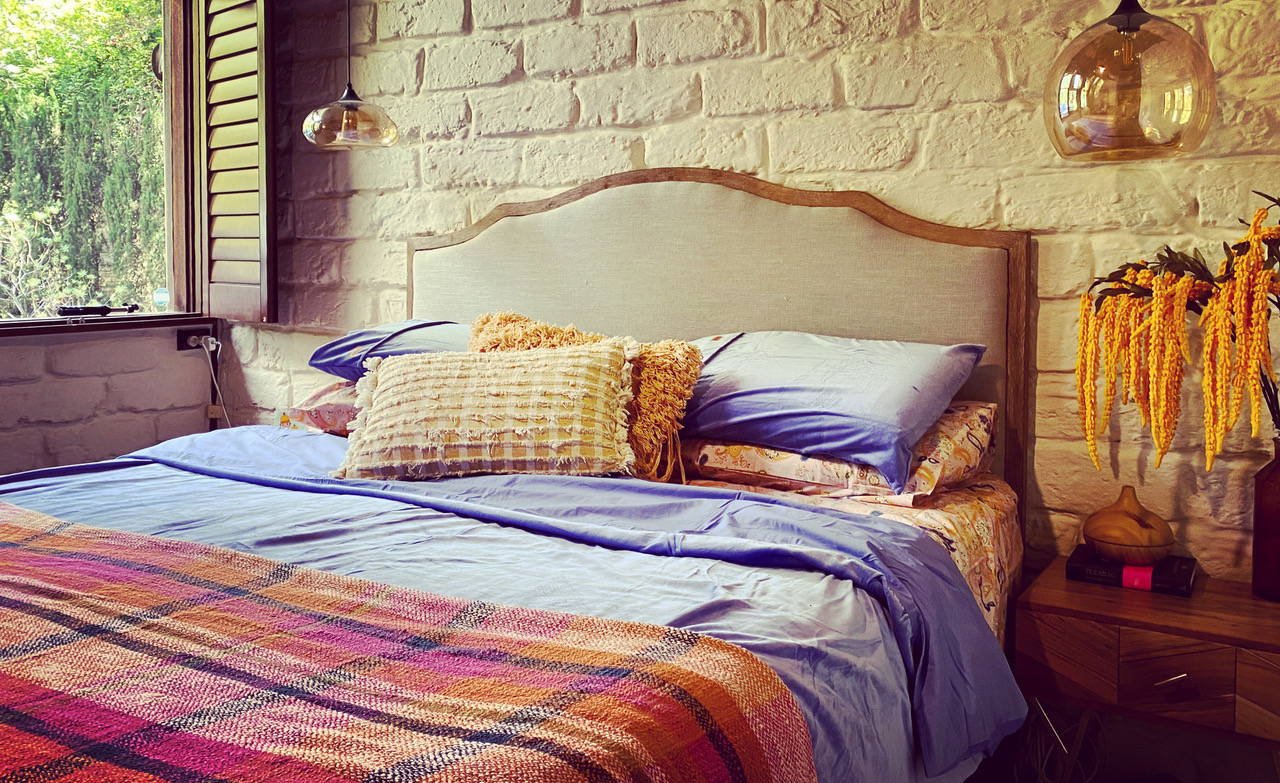 Going anywhere fun this weekend? JOKES! Seriously though, what are you doing at home?
A lot of deep cleaning, I'm an anxious cleaner. I made a list of all the things around the house that needed doing and making my way through it. I'm letting the girls paint on the walls and windows (luckily they're both excellent artists!) I'm trying to finish writing my book, I'm playing with my one year old son a lot (that's the best thing to get my mind off everything) I'm preparing for Woiyne Toiyme and I'm making ridiculous videos to keep my community of followers entertained..
 

What's your favourite Kip&Co piece?!
Please don't make me choose.. I love it all, I'm a BIG fan of Aussie botanicals so my quilt cover is your Native Plantation and I love it. The lines sheets are also so lovely to lay on.. And your new velvet situation! Those colours! GET ON MY BED!