If you, like us are a lover of all things pastel, get ready to bill out in the dreamiest bedroom of interior designer Ella Edwards aka @dreammonstar. Ella's furniture and interior design marries vintage with modern in a way that makes our heart SING. We chatted with Ella to get her interior styling tips and a sneak peek of her beautiful home.
---
Your creamy, curvy, furniture blends vintage vibes with a modern aesthetic and we are ALL about it! But let's take a step back, how did you go from business woman to furniture designer?
I initially worked as a commercial property valuer, which set a great business based foundation for my future design based ventures. I finally followed my design dreams in the late 2000s and worked in fashion, launching my own womenswear label. A few years down the track, we designed and built our new home combining contemporary and mid century influences. This initiated my transition from fashion to interiors. I've always been passionate about architecture and interiors, how a space can make you feel, how it can envelop you and bring comfort and pleasure. Furnishing our new home allowed me to explore with colour, texture and materials and eventually custom design many of the key pieces.
Your motto is the past is our muse and the future is our canvas which we love. Can you tell us who your favourite vintage furniture designer is?
I have a deep respect for Pierre Paulin and his visionary design aesthetic. His use of colour and layered neutral tones resonates with me. Paulin's iconic furnishings manage to be multi faceted, timeless statement pieces whilst still oozing comfort.
Your range is ever expanding, what is your favourite piece you've created and what's next on your list?
My Horizons bedhead would have to top the list. It's such a dreamy and incredibly comfortable piece, also fully customisable from dimensions to fabric selection. It has the ability to transform any bedroom into a sanctuary and definitely induces deeper sleep in our home!
My next piece will be a sprawling sofa-meets-day-bed. I'm currently working on the design for our home theatre, it will be a vision of endless nude pink alpaca velvet and curves. I'd love to expand into lighting too, moody lighting can really elevate a space and set the tone as the sun goes down. I have a thing for sculptural floor lamps and wall sconces.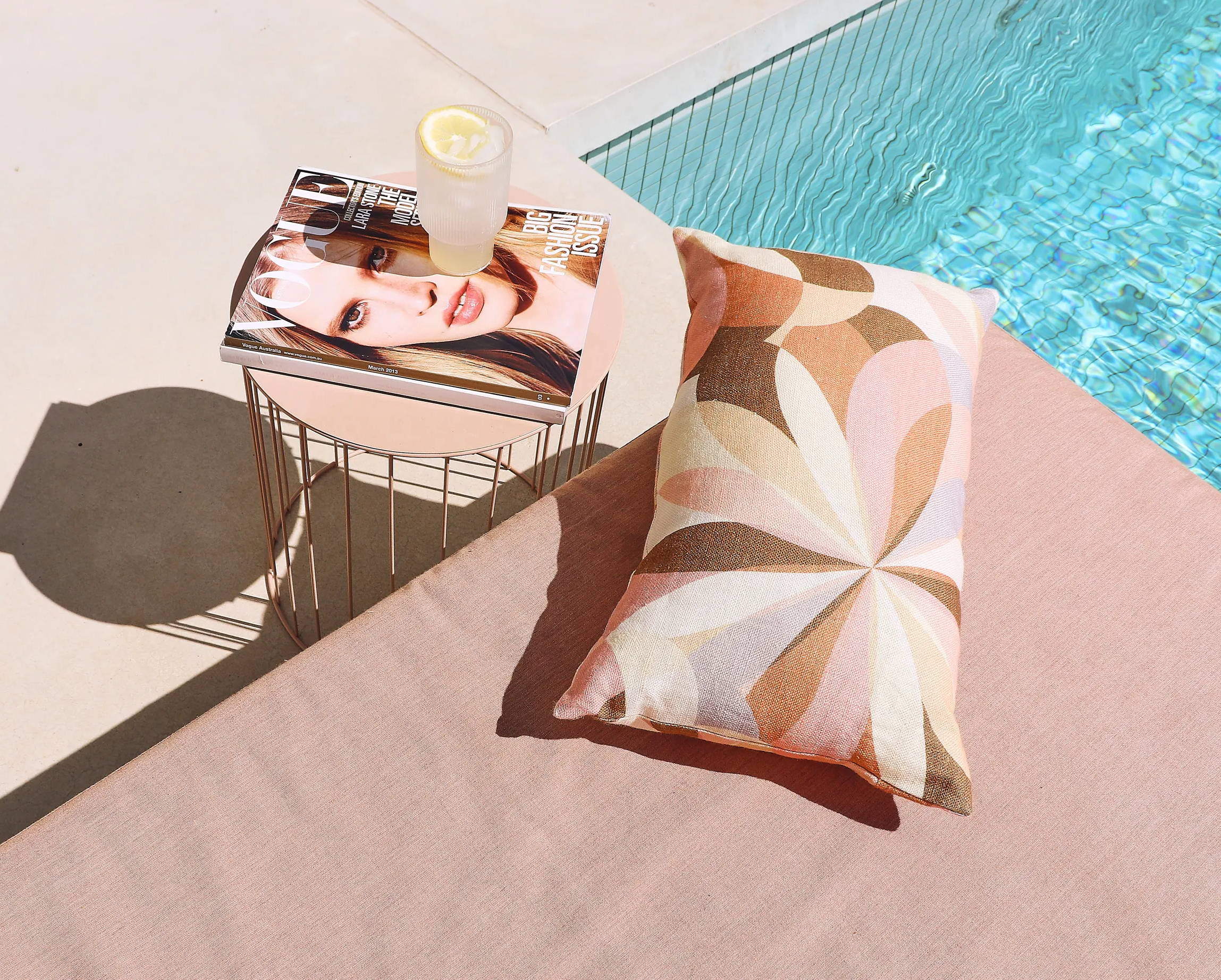 In addition to your beautiful blooming business, you've got a young family and have been stuck in Melbourne lockdown for most of this year. What are your tips for mums wanting to start a business, and what has been the one thing that has kept you sane in 2020?
As a mum it's always so hard to find the time to really focus on your work and do something for you. This is something we really need to make time for though. I absolutely love being a mum to my two little ones (and we have another on the way!) but I definitely see the value in building something to keep you creatively satisfied. Build support around you to help you focus on your new venture and don't give up. If you are truly passionate about what you want to do, you'll find the time for it.
Daydreaming about when we can travel again and plenty of online shopping has kept me sane during lockdown!
What is your favourite piece from the Vacay range and why?
I'm obsessed with the new silk collection, the Pink Champagne silk eye mask and

pillowcase

are a dream. It's the little luxuries that make life more blissful and sleep is so precious, so why not dream in silk.