This season's Swamp print is a colour explosion of fun, brought to life by the very talented illustrator & designer Elisa Cox.  

Hailing from the USA, Elisa drew inspiration for Swamp from her childhood fascination with the wetlands and gators of local Florida. From inspiration to finished concept, we chat with Elisa about her creative process, and more.

 
1. Tell us your story! How have you found yourself creating these incredible artworks?
I'm a Mexican-American mutt currently living in Portland, Oregon with my partner, dog, and 2 cats. Growing up I was obsessed with drawing Powerpuff Girls and all kinds of imaginary friends, so that is definitely the root of these crazy drawings! I spent my early 20's in Kansas City, Missouri going to school for Illustration, attending as many loud shows as I could, and making weird art with my friends. Now I'm in Portland for a change of scenery and my 9-5 job!
2. How would you describe your art style?
Excessive, color-collaged, animal obsessed chaos
3. What's your favourite medium to work with?
Drawing with markers is my forever comfort zone! Lately I've been having a lot of fun experimenting with textiles, specifically rug punch hooking and tufting.
4. What's the inspiration for swamp? How long does it take to create something as detailed as that from concept to finished art?
I'm pretty sure I watched the movie Joe Dirt and was inspired by the gator that bites him! I also spent some of my childhood living in Florida, so I've always had a fascination with swamps and the Everglades.
For this illustration I was really inspired by the patterns the wetlands create with all the vegetation and creatures camouflaging themselves in amongst them, so I knew I wanted most elements to have some kind of textured element. All of this piece is digitally hand drawn, so getting all the details sketched out was the largest block of time, about 2 days. In total I spent about 3 working days to get it to its final repeat pattern.
5. Who's your favourite artist? 'Maybe one famous and one just starting out.
This is so hard! Here are people that currently inspire me:
6. You live in the US (we're down under!). Tell us about your town and the five best things to do if we are ever able to come visit the US again!!
Oregon is beautiful and filled with a million incredible nature spots, too many to list! As far as local Portland places, definitely stop by
Movie Madness
and check out their insane film collection, it's a pop culture dream. The Thousand Acre Dog Park is a giant off leash dog park; we take our doggie Ozzy to the river and he loves it! Book an appointment at
Nail Art Revival
for the best manicure of your life. Karaoke and get tiki drinks at
The Alibi
. Grab ramen at
Afuri
. Get anything on the menu at
Jojo
, but you can't go wrong with the fried chicken.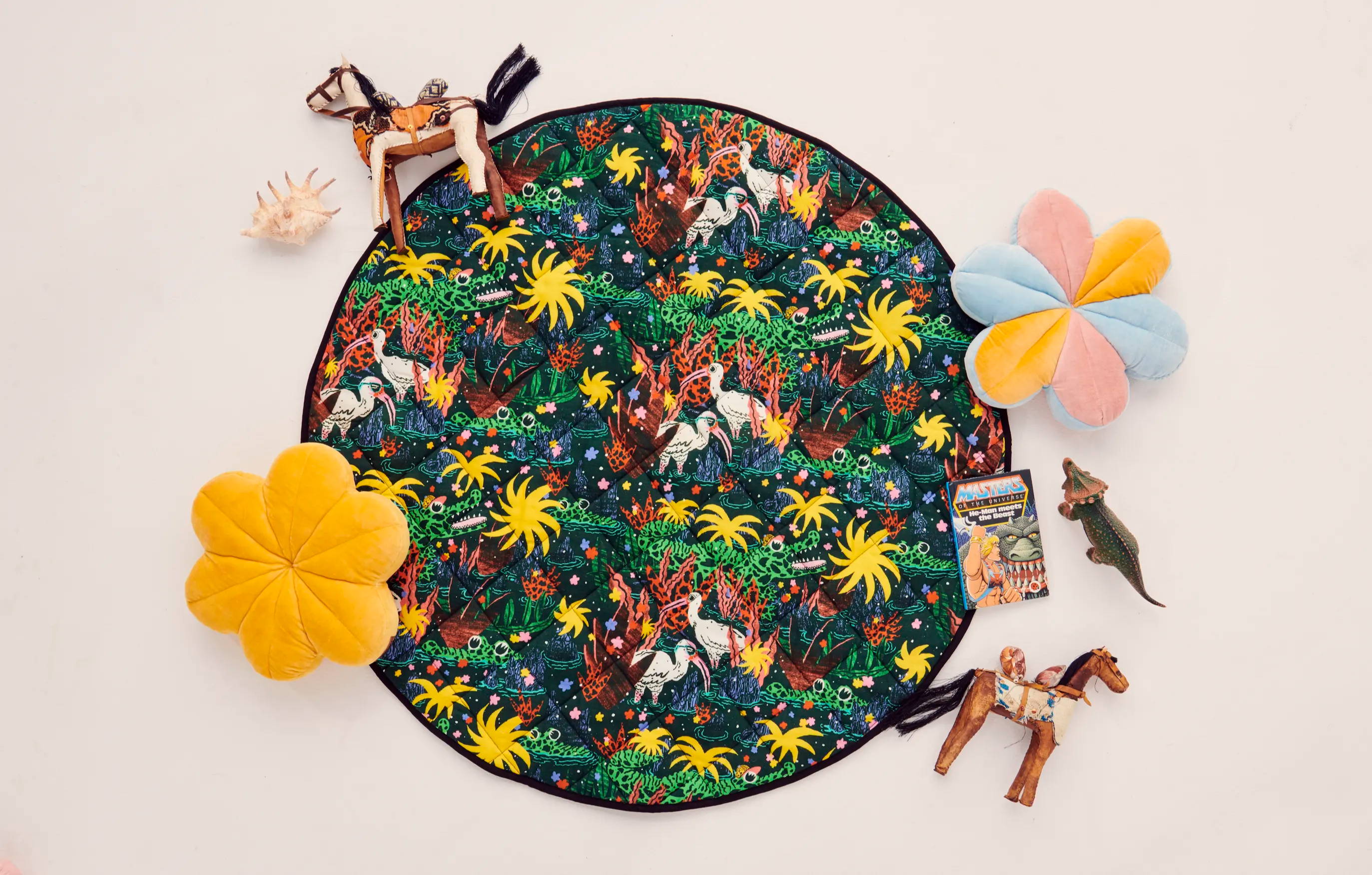 7. Career highlight?
I spotted an illustration I did for Zumiez in the background of the Minneapolis level in the Tony Hawk's Pro Skater PS4 remake. Seeing my work in a refreshed version of a video game I played as a kid was unreal!
8. What's on the horizon for 2022 and where can we find more of your work?
Hoping to travel a lot in 2022! I want to spend time with my partner, friends, + family, especially those I've been away from during the pandemic! I've begun working with a rug tufting gun, so learning and experimenting with this new medium has been my entire focus creatively. I'm hoping to make lots of textile pieces and start bringing my illustrations into the home even more!
You can find Swamp featured in our latest Magic Happens range, available across kids and baby, apparel and bedding.