1.

How'd you find yourself on this Dusty Road?

Dusty Miller is an old nickname that stuck after discovering the Dusty Miller flower in Wilsons Prom once upon a time. I've really embodied the name over the years. The

upholstery

journey started whilst I was working for artist David Bromley back in 2011.

Dave, being the brilliant creative that he is, introduced me to a whole new world of art and interiors, creating magical worlds within buildings and forever reimagining ways to breath new life into art, objects, textiles, furniture etc. His passion and tenacity was infectious. I'd say I have him to thank for The Dusty Road. From the minute I discovered

upholstery

there was no looking back for me, I was hell bent determined and he and his family were very supportive of that journey. I feel very lucky to have had such unique and unconventional start.

2.

Upholstery

is an amazing craft, and you've taken years honing your skills. If there are peeps out there that can't afford to outsource the

upholstery

and want to give their chair a second (third, fourth) life, what tips do you have for the DIY-ers?
When I started out, I worked for an upholsterer part time here in Byron Bay but the Bromely's, again to the rescue, knew how desperately I wanted to be an upholsterer and how difficult it was in a small town so they set up a little makeshift workshop for me down in Daylesford; and for two weeks of every month I flew down to Melbourne, drove to Daylesford and locked myself in the the sheds with a bunch a furniture that I had virtually NO idea what to do with it. I spent countless hours googling and watching YouTube vids.
Aside from that I took a lot of photos so I remembered how to put things back together, never threw anything out, reused all the panels I removed as templates and most importantly, practised patience, a quality I never knew I possessed.
3. You're client base reaches far and wide (which we're pumped about cause we are counting down the days until we get some Dusty Road cushions in our pad). But for those that are looking at local upholsterers, what are the smart questions to ask?


Find something you love second hand and ask your upholsterer if it's worth salvaging. If it is spend the money on bringing it back to life. You get the couch or chair of your dreams, its one less thing in land fill and your supporting local business.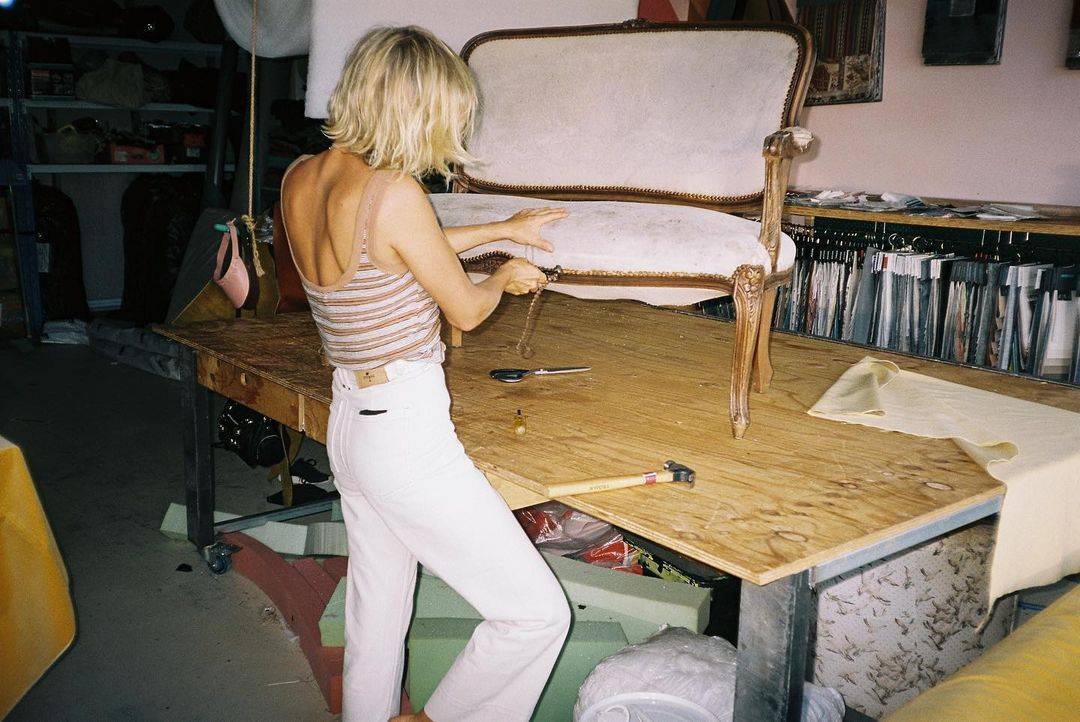 4. If you could re-upholster any couch or chair tomorrow, what fabric would you be reaching for?
I'm such a colour enthusiast so it's probably more about the colour than the actual fabric. I'm going through a pea green phase at the moment. It's been a hard sell - haha - but I think I'll just save it for my couch at home.
5. What's been your favourite piece you've worked on so far (can I give a vote for that incredible velvet rainbow couch oooo la la)?
How fun is the Rainbow couch!! Definitely one of my favourites. That was dreamed up with friends of mine - Ozzie and Mylee Wright. The 1970s in-flight first class lounge Morgan James Design and I recreated for Qantas' 100 year anniversary was a bit of a highlight too.


6. What's up next for you Paige?  
Oooh well, I'm working on a fun project at the moment with Julia from The Vista and Pip from Curated Spaces which I think you'll love watching unfold. We've had a lot of fun bringing it to life.