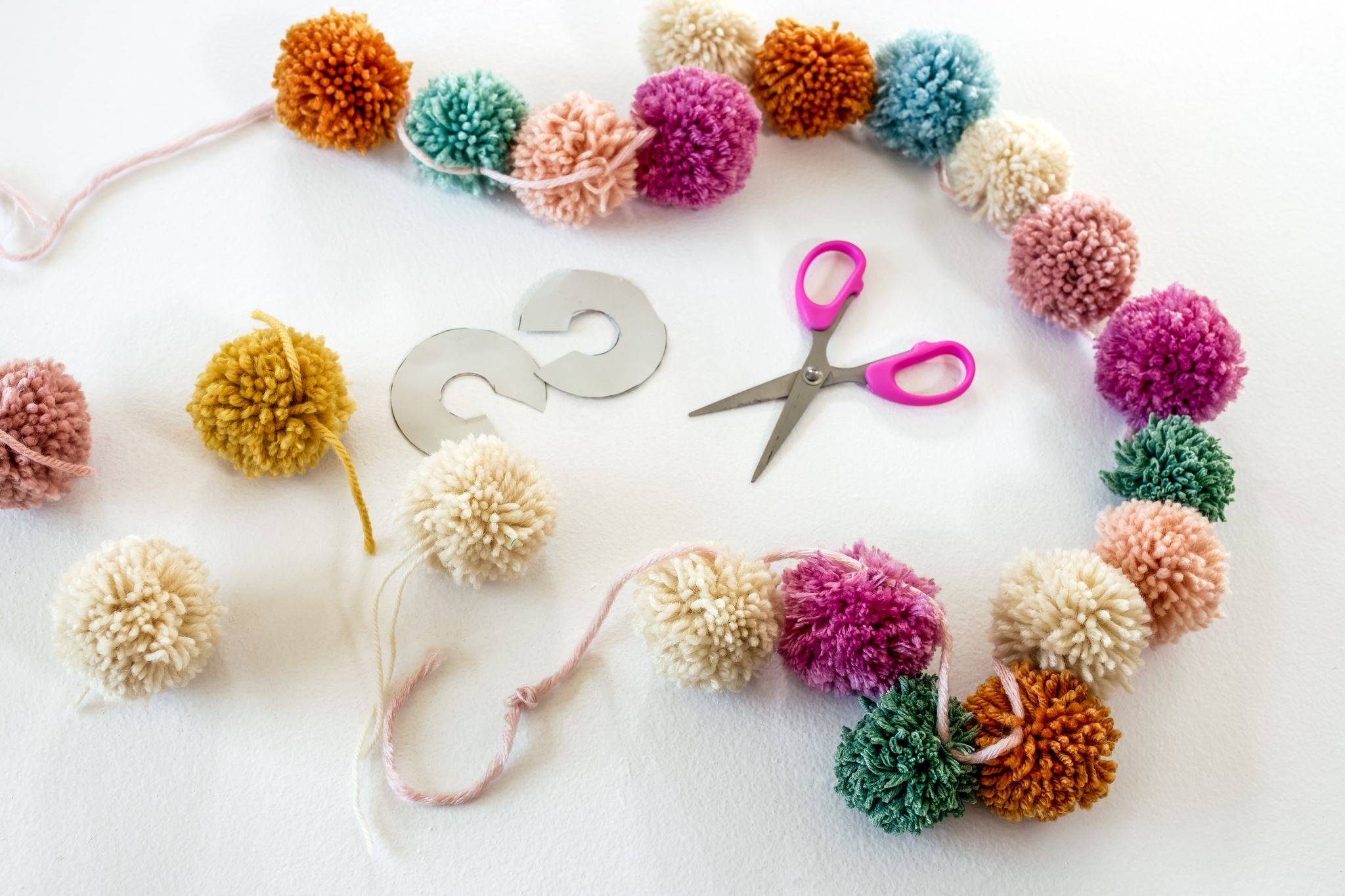 Hello, I'm Julie, and I'm so excited to be sharing this pom pom tutorial with you all! There is something so happy and joyful about a pom pom. I'm not sure why, but the bouncy round shape and little bits of wool popping out seem to capture a really fun mood. It's a given then, that these pom poms will go perfectly with the fun and gorgeous vibe of any Kip&Co pieces you're lucky enough to have in your home!
I'm going to teach you how to make pom poms with a DIY cardboard template. The great thing about this technique is that you don't need anything fancy in terms of supplies. Just a few bits and pieces you probably already have lying around at home, like cardboard and scissors.
In terms of the size of your pom poms, this is directly linked to the size of your template and how much wool you use on each one. I'd recommend starting out with a similar size to mine, then once you get the hang of it, you can try different sizes and weights.
I would also totally recommend you watch my video tutorial. It is much easier to learn by actually watching the process in real life.
Supplies
Here is what you'll need:
Yarn: I have used wool that's about 8 ply, but I think you could experiment with any size.
Scissors: It's so much easier (and more enjoyable) if they are really sharp.
Cardboard: I used a pretty thin board, for example, a cereal box weight works well.
A pen or pencil.
Round shapes that you can trace: You'll need a larger size first – I used a jar lid about 7cm wide. Then you need a smaller shape for the centre – I used a $1 coin (about 22mm wide).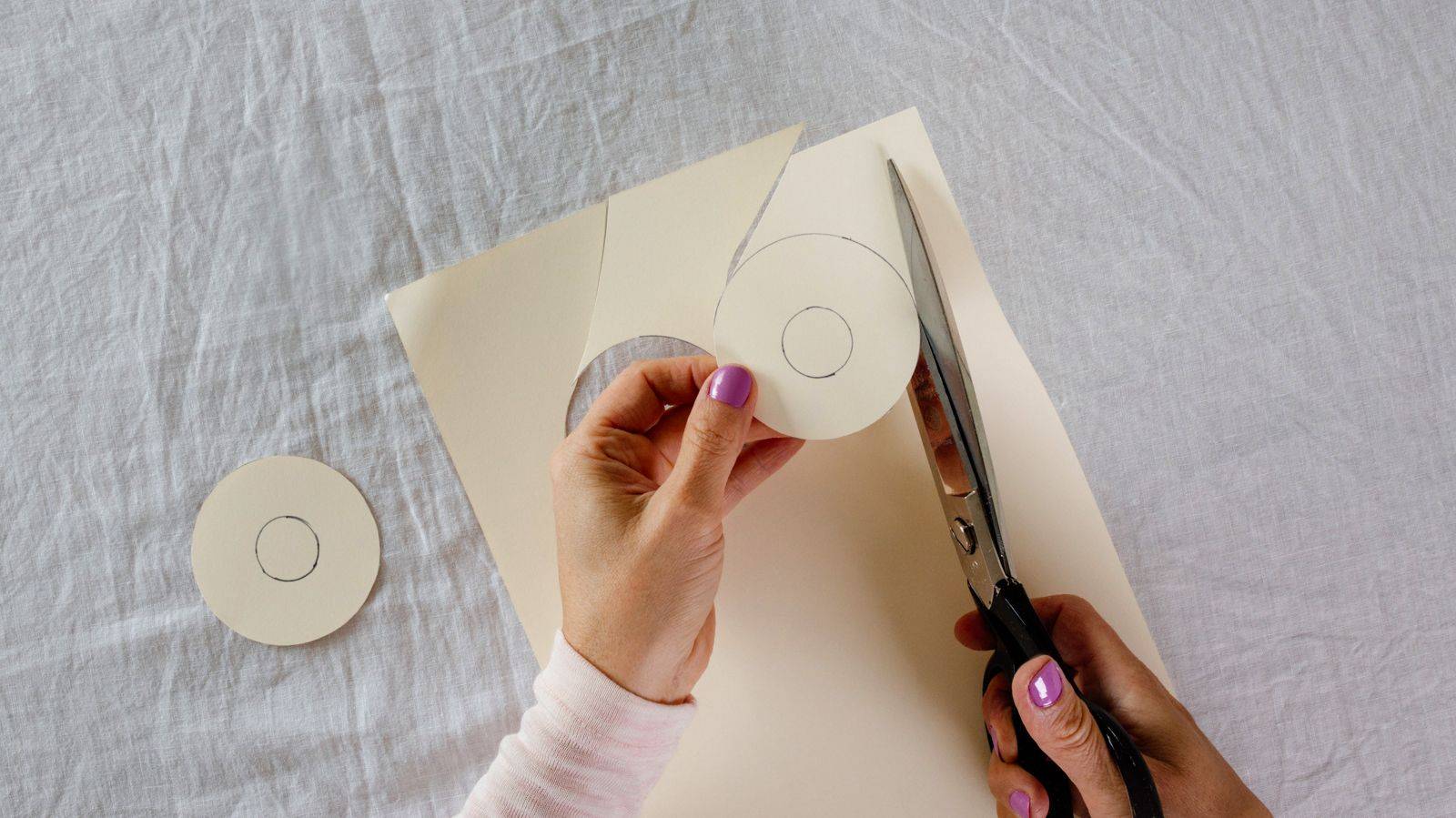 Step 1: Make the Template
Let's start by making your homemade pom pom template. First, grab a piece of card, and trace around the larger circular shape. Then pop the smaller round shape in the middle and trace around that too. Repeat this twice, so you have two sides of the template.
Next, cut out the template, starting with the outside. Then cut in towards the inside with 2 angled cuts, and cut out the small inside hole (you'll end up with a keyhole sized shape to remove).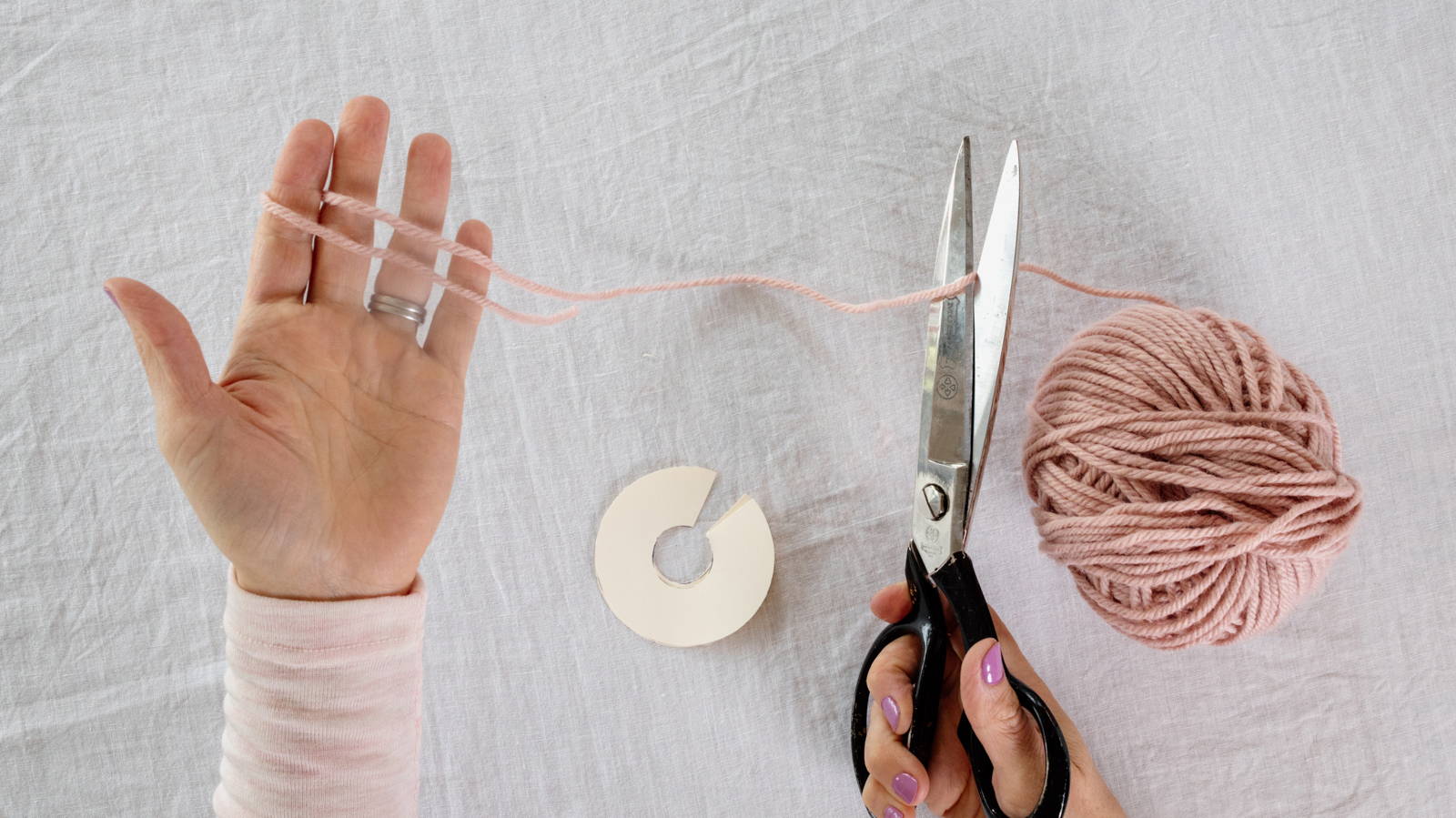 Step 2:Cut the Yarn
Before you start winding on the pom pom, cut out a short piece of yarn that you'll need later (about 30cm long).
Step 3:Start Winding!
Lay the two sides of the template directly on top of each other. Take your yarn, and wind off a bunch of wool so there's a bit of slack. Now grab the end of the yarn and start winding it around the horseshoe shape of the template.
Keep going around and around, building up wool evenly along the cardboard. Make sure you leave some space at each end, to stop the wool from slipping off. It's really up to you as to how much wool you wrap around. The more wool you add, the thicker and woollier your pom pom will be. But it does get trickier to handle the more wool you put on. So for your first few, I'd recommend stopping when you have a similar amount of wool as I've shown. Now you can cut off the end of the yarn.
TIP: Don't pull the yarn too tight when you're wrapping it around the template. It will be easier to cut in the next step if it's got a bit of give.
Step 4: Cut out the Pom Pom
Now it's time to cut out the pom pom. You need to slip the end of the scissors in between the two sides of the template, then cut right around the template until all the bits of wool are snipped in half. This step can be a bit tricky if you've got lots of yarn on your template, but it gets easier after a few goes.
I tried adding heaps of wool to some pom poms and they got a bit out of hand at this step! But I actually found even if I lost a few bit of yarn off the edge of the template, it didn't matter overall.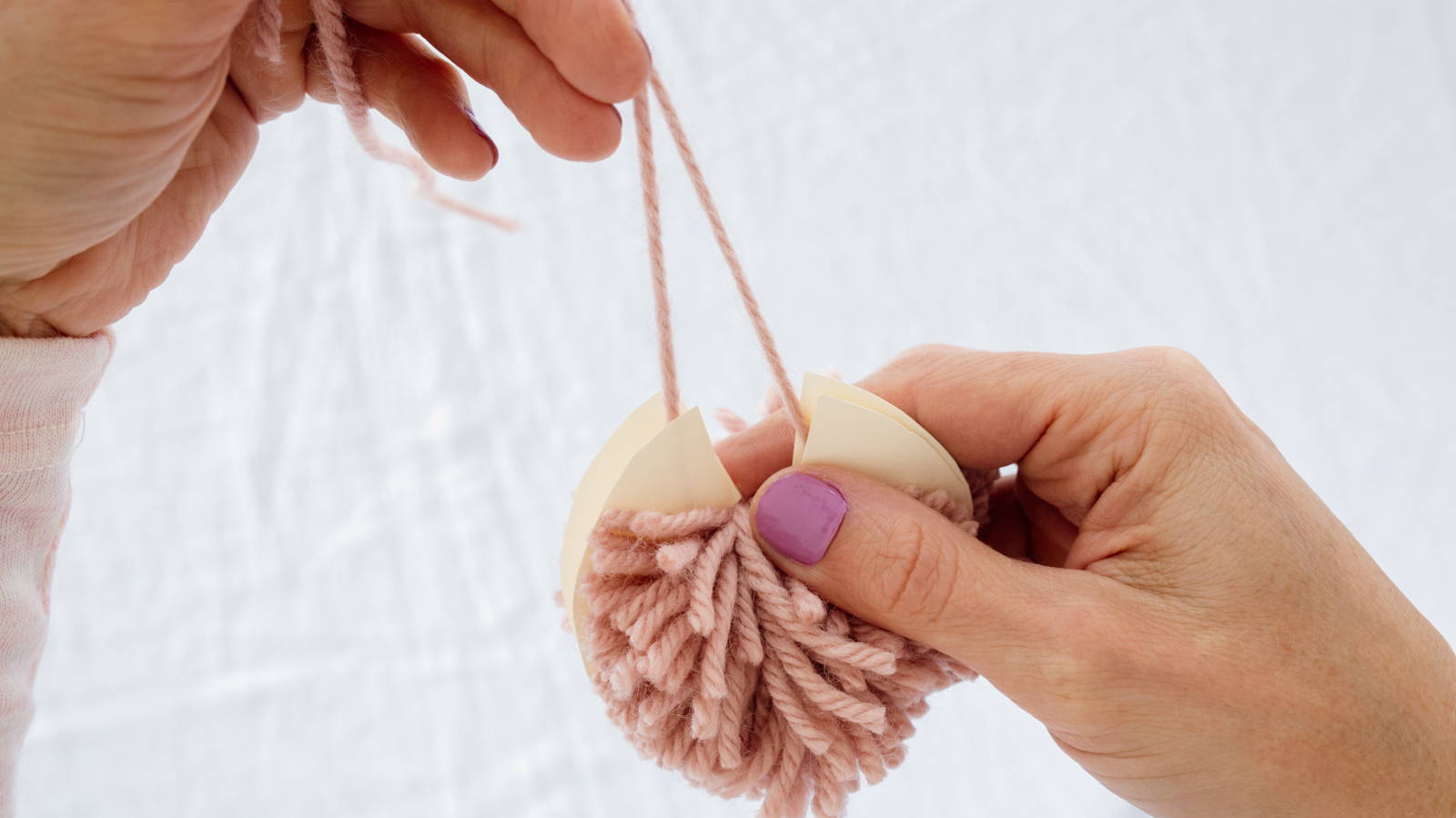 Step 5: Tie it up
Once you've snipped all the bits of wool, arrange the pompom in your hand so you've got all the little pieces folded over the template. Then grab the piece of wool we pre-cut earlier, which will now be used to tie up the pom pom. Now you need to slide that piece of wool in between the two sides of the template, pull it around the whole pom pom and knot it tight.
TIP: Knot your pom pom as tight as you can, to keep the threads of the pom pom snug in place. If you can't get a tight knot first time (don't worry, it happens to the best of us), you can wind it around again on itself and pull it tighter, then knot it off again.
TIP: Try to get your hands in a position so that you're holding the ends of the wool in place, to stop them slipping off the edge of the template on the side you're cutting. Then do the same when you flip it over to cut the other side.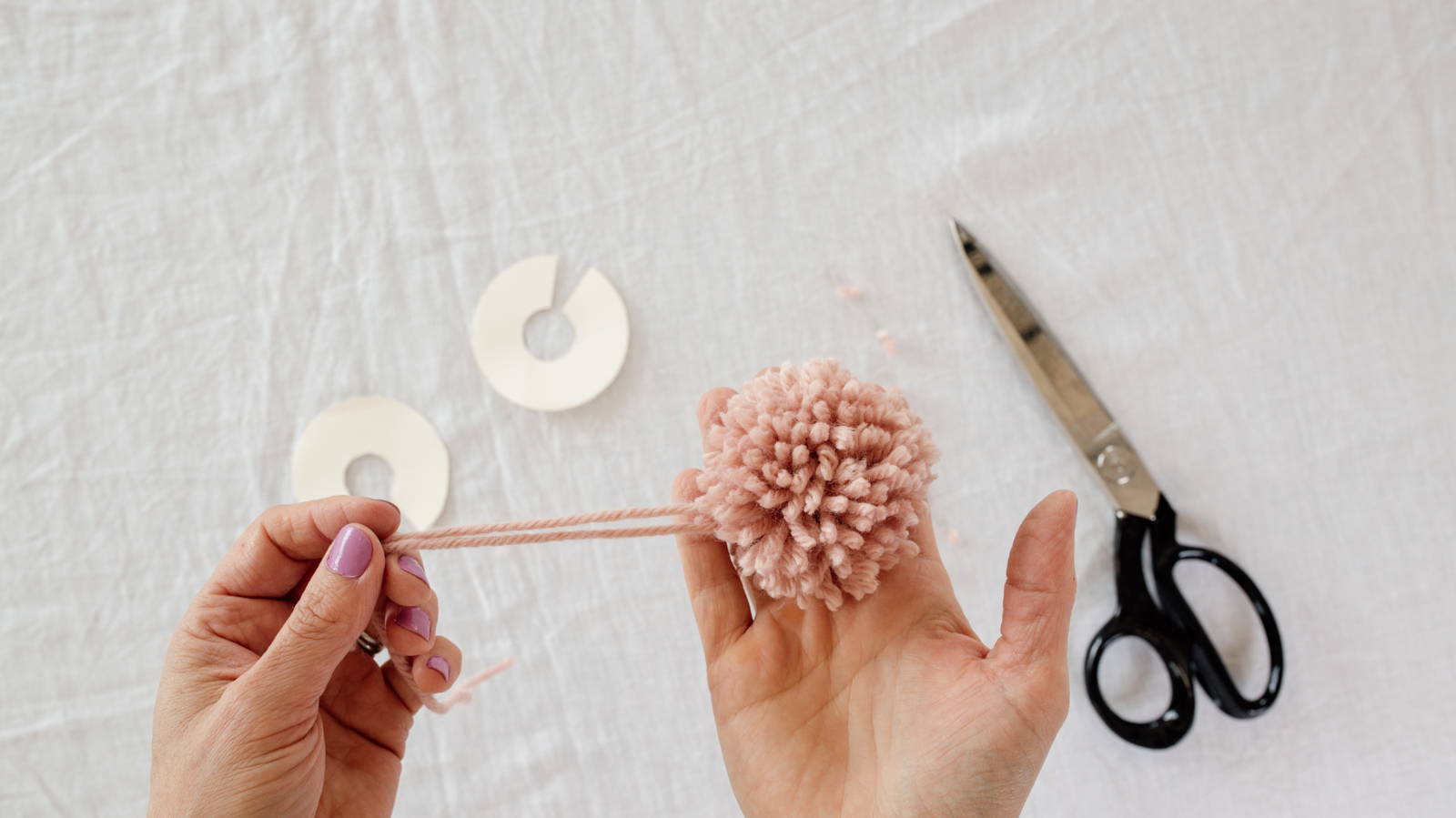 Step 6: Remove the templates
Carefully pull the cardboard template off the pom pom. And voilà, look at this cute little pom pom you've created with your own hands!
Step 7: Trim and Tidy
You might now want to trim the threads on your pom pom to make it a tidier circle. You can either just trim around the edges, or for more precise cutting, you can flatten the pom pom, then pop the template on either side (like a little pom pom sandwich) and snip around the wool that's sticking out. After this, flatten it the opposite way and repeat this step. This technique works better the more wool you've added to the pom pom.
Now look at your cute, tidy little pom pom!
NOW MAKE A POM POM GARLAND
Now that you've learnt how to make pom poms, you can make a whole bunch and turn them into an easy pom pom garland!
First, decide where you'd like to hang the pom pom garland in your house. Then cut a section of wool that is the right size to hang in that area, which will be the garland strand.
Now simply tie all your pom poms onto the strand of wool, and snip off the loose ends. Don't worry if the distance between the pom poms isn't perfect, they should be able to slide around easily so you can always adjust them later.
Once you're happy with the size of the garland, knot a medium-sized loop around each end of the strand of wool. This will make the garland easy to hang from a hook or the end of something else hanging from your wall.
And it's as easy as that – now you can hang it up as a beautiful and fun addition to your room! Don't you think these pom poms add so much happy character to any area that needs a bit of sparkle?
I hope you enjoyed this tutorial, and feel inspired to make one of your own!
Julie xx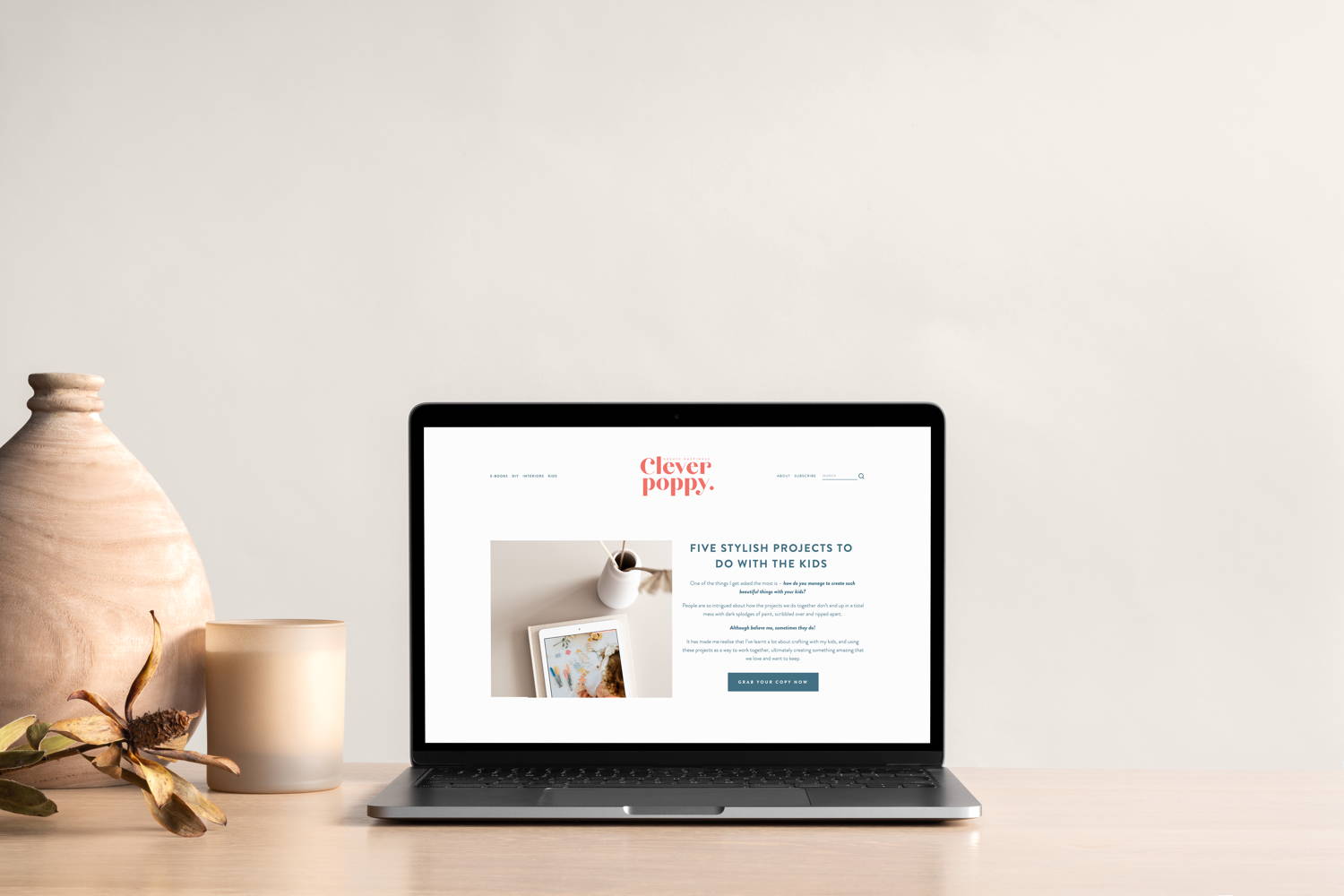 If you loved this fun craft activity and are looking for more .. check out Julie's newest ebook release 'Five stylish projects to do with the kids' HERE.