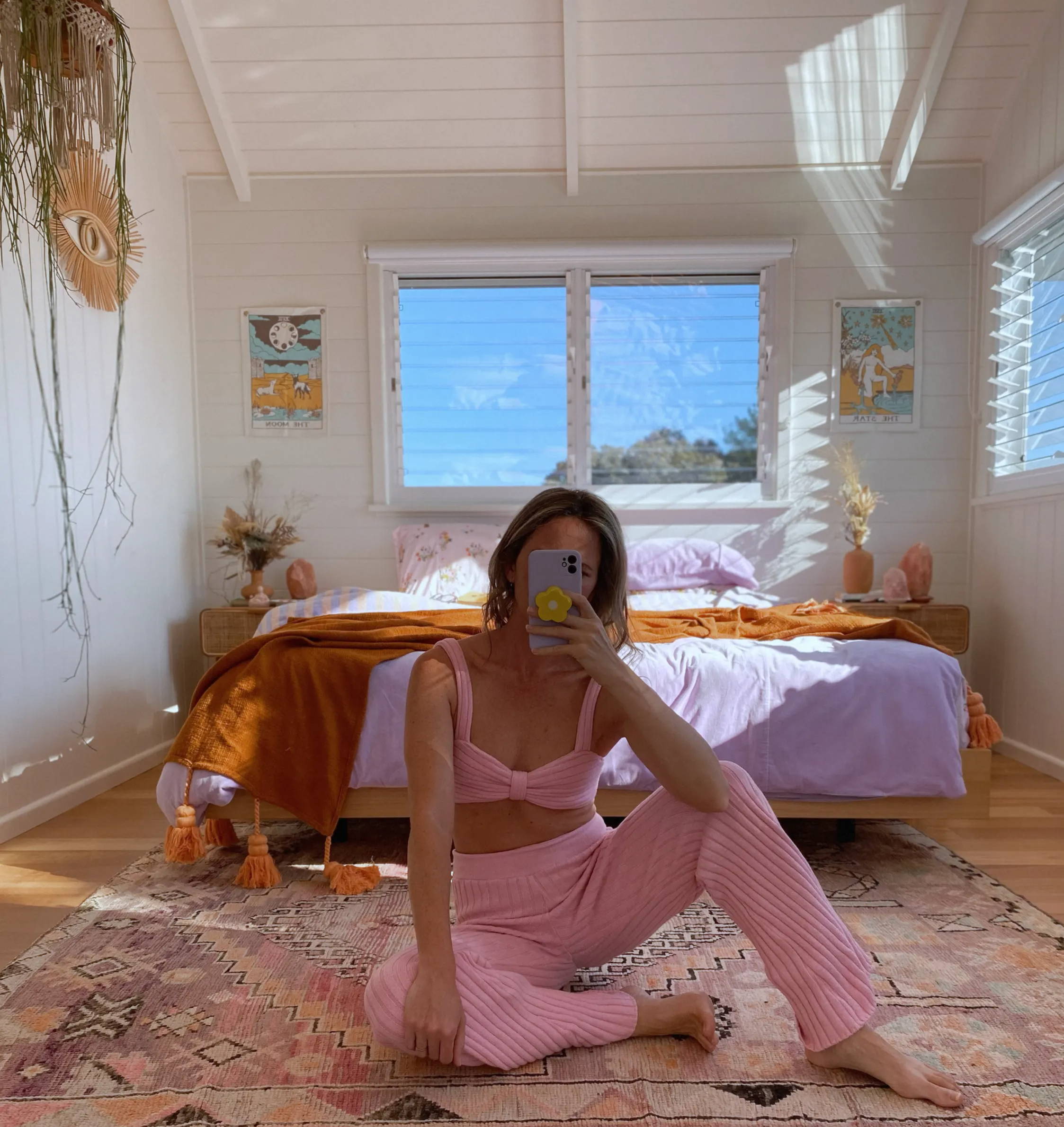 Dimity Sienkiewicz aka @_dimity_ is quite seriously a glorious ray of sunshine in our lives - fitting then that her home is bathed in some good golden light. An absolute ESSENTIAL to follow if you're after natural and fun kid craft activities, cute kids, or a lover of sun-drenched interiors.
We LOVE you! Thank you for sharing so many beautiful craft ideas with us - we've been gobbling them up this year. I think my favourite was the flower ice eggs at easter. What's been your favourite for 2020?
The ice eggs were so fun- definitely was one of our favourites too!
Zaeli's favourite craft was the nature printed clay magnets. Zaeli did every step by herself and was so fascinated with the entire process. My favourite craft would be the worry dolls, I just love making them for gifts especially during this crazy year.
Where do you get inspiration for your seemingly endless, incredible creative ideas? Is this a reflection of how you spent your time as a kid?
I did not grow up in a creative home with lots of arts and crafts. I was more interested in sports during my youth. But as I got older I realised my passion was art and after school studied a bachelor of visual arts and then worked for 10years as a visual arts technician. I think art skills can be taught but I believe that you are born with a creative soul. I feel like creatives see the world in a different way. My eyes are constantly looking for inspiration. Everything in my mind looks like a visual photo diary. It never stops, I am constantly creating visual ideas in my mind (you should see my endless list of creative ideas!!) My biggest inspiration is Mother Nature . The colours of a sunset, a flowering weed growing from a Suburban gutter, a vine growing over a fence, a bee flying from flower to flower, the rock pools at the beach, a rainbow emerging after the rain...I find immersing myself in nature always gets my creativity flowing .
What are the things you ALWAYS have on the ready in your craft box?
Besides the usual craft materials like paints, pencils, scissors etc .... I think the things we use most in our crafts are nature finds. My girls and I are forever foraging fallen leaves, wildflowers, sticks, feathers, gumnuts, shells etc.
A little hand sewing kit is essential.
I also love working with beeswax, air dry clay, vintage fabrics, wool felt, dried flowers, small crystals , vintage beads, twine, eco glitter.
(Op shops are always full of endless craft material possibilities !)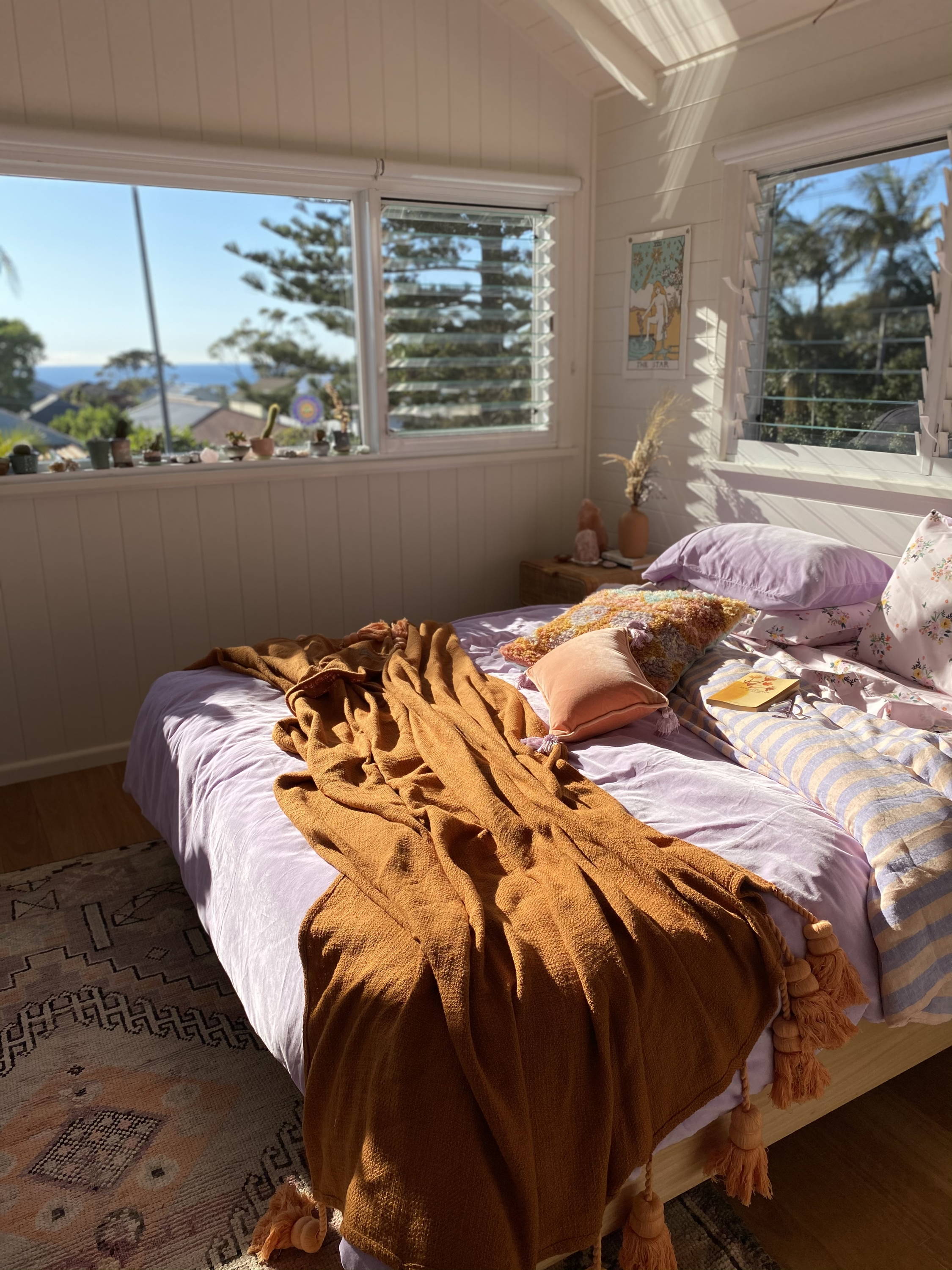 We love your light, airy, colourful aesthetic. How would you describe your interior design style?
Hmmmm.. I'm not sure I really follow any particular style !? It's definitely eclectic- lots of textures, natural elements, colour, antiques, plants etc. Im not that interested in big pieces of furniture; rather I love styling with soft furnishings, as I love how easily you can change a space with accessories . I have always loved 'pottering' around my home! I don't really like following trends, I simply buy/make things for my home that make me happy ! The majority of our homewares are either hand made or sourced from op shops, I try to steer away from mass produced items. Thrift shopping is one of my favourite things to do and I love filling my home with beautiful pieces that have a history and last the test or time.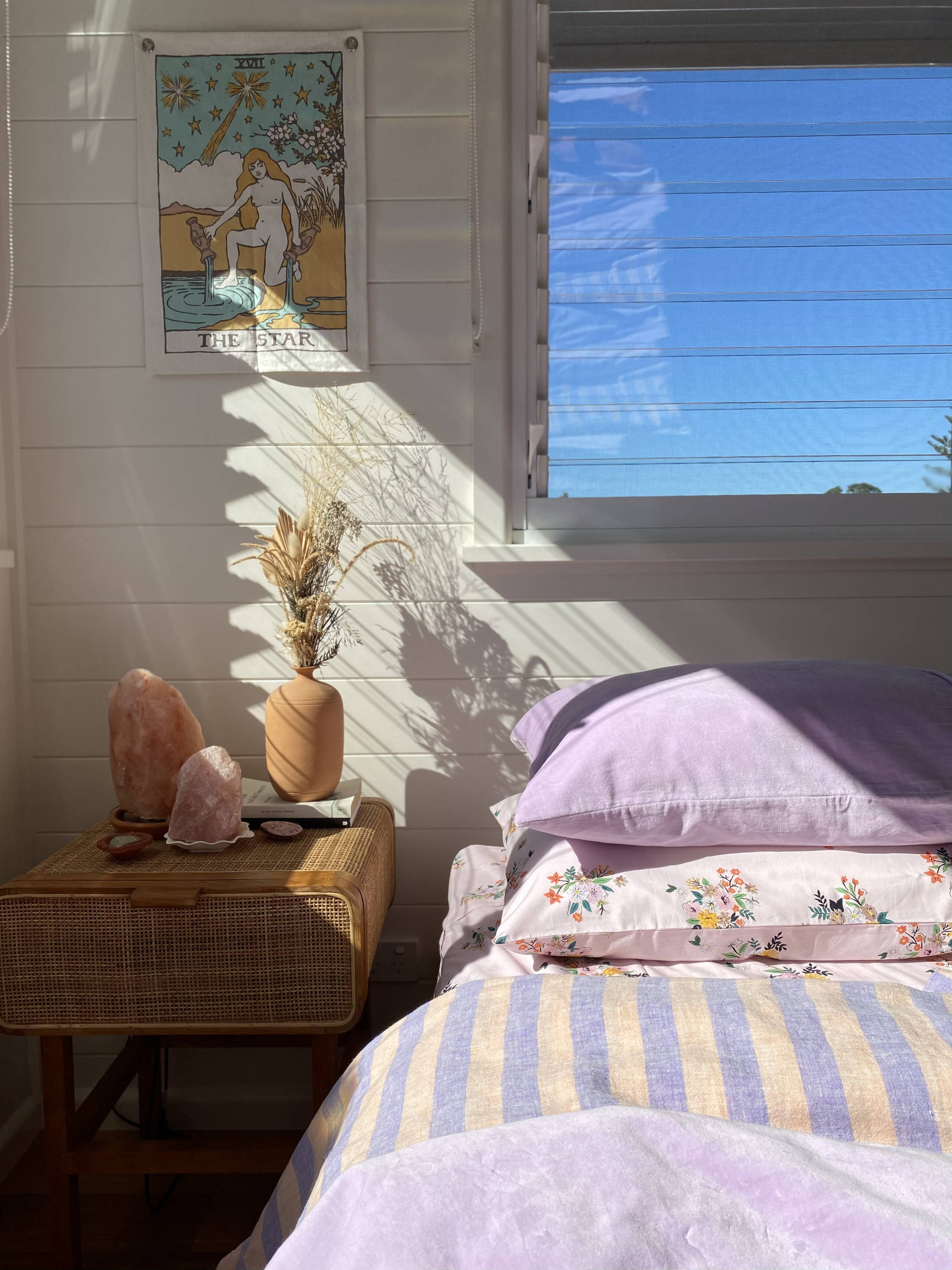 ---
---
What are your favourite pieces in the Vacay collection?
I adore the vintage floral print ...I'm always drawn to floral prints and love the feminine vibe of this print .
I also love the how decadent the velvet lavender looks and the desert at dusk shag cushion is a must have! I love the eclectic feel of these 3 elements together !
Zaeli and Ochre are so bloody adorable! Best of buds by the looks of it. This year has been so topsy turvy. What's been a silver lining for the girls, and what do you hope for them for 2021?
Yep, definitely a year none of us will ever forget ! The silver lining is definitely all the extra time we got to have together at home. We have loved having extra time with my husband and eldest daughter at home, the girls bond really grew during isolation. The girls loved the slow days at home doing craft and playing with each other all day long. They got so much extra time together this year which helped ease us all into 'school life'.
For 2021 my hopes are for the girls to thrive in themselves and continue growing their blossoming sisterhood bond . I hope they see the beauty in everything around them and flourish is everything they chose to do.