We recently chatted with Clothing the Gap - one of our fave Aboriginal owned and led social enterprises. These guys make awesome apparel (we LOVE it!) and then use 100% of profits to fund independent and self-determining health promotion programs, while they advocate, educate, elevate and motivate people for social change. Get ready to get inspired.
Why did you start Clothing The Gap and what it is?
Clothing The Gap is an Aboriginal owned and led social enterprise using fashion as a vehicle to make social change.
A little-known fact is that before Clothing The Gap became its own brand, we were actually a clothing label running under health promotion company, Spark Health! Originally we created merchandise that reinforced cultural identity and celebrated Aboriginal culture as an incentive to encourage Aboriginal people to participate in our health and wellbeing programs. For example, if people came to four out of six program sessions, they received a piece of merchandise. The only way for people to get the piece of merch was to come to the program and people loved it!
As we grew and more people wanted to wear the clothes! We knew that if we could sell enough clothing we could self-determine health and education programs for Aboriginal Communities without relying on government funding. This social enterprise model meant that we could independently design and deliver health outcomes for Aboriginal Communities – no strings attached.
In order to run a sustainable business model and to achieve our goals of self-funding programs for the Aboriginal Community, it was important that the people purchasing from Clothing The Gap included non-Indigenous people too. We invite non-Indigenous people to support us by wearing our clothes, celebrating Aboriginal culture and educating themselves further in this space
For us, it's so important that we don't 'sell out' to just sell tees to more people. We create our products with our mob in our heart and everyone in our mind and remain true our brand values that are to advocate, educate, elevate and motivate people for social change.
We pride ourselves on creating products that represent Aboriginal people and their views and enable all people to wear their values on their tee.
Profits go to Aboriginal health and education programs, can you share a bit more about what these are?
As a social enterprise, 100% of profits at Clothing The Gap are used for a purpose: to add years to Aboriginal people's lives. Every purchase at Clothing The Gap funds independent and self-determining health promotion programs and enables the team to continue to make impact through advocacy and education work while and motivating people for change and celebrating Aboriginal excellence.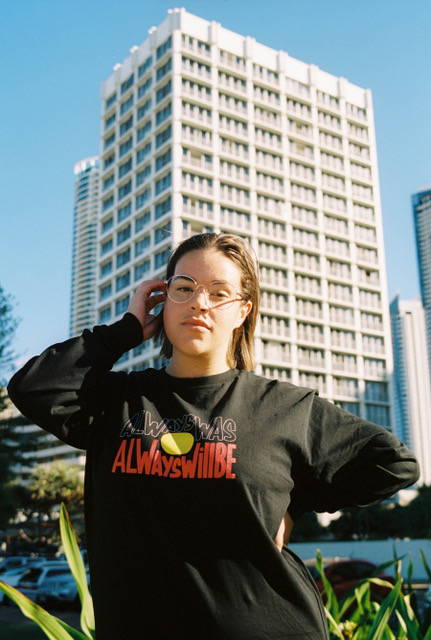 How do you recommend people help if they want to see positive change in this space?
We encourage non-Indigenous people who want to see positive change in this space to move beyond performative allyship and actively become involved in practicing anti-racism in their worlds, daily.
Wearing Aboriginal design is not dismantling a system that oppresses Indigenous people. Allies need to do more and learn more. Wearing our tees is a great starting point. We have equipped our supporters with our merch and some of the educational content to go with them. We want them to go out in the world, have these important conversations and find ways to do more and support more.
We also like the term and definition of 'accomplice' which takes ally-ship one step further. We encourage people to read this article Where do you fit? Tokenistic, ally – or accomplice? by Summer May Finlay (Yorta Yorta).
When moving beyond performative allyship, one of the first steps in this journey is seeking to understand what you do not yet know. It's reading, listening and learning and will often involve getting uncomfortable. There are an enormous amount of resources to guide people in this process and we encourage people to take ownership over this themselves, rather than asking an Aboriginal person to educate them. A google search goes a long way!
Being genuine in this space is about walking along side, showing up for and continuing to support Blak issues and brands long after it has stopped 'trending' on social media. It's being in this together for the long haul, rather than being in this to help.
What's in store for CTG for the rest of 2020?
We're opening our first shop! The growth we've experienced means that we are able to expand in to a retail space in Brunswick, Melbourne. Having a shop increases the visibility of Aboriginal people and business in the streets. It's exciting knowing that we don't have to rely on other brands or people to give Aboriginal people the opportunity to be seen or heard - we are doing that ourselves.
This space will also hold our distribution centre for our online retail, and we are so excited about this! We are committed to our Aboriginal employment pathways and keeping distribution in house, rather than outsourcing, means that we are able to create more job opportunities for the Aboriginal Community and to become a hub of Aboriginal employment in the region.
Using the power of fashion, we will keep choosing to elevate Aboriginal people in our space and show the younger generations that anything is are possible!
Can you share your other favourite Aboriginal or Torres Strait Island run businesses?
There are SO many incredible Aboriginal and Torres Strait Islander owned and led brands out there! Whether you love homewares, linen, accessories, high end fashion, simple staples or art, there is an Aboriginal brand that is kicking massive goals.
One of the most important things here when looking for an Aboriginal owned and led brand to support is to do your homework. Unfortunately, some brands like to use the imagery, language and art of Aboriginal culture to portray that they are an Aboriginal owned brand when in fact they are not.
Our tip? Head to the 'About Us' section on their website, most Aboriginal owned and led brands will let you know straight up. Buying from Aboriginal businesses means that you support not only that individual but their whole Community.
Check out @TradingBlak on social media for more about this. TradingBlak share incredible Aboriginal businesses every day. We love their #WearItBlakWednesday where they encourage people to share their Blak wardrobe favourites
---