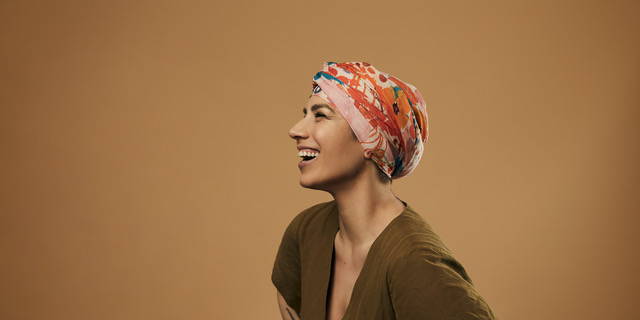 IT'S HERE! October is Breast Cancer awareness month and we're incredibly proud to collaborate with the awesome Emily from Bravery Co. Emily makes colourful head scarves that make you feel beautiful confident and powerful, especially if you're riding the C Train. Basically, a total legend.
The collaboration scarf features your all time FAVOURITE Kip&Co print, field of dreams, and is modelled here by the ridiculously gorgeous  cancer warrior Shonel (@support.your.girls) who recently beat breast cancer 🙌🏻
In today's blog we chat with Emily about the collaboration, her battle with cancer and more!
Your incredible business Bravery Co was created after your own battle with cancer. You've now fought and won that fight three times (bloody amazing!). Can you tell us a bit about how you came up with the idea, and how you found the time and energy to create Bravery Co?
After I lost my hair to cancer I struggled to find anything cool to wear on my head. All the wig and hat brochures given to you at the hospital are aimed at much older ladies - and I was in my 20's. It was pretty depressing. I wore a wig for a while but when I relapsed I wanted a new look so started playing around with headscarves. It wasn't until I mastered tying big knots and turbans that I finally felt like myself.
When rocking my scarf I got stopped by lots of cancer warriors asking how I'd styled it. I realised then I wanted to help others feel more confident through cancer, so the idea of Bravery Co was born.
I launched Bravery Co in 2016. Up until last year it was a side hustle as I worked full time in advertising. It's been lots of late nights, long weekends and tons of work but I've had so many beautiful messages from warriors reminding me why Bravery exists which makes it all worthwhile.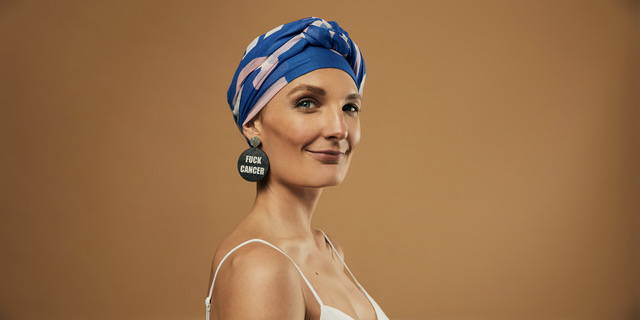 We are so excited about this collab - thank you! Can you tell us a little bit about how this collaboration came about?
I'm excited too!!! I'm a massive Kip&Co fangirl and I adore all your big bold colours and prints, so I was quite star struck when I got to meet the lovely Kate at Art Camp. We started chatting and weirdly realised we both grew up in the Dandenong Ranges and went to the same school!
I cheekily asked about a scarf collab and let's just say there was one rather large happy dance when she said she agreed!
When I saw the Field of Dreams print I knew it would be the perfect piece to launch in October for breast cancer awareness month. It's pink and feminine while still being so modern and chic.
October is breast cancer awareness month. If you could encourage people to do one thing this month, what would it be?
To slow down and listen to your body. Sometimes we get so caught up in the pace of life we miss signs that our bodies are struggling. If you have any weird lumps, bumps, niggles or pains – get them checked out now. I know Covid is making people wary of going to the doctors but when it comes to cancer, early detection is your best chance of survival so make an appointment with your G.P.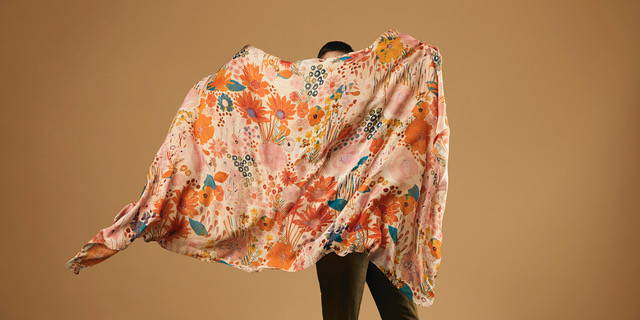 For anyone who has recently found out that they or someone they love has cancer, what are some good resources or people to follow on insta who can cut through the enormous (and overwhelming) amount of information out there?
@miog_community – Melbourne Integrated Oncology Group – evidence based complementary therapies for cancer warriors.
@cancerchicks_au – great FB group for chicks with cancer
@fuukcancer – they make a know your knockers guide for newly diagnosed girls.
@thecancerpatient – very funny, dark humour created by a cancer warrior that probably only cancer warriors can laugh at
And of course @braveryco ;)
What are you looking forward to most right now (we know you're pregnant YAYAYAY and recently engaged if you want to talk about that!!)
Despite this rogue virus, 2020 has been an unexpectedly HUGE year for both Bravery and myself, and there is still so much to come.
I have some beautiful new products and artist collaborations that are due to be released in November. Loads of pretty things for anyone that loves art and scarves and hates cancer. (Watch this space!)
Plus, my fiancé and I are expecting our first kid in December which still seems completely bonkers as I was meant to be infertile after all the treatment I've had. We couldn't be happier and now we're trying to stock up on sleep before this tiny person arrives.