BITS is here to celebrate you and all your bits. It's all about belonging, not conforming, We know how good it feels to connect and to be seen.We strive to offer an accessible, empowering experience for all bits, all sizes and all walks of life. Read more below!

1. Finally, a one stop shop for intimates for EVERY body. Hallelujah! Thanks ladies. Can you tell us how BITS was born?
Like most good things, the idea of BITS started over lunch! Bianca and I were working together at MECCA and chatting about our very different boobs (I've got a little bust and Bianca is an E cup) and how difficult and drab we found shopping for bras. Bianca was telling me that she had to buy bras from "speciality stores" as the department stores didn't cater to her needs. I was shocked.
On the flip side, with an 8A cup, I'd spent my life in padded bras and chicken fillets trying to fit into a version of what I thoughts "boobs" should be about. So I just wanted to find bras that celebrated my shape and made me feel sexy, without needing to fake it.
So we dreamed up BITS. With the goal of making shopping for intimates an enjoyable experience (rather than a dreaded one), a relevant experience that everyone wanted to be a part of. Creating something that was super empowering has been one of our driving forces. And we felt that to do that, we needed to create a one-stop shop that caters to everyone - all bits, all boobs, all bodies, all demographics and all life stages. A trusted go-to for everyone's intimate needs and some good intimate conversation too. We wanted to really normalise real bodies, products and the conversations about them that were once taboo.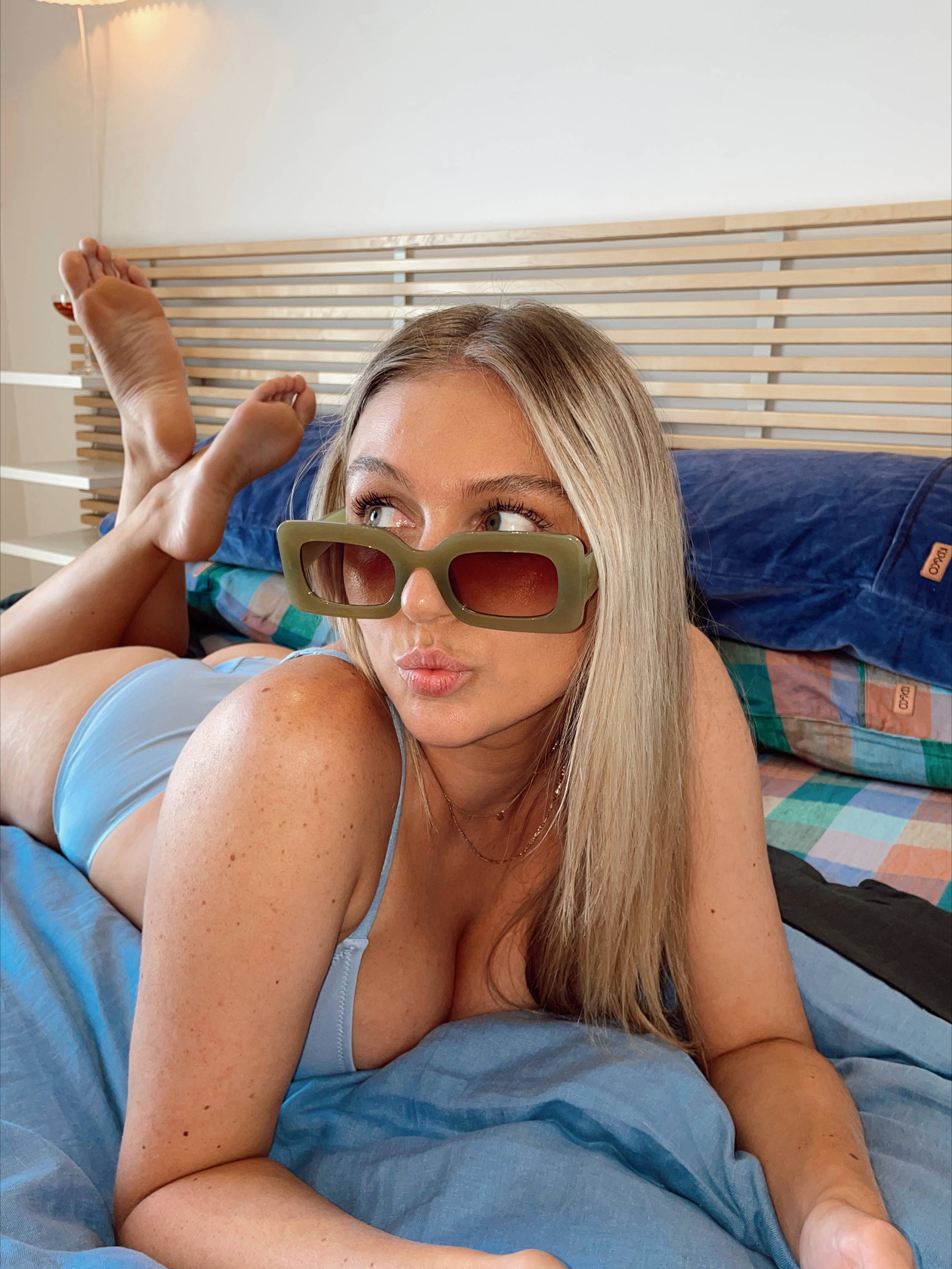 2. We know so many people have been doing a lot of life reflection over the past couple of years, and are ready for a change. What are your top three tips for anyone looking to start their own little business right now?
Yeah, it's definitely been an interesting time to launch a business. With the benefit of 18 months under our belt, my top 3 tips would be:
Take a holistic view, and really think through WHY you want to launch your own business. You might have a great idea that you'd love to see brought to life, but is it something you want to spend every day doing? And does it fit with your other life priorities too? And are you willing to make sacrifices to see it through? If so, great! But if not, it might be worth considering how you can get your "fix" in another way.
It's all about people. Pair up with people who compliment your skillset. The better you understand your strengths and weaknesses, the better equipped you are to find someone who can fill your gaps. It's also a great idea to surround yourself with business advisors (informally or formally) who can help you navigate some of the bigger challenges. It can be an isolating road, so it's good to have a solid support network around you.
Get comfortable asking. As someone who is fiercely independent, and doesn't like "putting people out" this one has felt uncomfortable for me. But it's super important to be able to ask people for help, for advice, for money, and for all sorts of things. So if you're not already, you've got to get super comfortable putting yourself out there, and maybe getting a rejection here and there along the way. Think of it like business-dating!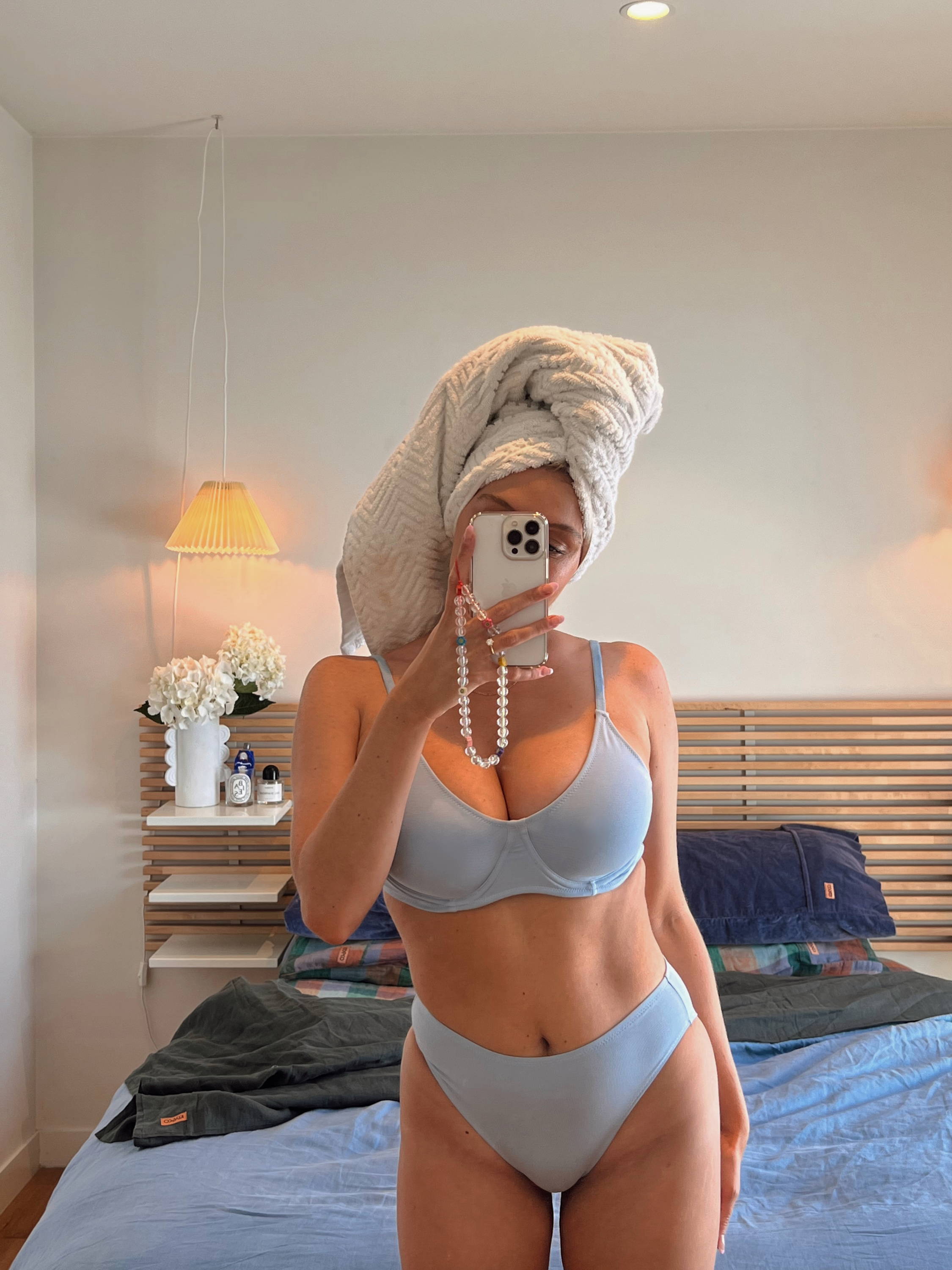 3. Most of us have barely got out of our pyjamas in the last couple of years, what's your hot tip for intimates that are BIG on comfort?

Ohhhh, yep we've definitely spent a lot of time in the last year or two researching this one and created our Organic Cotton, Bamboo and Lounge edits for BITS as a result (And my undies drawer is proof of that!) Vee Underwear's super soft undies are honestly some of the comfiest undies I've ever worn. (Not to mention they're eco-friendly too). The Cheeky Cut is the perfect blend between a brief and G, offering the comfort of a standard undie, with the benefit of no VPL like a G.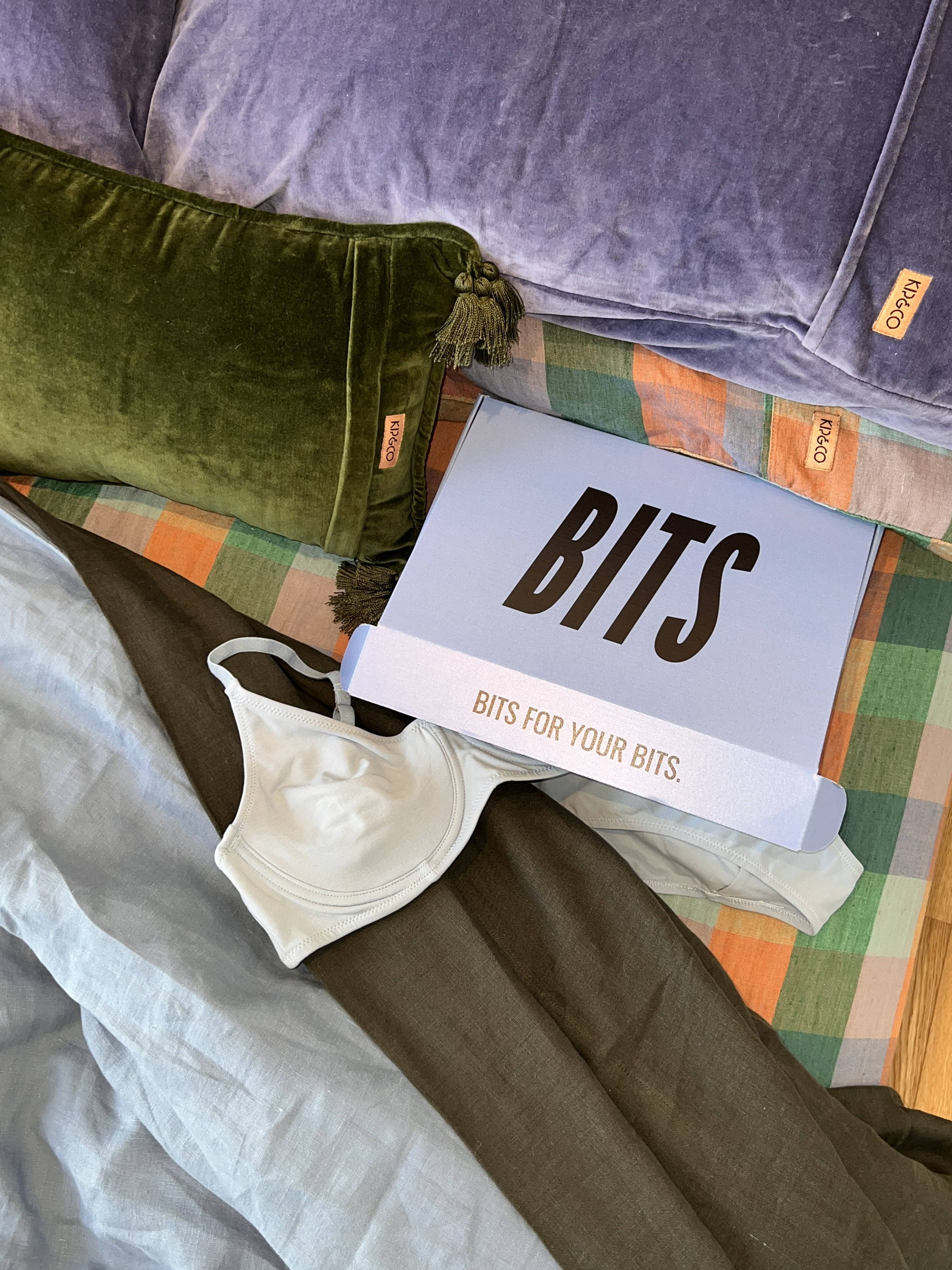 4. As we take some tentative steps out of lockdown, some of us might be ready to treat ourselves to something a bit spesh - what's your pick of the bunch?
If you're anything like us, the one thing we're still hanging onto out of lockdown is comfort. That's why we're loving mesh and lace bras that make you feel really special and luxe (and help you get your mojo back for the leaving the house) but still offer the comfort of staying in. Saturday the Label would be our go-to here, along with French lingerie brand Sans Complexe.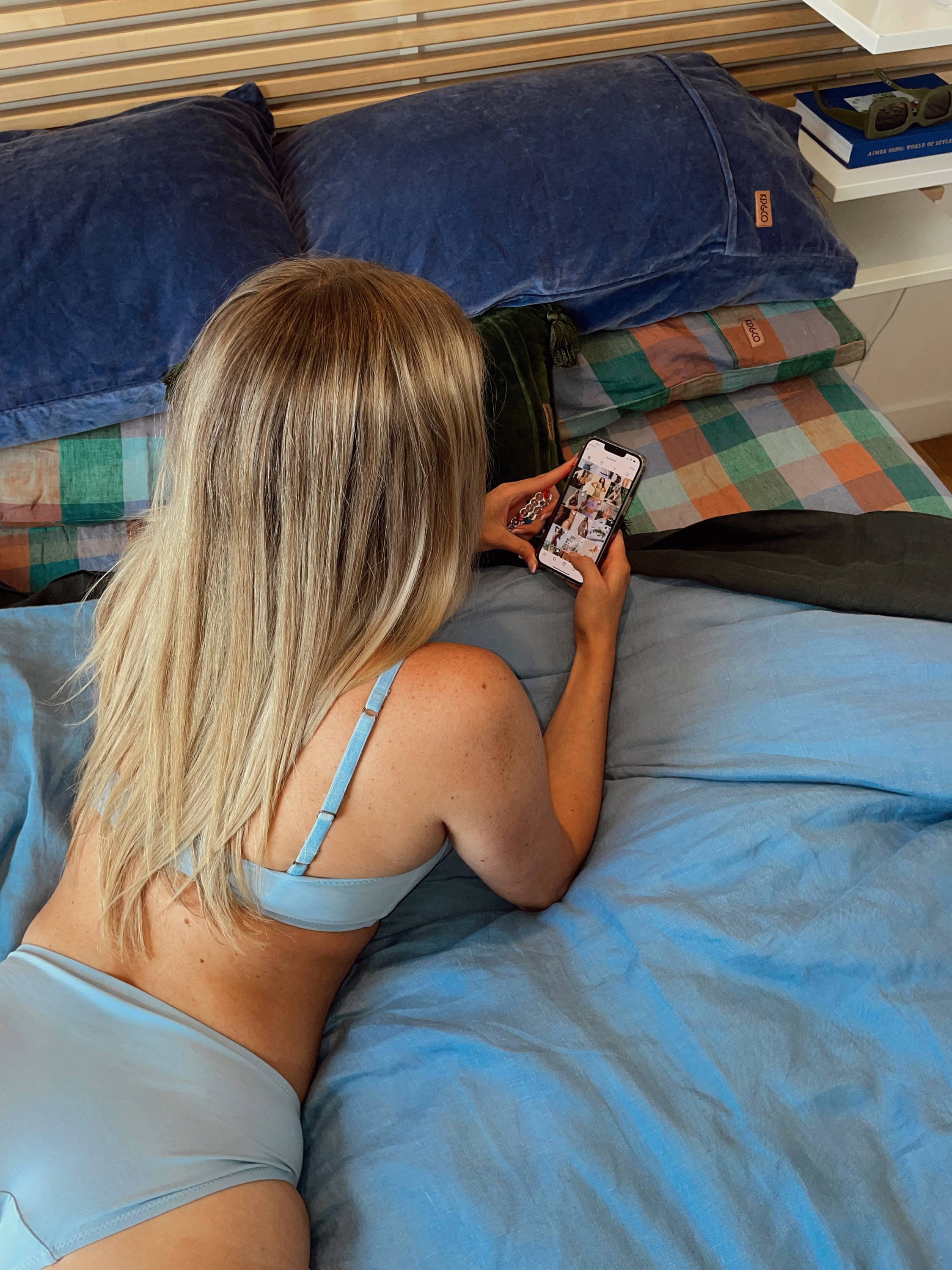 5. Sustainability is a big focus for us at Kip&Co. What's your favourite sustainable underwear range?
We are super proud to range almost 200 eco-friendly products in our Sustainable Edit. From period undies and organic cotton, to brands like Lela Lingerie that is made ethically and locally in Sydney Australia. When it comes to my favourite range – for me it's got to be Nico Underwear. The High Waisted briefs and Full Cup Bras made from plant-dyed organic cotton are the perfect combo luxe and comfort. And the pastel colours add a bit of fun too!

6. We are hurtling towards Christmas at break neck speed, what's on your Christmas wish list at Kip&Co this season?
What's not on my list! I've been a huge fan of Kip& Co from its inception. Like so many others, before Kip was around, my bedroom felt so serious (and quite frankly, boring) with white sheets on high rotation. Now, I've got a pretty epic collection of Kip&Co's sheets including their very first diamond print. This summer, I've got my eye on the Skyline Tartan Linen Set.
Kip's also my go-to for gifting. It's probably super daggy to admit, but I actually have a "gift cupboard" at home and it is always filled with Kip&Co latest baby onsies, some Kip tablewear and Mecca Candles. It makes any occasion (like birthday's, housewarming and new babies!) super easy to gift for on the go.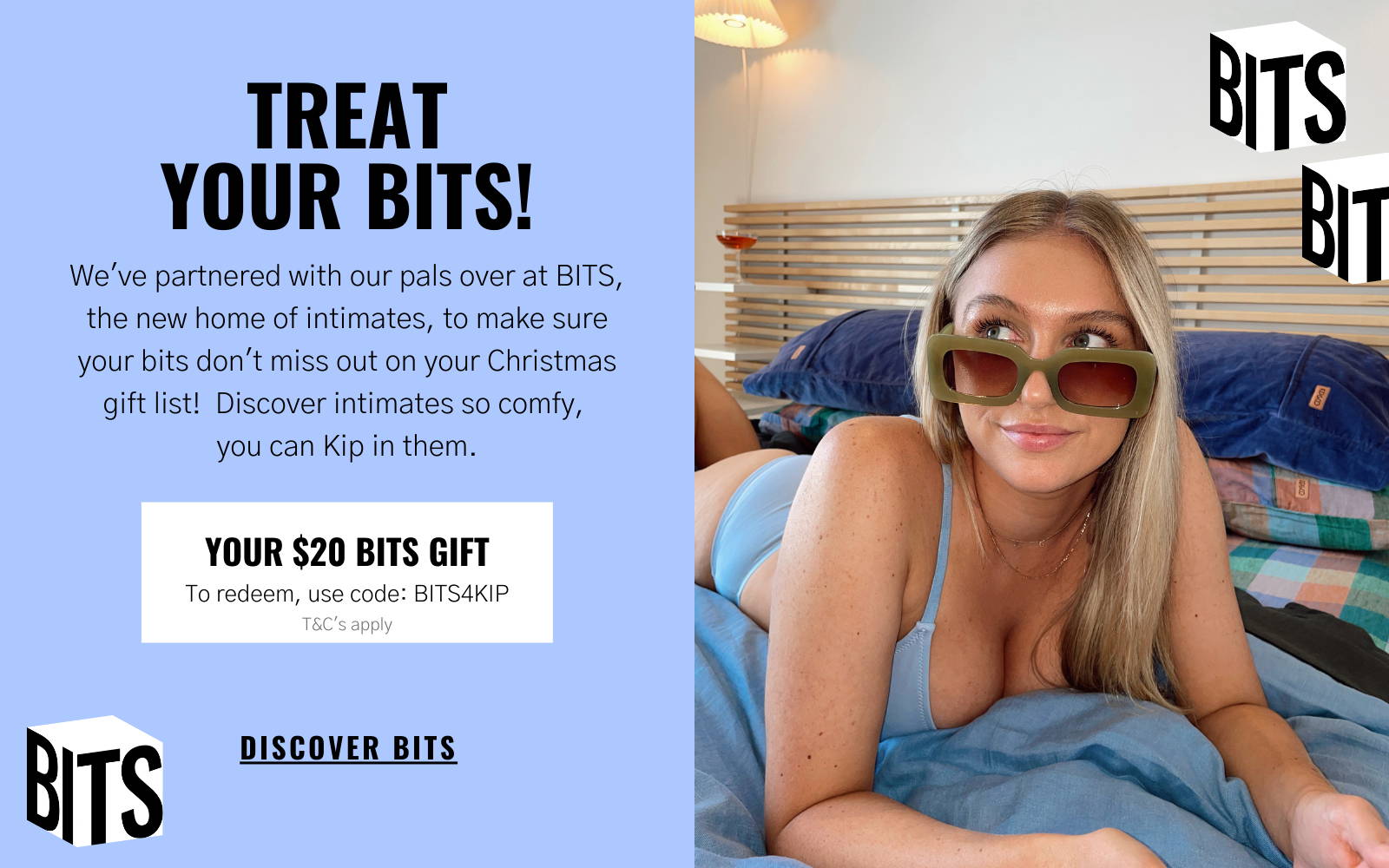 T&Cs: Use code "BITS4KIP" at checkout and your Gift Card will automatically be applied. Offer valid sitewide at www.foryourbits.com until midnight AEST 24 December 2021, with spend of $100 or more. Not to be used be used in conjunction with any other offer.